by Chris Dunlavy
EXETER'S players trooped from the Anfield tunnel, eyes assailed by a swaying sea of red scarves, ears deafened by the roar of 44,000 throats.
And as the strains of You'll Never Walk Alone pitched to a nerve-tingling crescendo, their hearts were beset by myriad emotions.
For youngsters like Jordan Moore-Taylor, it was an aspirational glimpse of what could yet lie ahead. But for old stagers like Clinton Morrison and Danny Butterfield, it was a last encore before the curtain falls.
"I'd be lying if I said those thoughts don't go through your head," said Butterfield, the 36-year-old former Crystal Palace and Southampton defender. "I'm under no illusions that my career is going to last another ten years.
"Did I think I'd play at Anfield again? Probably not. To get the chance to play in front of that many people one last time is something I'll cherish and be very proud of when I look back."
Butterfield, of course, needs no reminding about the magic of the FA Cup. Back in 2010, he was playing for a Palace side who'd just flogged Victor Moses in a bid to stave off administration, leaving just one fit striker to face Wolves in a fourth round replay.
"Neil Warnock pulled me aside and said, 'You're playing up front with Alan Lee'," recalls Butterfield. "It was typical Neil – you never knew what he'd do.
"But it proved to be a good decision. I scored a six-minute hat-trick – right foot, left foot and a header. A week later he tried it again against Newcastle and well… that was the end of my short-lived career as a striker! Great memories though. The Cup has always been good to me."
Last week's heroic 2-2 draw at their St James Park home added a few more to the bank, not least for Grecians fans more used to watching Morecambe and Mansfield.
Over 6,000 of them travelled a collective distance of more than three million miles to reach Anfield – enough to make five return trips to the moon.
Sadly, there was no stellar performance to match. The Grecians were tidy and disciplined, committed to passing a perilous path out of trouble that was only ever a poor touch away from catastrophe.
It was an approach that drew plaudits from Liverpool boss Jurgen Klopp, no doubt relieved that his kids were spared the kind of blood and thunder bombardment more pragmatic opponents would have deployed.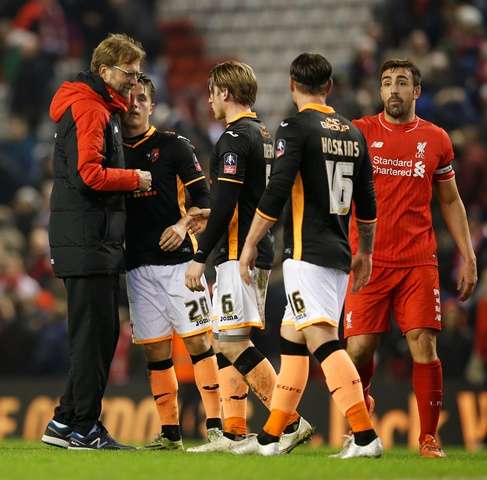 "Exeter was a really good opponent," said the German. "They played football, they built up play, they tried everything to break us down. We had to do a lot of work.
"This was my first impression of League Two football and I know their position in the table is not too good. So it must be a very good league because they had good players."
Yet if Paul Tisdale's men possessed principles, pace and purpose was lacking. Morrison, Butterfield and Matt Oakley have a combined age of 110 ("older than my whole team put together" quipped Klopp) and it showed against the whippet-quick boys in red.
Nerves quelled by an early Joe Allen strike, the young Reds dominated and were eventually rewarded with further goals from 18-year-old Seyi Ojo and Portuguese livewire Joao Teixeira.
"It feels a long time since I was as young and quick and sharp as some of those lads," added a rueful Butterfield. "But to be quite honest, I don't think age played a part in the result.
"We went into the game knowing we couldn't gift possession to Liverpool. We need a few wise old heads who could keep it.
"It was a different surface, a different environment to the home game. We couldn't possibly have gone there and hoped to recreate what we did at St James'. We couldn't have gone all-out attack because you saw what happened in the second half.
"The only regret is that we started too slowly. We let them get into their rhythm, let them score early and, in the end, we finished the game thinking we hadn't given it a proper go."
For the travelling army, entertainment was derived from elsewhere. Playfully welcomed to Anfield by the Worzels' Cider Drinker blasting over the PA, they responded by mocking Steven Gerrard's fateful slip, implored a reticent Klopp for a wave and lambasted the hapless Christian Benteke as a "waste of money".
Few on the Kop would disagree. As the misses piled up, the £32.5m Belgian appeared to be trying too hard, a marginal improvement on the first tie when he didn't try at all.
He took some fearsome stick from the Grecians fans, who kept up a wall of noise that was warmly appreciated by their players at the final whistle.
"I'm very proud of the club," said Tisdale. "And the supporters were fantastic. There were a couple of hundred at Morecambe last Tuesday and it's a reward for the people like that."
For Exeter, the greatest reward was financial, with over £200,000 in TV money supplemented by 45 per cent of Wednesday's gate receipts.
Eleven years ago, a bumper FA Cup tie with Manchester United saved the club from extinction. Now, owned by fans and a model of prudence, the rewards are more modest.
"The away team gets 45 per of the average ticket price," said director Julian Tagg. "That average will be something like £10 or £11, multiplied by 44,000. In the end, over the two games, we're probably looking at something around £600,000.
"One of the things that has really underpinned our success is the academy. It's something Paul believes in very strongly and that's where some of that money will go.
"And all this week we've had to beg, borrow and steal training facilities. A rubber crumb pitch is something we've planned for a while and this money will allow us to make it a reality."
For Butterfield and the rest of Exeter's players, it's simply back to reality. "For a club of this size to take Liverpool back to Anfield is no small achievement," he said.
"The lads should be very proud. But it's one to look back on at the end of your career. Right now, we've got League Two to worry about."