SUNDERLAND manager Jack Ross has warned his players that Wembley memories will count for nothing if they don't bring home the Checkatrade Trophy.
Ross, 42, was part of the St Mirren side that faced Rangers
in the Scottish League Cup final of 2010.
A shock looked on the cards when the Glasgow giants were
reduced to nine men, only for a late Kenny Miller strike to break Buddies
hearts.
"In terms of regrets within a football career, losing a cup
final is something you never properly get over," says Ross, who has steered
Sunderland to fourth in League One since taking over in the summer, after the
club endured back-to-back relegations to the third tier.
"The soreness of it subsides with time, but it never goes.
"We were very much underdogs, up against a strong Rangers
team under Walter Smith.
"The circumstances made it even more painful. We'd played
really well, then they lost two men to red cards.
"That belief you could win was there, then it was gone in an
instant.
"At that stage in my career, I knew I was getting towards the
end. Would I ever play in a cup final again? Probably not.
"You hear a lot of people talking about getting there and
enjoying the occasion. But if you don't win it, that doesn't mean much."
Ross has bitter memories as a manager, too, having lost the
Scottish Challenge Cup final with St Mirren 2-1 to Dundee United in 2017.
"Having that first cup final as a manager, it's easy to get
caught up in the day," he adds. "Seeing people you know, seeing all the fans.
"It taught me that you've got to try and detach yourself
emotionally. Sometimes that lessens the enjoyment of what you're involved in,
but Sunday's not a day for me to enjoy. It's a day when I have to do my job
properly.
"And my job is win the trophy. If I do that, then I'll enjoy
what happens afterwards.
"The time for full appreciation will be in years to come."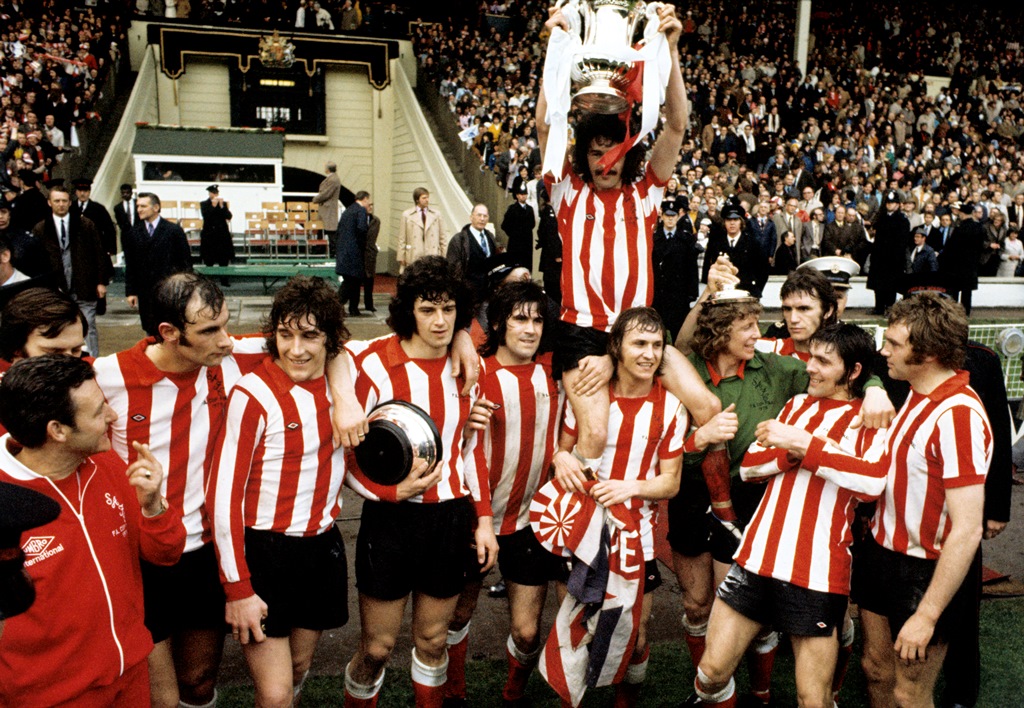 If Ross has suffered in cup finals, Sunderland's luck is
even worse.
Since a legendary FA Cup triumph over Don Revie's mighty
Leeds United in 1973, the Black Cats have played at Wembley five times.
Each visit ended in defeat, the most recent coming in 2014
when an early Fabio Borini goal failed to prevent a 3-1 victory for Manchester
City in the final of the League Cup.
Supporters of a certain vintage will also recall the
heart-breaking First Division play-off final of 1998, when Sunderland led three
times in a 4-4 draw with Charlton Athletic before going down 7-6 on penalties.
Today's clash with Portsmouth represents arguably their best
chance to reverse that trend and with 40,000 fans descending on north-west
London, the atmosphere will be intense.
Ross, though, says the current crop have been encouraged to
embrace the fanatical support on Wearside – something recent Sunderland sides
have patently failed to do.
"One of the key aspects is acknowledging pressure rather
than pretending it's not there," says Ross, who expects star striker Will Grigg
to be fit for the final after an injury scare on international duty with
Northern Ireland.
"I did that when we were chasing a title at St Mirren and
it's even more relevant here. You can't be involved with a club the size of
Sunderland and not deal with expectation.
"So let's not waste energy trying to ignore it.
"Accept it, embrace it and be resilient enough to cope with
it.
"I think we've got a group now that do that and they don't even realise it. It's becoming habit for them."
CHRIS DUNLAVY / Photo: Getty Images