IT APPEARS to be question of 'when' not 'if' Bradley Dack will play in the Premier League.
But Danny Graham and Blackburn are hoping they can at least keep hold of their star man for now.
Both West Ham and Crystal Palace are thought to be lining up January moves for Rovers' talisman after he fired the newly-promoted side towards the top half of the Championship and a potential play-off push.
Dack, 24, signed from Gillingham in the summer of 2017 for an initial fee of £750,000 but is now thought to be worth as much as 20 times that.
The attacking midfielder has 11 goals and six assists already this campaign – many of the latter laid on for Graham, who bagged a hat-trick at the start of the month against Sheffield Wednesday.
And while the 33-year-old striker is happy to concede that Dack belongs in the big time, he also has a word of warning for his teammate.
"Of course we want to keep him," said Graham. "But money talks and the teams in the Premier League have cash that might be too hard to turn down.
"He is brilliant to play with, when you watch him you can see how good he is. He creates things and even if he is not having his best game, he still manages to pop up with a goal or an assist.
"In terms of goals AND assists – I don't think I have seen anyone playing better in the entire league.
"But I tell Bradley this, I don't like to big him up too much because if he doesn't continue with his form, there is a big fall at the end of it. We don't want him getting too cocky or everything going to his head.
"I'm not even joking – I have had it myself when people big you up too much and some people can't deal with it.
"But Bradley takes it all on board and is always willing to learn. He always works hard in training and if he keeps doing that then he is destined to play in the Premier League at some point in his career."
Graham himself was once a star on the rise – highly-rated as a teenager at Middlesbrough and a £5million signing for Sunderland from Swansea back in January 2013.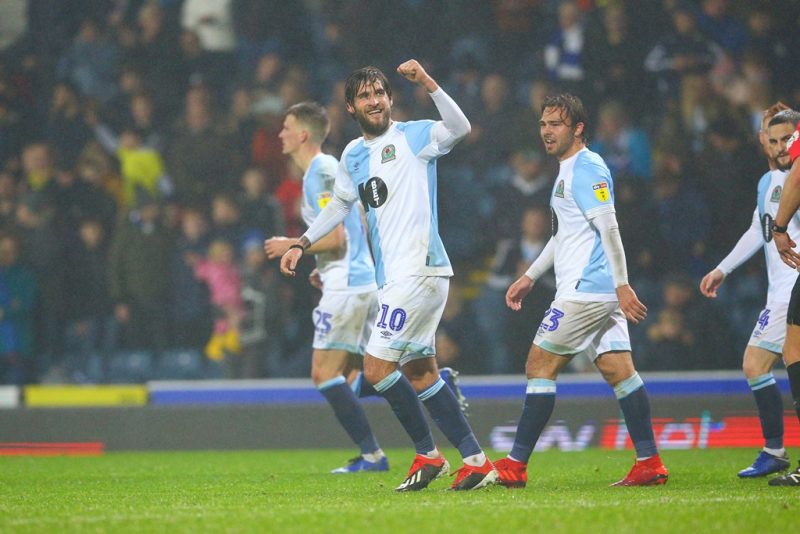 But after a nomadic career, the Gateshead-born front man appears to have finally settled in one place at Ewood Park since joining three years ago.
His hat-trick against the Owls was his first in a decade –the last coming for Carlisle against Yeovil in August 2008 – and the 33-year-old hopes there is more to come.
"Ten years does feel a bit too long for a striker to wait for a hat-trick!" he smiled. "I got the match ball but the other one has gone flat it's been so long!
"They will go on the shelf so I can show the kids when they're older and maybe I will let them have a kick around with it too! I'll see how I feel…"
Rovers' journey back to prominence is largely based on a strong core of players that stuck around for the side's drop to League One –including Graham, 32-year-old skipper Charlie Mulgrew and 33-year-old winger Craig Conway.
But it is boss Tony Mowbray who has made the real difference – according to Graham.
"I do feel at home and hope I can be here for two more seasons at least," he added. "The gaffer has done really well – he has these meetings at the stadium where fans come along and ask questions, which has helped turn the negative off-the-pitch feeling around.
"Last season we lost the first two games in League One and everyone was doom and gloom. But this season has been a great start, the manager has signed a new deal and spoken about his dream to manage this club in the Premier League. Let's hope so!"
CHARLIE TALBOT-SMITH