Photo by Joe Dent
NOBODY wants to see any manager lose his job, but when it does inevitably happen, there is a clamour for the role. I saw it written that around 70 serious applicants applied to replace Dave Robertson at Peterborough United. I was one of them.
Being an out-of-work manager had been a hard-earned break for me this summer. After my Stevenage team were defeated in the League Two play-offs by Southend, I was able to rest myself and clear my head. After seven consecutive summers without respite, it was a welcome breather.
But the start of the football season hit me like a brick. I enviously watched managers playing the game that I love while I looked on from afar without an opportunity to compete. The pain was awful.
I began managing in the Ryman Premier Division before winning separate promotions into the Conference, into League Two and then into League One. Although I have beaten Championship and Premier League clubs in cup competitions, I have never managed at those levels and my ambition is to do so. Sitting on the sidelines was never going to help me move towards that objective.
By chance, I was at Southend to watch Dave's last game in charge of Peterborough.
I was hugely impressed by some of the talent on display. Players like Ben Alnwick (a goalkeeper destined to return to higher levels), Michael Smith (almost certainly a future international full-back), Ricardo Santos (who at 6ft 5ins has the physical and technical attributes to go all the way), Marcus Maddison (who could well develop into the club's latest multi-million pound departure this season), Michael Bostwick (who played so brilliantly for me at Stevenage), Jon Taylor (the dynamic wide man), Conor Washington (already with around one goal in three and improving) and young loanees including Alex Davey (Chelsea) and Calum Elder (Leicester City) made a really strong impression on me.
I knew that other top players including Gabby Zakuani, Jack Baldwin and Jermaine Anderson were also at the club and available.
So when the job came up, I put my name into the frame. The opportunity to work with that talent was too good to ignore.
Fortunately for me, I was called from America by Darragh MacAnthony, the Peterborough chairman, four days after applying. We shared a long transatlantic telephone call after which I was absolutely clear that I wanted to work for the man. He has incredible vision, outstanding football knowledge and a special kind of ambition.
Subsequent to the call, I was invited to fly out to Florida to meet him in person. We had two lengthy meetings in the space of under 24 hours and did a lot of talking. We got to know each other well.
What I learned in those meetings was an inspiration to me. The chairman's continuing ambition for Premier League football and his learning from the club's previous Championship exploits was a key attraction.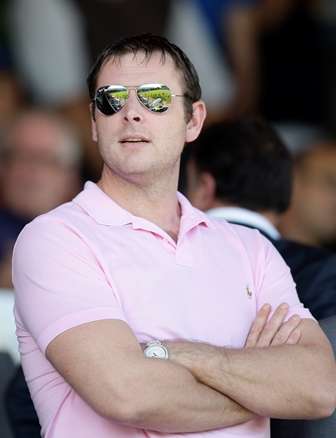 It was clear to me that I had both the skills and experience to do the job at Peterborough, especially in terms of supporting the development of an expensively assembled squad of huge technical attacking talent where my track record has been strong.
As I boarded my return flight I hoped that I had done enough to land the job because I felt a genuine passion for it.
I waited several days before I was asked to discuss a contract, while other interviews took place, but it only took us a matter of minutes to reach agreement. It was great to be wanted and to feel so passionate towards the club and the opportunity.
On Monday, I was announced at a Press conference and this week was my first back at my football desk. I took time to meet people all around the club and to learn about all aspects of what we do.
Peterborough employ truly fantastic staff; skilled people with outstanding drive for the club's progression. The club are at the centre of their community and take their responsibilities very seriously. Watching our people work so diligently and professionally for the club and their fans has re-inforced my belief that the Posh was precisely the right place for me to flourish.
Peterborough build star players for a reason. Its chairman and directors are huge in that. So, too, the entire back room team. And especially the fans. The club demand positive, possession-based attacking football and they encourage players to play with adventure and freedom of expression. The consequence of this is that the likes of McLean, Mackail-Smith, Boyd, Tomlin, Gayle and Assombalonga have been developed and sold.
Darren Ferguson, of course, played the significant managerial role in all that too and will undoubtedly go on to repeat similar success when he decides to return to management.
In front of me then is the job of building an exciting and winning Peterborough team from an expensively assembled squad (c. £4m of talent acquired). I have inherited a wonderful coach in Grant McCann and a great group of professional staff.
The philosophies of the club are clear. The unity at the club is exceptional. If I play my part then we see many reasons why we can continue to recover from a difficult start and push on into the picture at the very top end. One game at a time.
The challenge sure beats the pain of the sidelines!