by Luke Baker
AS A goalkeeper, there can be little better than saving a penalty to win your team a game, so to do it twice in the space of five days must be a very special feeling indeed.
And after doing exactly that, on-loan Colchester stopper Jamie Jones is hopeful his heroics will help him earn a contract next year.
Last Tuesday, with the U's 3-2 up against Sheffield United and with only three minutes to hold on, Jones dived to his right to keep out Billy Sharp's penalty effort.
Then, just five days later, he preserved Colchester's lead over Gillingham, once again going to his right to repel Cody McDonald's spot-kick.
The 26-year-old is only at the Weston Homes Community Stadium on a temporary basis – his three-month loan ends in December – but with his contract at parent club Preston running out at the end of the season, he is already considering his next move.
However, for the time being, Jones is relishing the fact that he got to experience the feeling a striker gets when scoring a match-winning goal.
"Making a last-minute save or making a penalty save to win a game is the equivalent of scoring a goal for me," he explained.
"I take pride in that and it couldn't really have been a better week for us, because the main thing about it is that we picked up six points.
"We knew the wins were going to come sooner or later, just because of the way we've been working.
"When I first arrived, I could tell what a good side Colchester are, but it just wasn't ticking.
"I'm here to play games and keep improving and hopefully I can get another contract off the back of it, wherever it may be."
With last week's heroics, Jones has now marked himself out as something of a penalty-saving specialist and he believes that his save five days prior may have been playing on Gillingham striker McDonald's mind.
But the former Leyton Orient man is reluctant to reveal too many of his tricks.
"I just see how I feel at the time – try to slow them down and maybe try to read where he's going to go," added Jones.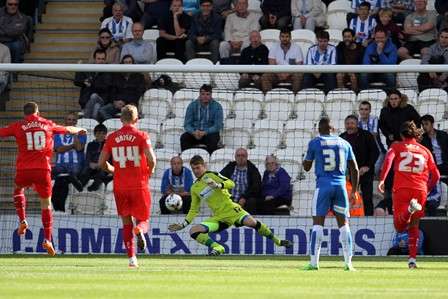 "I don't want to give too much away though, because I know some strikers might be reading this!
"The Sheffield United penalty save didn't necessarily give me confidence, but it probably gave Cody McDonald a few more nerves.
"It might have put extra pressure on him and I was just trying to get in his head and force an error from him."
Jones made over 150 league appearances for Leyton Orient in a six-year spell at the club, but turned down a contract extension to join Preston in 2014.
However, things quickly turned sour when he was dropped, apparently without explanation, last November and he hasn't made a competitive appearance for the Lilywhites since.
Loan moves to Coventry and Rochdale followed in the second half of last season and the Kirkby-born keeper is looking to the future.
"It's been very frustrating at Preston. It came out of the blue that I got dropped and I've not played in a competitive game since," he said. "I'm just getting games. If Preston want to take me back and put me in the frame for a first-team place then good for me, but I'm on the market now.
"Contract-wise I'm up at the end of the season, so I'm out there fighting for a contract. If it gets extended at Colchester then brilliant because I'm more than happy."