(Photo: Action Images)
By Chris Dunlavy
WHY do managers insist on standing pitchside? Is it for show? To clap their hands and yell instructions? Or simply force of habit?
I've always found a seat in the stand offers a much better picture of shape, systems and tactics. Down low, there's no perspective, just a maelstrom of movement.
But last week's visit to see Paul Warne, Rotherham's interim manager, provided a fresh perspective.
"Up top, the game looks really slow and easy," he said. "I can convince myself I can still play. You think 'Why didn't he pass it over there, it's a piece of p***?' "I think that's why fans abuse players.
"But, when you're down there, you realise he can't see that bloke because there are three people in the way and another one coming to snap him in half.
"When you're down on the touchline, you see how fast and hard it really is. How people are coping with pace and power, how quickly they think. It's a different game."
Warne was terrific company – intelligent, self-effacing, devoid of bravado. He doesn't see a future in management, so he can eschew the chest-puffing false confidence other coaches use to mask frailty and self-doubt.
I learned more about what being a manager feels like in an hour with Warne than I have in a hundred other interviews combined and gleaned several insights like the one above.
In a game increasingly ridden with cliche and doublespeak, the Millers have a man who cuts through the c**p.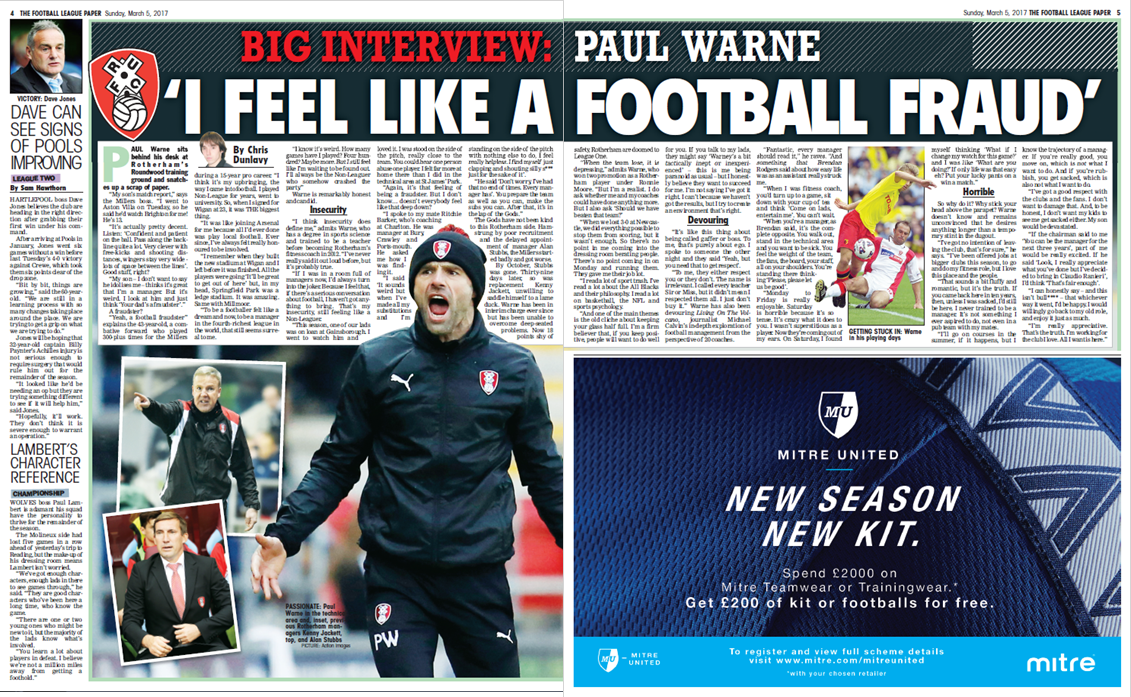 Paul Warne was interviewed in The FLP's 5 March 2017 edition – you can read the feature here www.theleaguepaper.com//big-interview-rotherham-united