by Chris Dunlavy
MENTION the name Dave Challinor and only one thing comes to mind – that humongous throw so feared by opponents that Sam Allardyce even wanted it banned!
"They were unstoppable," said Andy Parkinson, a team-mate at Tranmere Rovers. "He could hit the  box from anywhere in the opposition half and it used to come in so low and flat. I remember Bobby Robson saying they were harder to defend than David Beckham's crosses."
Yet there was always more to the centre-half than his world-record breaking party piece.
A regular for Rovers following his debut in 1994, he spent eight years at Prenton Park and was a part of the side that reached the League Cup final under John Aldridge in 2000.
And while real success would always elude him as a player, the 40-year-old has more than made up for it in the dugout, winning three promotion in five years at the helm of Colwyn Bay and now AFC Fylde.
Here he tells us why football almost came second to study, which one-time team-mate of Cristiano Ronaldo used to crack him up and how it felt to be a bystander to one of the most famous ever own-goals.
First Club
Tranmere Rovers – I made by debut in 1994. I'd been attached as a schoolboy and played in the FA Youth Cup for them.
I finished my A-levels, then applied to Loughborough University. I wanted to do Sports Science, which at the time was really the next big thing, and they offered me a place.
But I'd been playing for England schools at college and Tranmere must have been watching because they offered me a one-year contract.
I couldn't see the harm in giving football a go for a year so I deferred the place at Uni and signed up. I did well, got a permanent deal and that was that.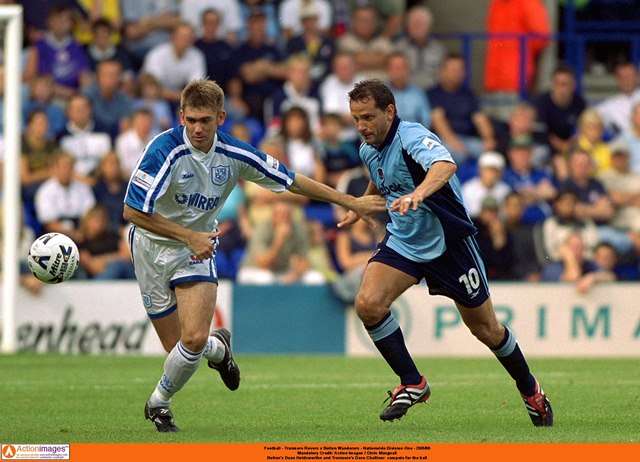 Best manager
Probably Graham Barrow, who I played for at Bury towards the end of my career. When you're young, you take things for granted. You're self-absorbed so don't pay attention to a manager's good and bad points.
Later, I started to do that and it was really Graham who got me interested in the coaching side of things.
He was a really good bloke and had a bit of everything. You knew where you stood and he got the balance right between being the boss and having a relationship with the players.
It's funny because when I was coming through, nobody talked about man-management. But as football's progressed, players seem to have become more high-maintenance. It's certainly a different job these days.
Best team-mate
Jason Koumas at Tranmere. Jase did go to the Premier League with West Brom, but I think he could have played for one of the top, top sides. That's the ability he had.
Right foot, left foot, immaculate touch – he used to go past people like they weren't there. If anything, I think he was probably let down by his body language – at times it could look like he wasn't trying.
When he went to West Brom Gary Megson was manager and he's someone who demands every player putting in a shift. Jase did do that, but I think people looked at his demeanour and thought 'Is he just doing enough?'
That's why I think he'd have flourished in a better side who have more of the ball and could have utilised him properly.
First promotion
None as a player. But when I finished at Bury, I went to Colwyn Bay as manager and got promoted to the Conference North in 2009-10. I've since got two more with AFC Fylde so I think I'm making up for lost time.
Funniest player
I'd have to say Alan Mahon at Tranmere. He was the king of practical jokes and if something looked odd or went missing you knew he'd have a hand in it somewhere.
Al was another one who, ability-wise, was top drawer. I remember he exploited a loophole in the Bosman ruling and left us to join Sporting Lisbon in Portugal on a free. He ended up playing in the same team as a young Cristiano Ronaldo.
Funniest incident
At the time it was anything but funny.  But, in hindsight, it has to be that famous own-goal by Chris Brass against Darlington.
If you look on the video – and it isn't hard to find – I'm stood right next to Brassy with my hand up for offside.
I was standing there hoping the lino would flag and, as I've turned around, Brassy's somehow smashed the ball into his own face. It absolutely flew past poor Kasper Schmeichel in goal.
It wasn't a big stadium at Darlington – maybe only 4,000 people – but each and every one of them was laughing.
It was a big game for us because both sides were near the bottom. That put us 1-0 down and when we went in the dressing room, nobody said a word. Everyone just looked around thinking 'Did that really happen?'
Thankfully we won 3-2, which made it easier to laugh about. And at least I can say I was a bystander to a nationally-renowned blooper!
Biggest achievement
As a player, it was reaching the League Cup final with Tranmere against Leicester in 2000. It was a great run and we'd also got to the quarters of the FA Cup that year. We actually ended up miles behind in terms of league games and only just stayed up.
As a manager, it's the promotions. Having never experienced it as a player, I now know it's a really special thing to be part of.
Lowest moment
Losing that League Cup final 2-1. It was gutting. We went into it as massive underdogs and everyone outside of our dressing room expected us to get smashed.
But we genuinely expected to win. We'd beaten Premier League sides all the way to Wembley and didn't think Leicester were going to be any more of a challenge.
We went 1-0 down, then Clint Hill got sent off. But when David Kelly equalised with ten minutes to go you're thinking 'This could be our day'. Unfortunately, Matty Elliott scored pretty much straight from the kick-off and that knocked the stuffing out of us really.
People say to you afterwards 'It must have been a special day'. But, to be honest, I don't remember much – not even climbing the steps to get my loser's medal.
That's why now, I always try to impress on young players to savour the moment. Whether you win or lose, try to take it all in because big games like that are a once-in-a-lifetime experience for a lot of players.
Toughest place to go
None – I used to love playing away. None of the famous grounds really intimidated me and I used to love trying to thrive in what was often a hostile atmosphere.
Toughest opponent
I was lucky enough to play against the likes of Alan Shearer, Duncan Ferguson, Niall Quinn and people like that – big lads who liked a battle. And while they were obviously great players, I always felt comfortable dealing with that kind of approach.
What I hated was pace and movement. I remember playing in a reserve game against Man United.
Andy Cole was just coming back from injury and he'd just won the Premier League golden boot and moved to Old Trafford for £7m. He was unbelievable – his movement was incredibly sharp and I just couldn't get within a yard of him…
In the same vein, Michael Owen was pretty much untouchable.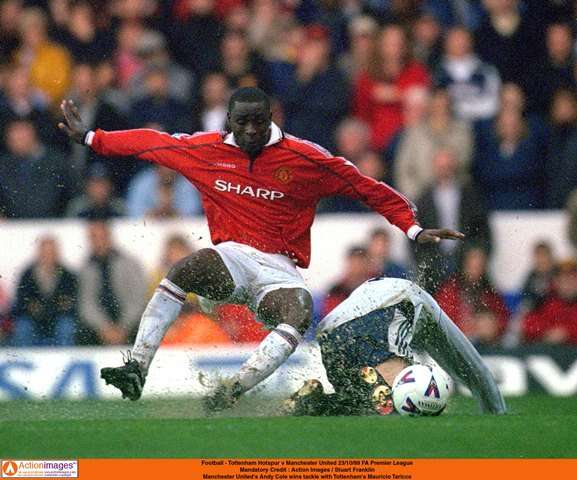 Favourite place to go
Wembley was great but, domestically, I loved going up to the north east. I was fortunate enough to play at Sunderland and Newcastle when things were going well and the atmosphere up there beats anywhere in the country. Walking out, it's a wall of noise.
In terms of results, Bolton has always been good to me. I scored one of my few goals for Tranmere in a 3-2 win there. And as a manager with Fylde, we've won the Lancashire Cup there twice. It's been good to me.
Ambition
Short-term, it's to get Fylde as far up the Pyramid as possible. We came second last season and another promotion will have us one step away from the Football League.
Long-term, I want to push myself. I'd love to manage full-time, I'd love to manage in the League. People are waking up to what young English managers can do and I'd love the opportunity to keep proving it.