A DUBIOUS pleasure of attending games in empty stadiums is the ability to hear exactly what players and referees are saying.
The clash this month between Blackpool and Ipswich at Bloomfield Road was enlightening in the sense that it illustrated just how much abuse a referee will accept.  
Chris Sarginson was absolutely battered by Ipswich skipper Luke Chambers. Not once. Not twice. All game long.
After one barrage of expletives, Sarginson eventually told Chambers to turn around. 'F*** off, ref," he was told. No card.
Later, the defender was advised to calm down. "Don't you f***ing tell me to calm down, I'm doing my f***ing job," he retorted. Again, no card.
Then there was the poor linesman, half a pitch away. "What the f*** are you watching?" he yelled after a team-mate was felled. "Is he allowed to f***ing do that, is he?" Once more, Sarginson kept his deck stowed.
FA rules state that a player is cautioned 'if guilty of dissent by word or action' and sent off for using 'offensive, insulting or abusive language and/or gestures'.
By any measure, Chambers committed the lesser offence and should certainly have received a yellow card.
One 'f*** off' spat in frustration or anger will be tolerated by any referee. They appreciate that players are fuelled by adrenaline and occasionally need to vent.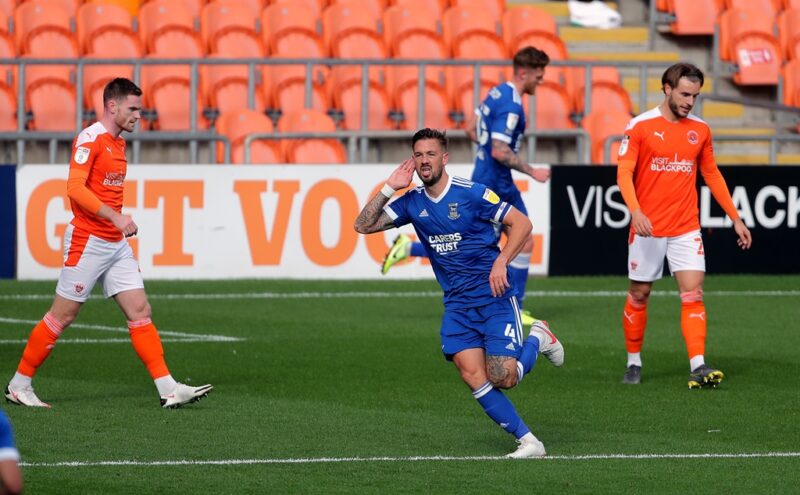 But a constant volley of abuse? That is both clear dissent and a persistent offence, another transgression that is punishable by a yellow card.
Red cards are a muddier issue. Offensiveness, abusiveness and the degree of insult intended by any individual are inherently subjective and thus dependent on the sensitivity of a referee.
While there is not a list of banned words, some things are clear red lines that will inevitably result in dismissal.
Physical threats. Accusations of cheating. Abuse relating to race, sexuality or gender. Wishing diseases on a referee or insulting their family.
Thereafter, it's up to the man in the middle. For instance, a referee with a shaved head may not object to being called a baldy t***. One rendered bald by medical problems – or simply self-conscious about losing their hair – might see things differently.
Sarginson, presumably, has pretty thick skin. Chambers, a 35-year-old veteran of vast experience in the EFL, probably knew that from the outset.
Both stayed roughly within the laws, but that isn't really the point. Across the country, referee numbers have plunged over the last decade, with abuse the biggest obstacle to recruitment.
"We will be short of referees in the future," said Pierluigi Collina, the legendary Italian who was appointed chairman of the FIFA Referees committee in January 2018. "What motivates a youngster to become a referee if they know they will be verbally abused – or even attacked?"
According to Collina, an example must be set by the professional game. "Because if a wrong message is given from top football, it can be very negative," he said.
Last Saturday, Sarginson gave the wrong message. He should have produced an early yellow card, which might have nipped the issue in the bud.
He could – within the regulations – have deemed the insults abusive and sent the Ipswich skipper packing.
Yes, it would have been harsh by current standards. But how else can a systemic issue be erased?
You can launch campaigns. Talk about respect. Ban gobby parents. But without a clear and consistent example from the top, any such efforts will fail. Kids, after all, will always ape their heroes, potty-mouthed or otherwise.
It is easy for armchair punters who only watch the pros to say it's a man's game. That no real harm is done. To talk about sticks, stones and broken bones. But at lower levels, where cameras are absent and crowds sparse, verbals are far more likely to turn violent.
Referees at that level need protection. And that protection must start with their brethren in the pro ranks – plus those who govern them – wielding an iron fist.
CHRIS DUNLAVY