PRIOR to Cardiff City's goalless draw with Blackburn Rovers two weeks ago, Bluebirds boss Neil Harris was asked to assess the opposition forward line.
"Good players, attacking intent," he said. "And in Adam Armstrong, they've got a top striker at this level. He's very dangerous."
Before Christmas, few opposing managers – and even Blackburn supporters – would have bracketed the 23-year-old Geordie in that category.
A record of 19 goals in 85 games, or one every 4.5 matches, was not the sort of strike rate to frighten Lewis Grabban, Teemu Pukki or any of the division's other established hitmen.
But a storming finish to the 2019-20 campaign saw Armstrong strike 11 times in 21 games – and drew a bold prediction from manager Tony Mowbray.
"I think Adam is going to get a lot of goals next season," said the former West Brom boss.
"He should be looking to get 20 or more because he doesn't bat an eyelid.
"He's a brilliant finisher – doesn't score enough headers – but very natural off both feet. And he's really fast, with electric speed from a standing start."
Mowbray's prophecy looks well founded. After four games, Armstrong led the Championship scoring charts with five goals.
Growing maturity has played its part, but the fundamental reason behind this statistical improvement is a shift in position. As a youngster at Newcastle United, Armstrong was an out-and-out striker whose scoring feats for the youth ranks earned a Premier League bow at the age of 17.
"I've given debuts to a few good 17-year-olds," said then-manager Alan Pardew. "Mark Noble, Jonjo Shelvey, Alex Oxlade-Chamberlain. Adam has got that kind of potential."
Twenty goals on loan at Coventry City – then in League One under Mowbray – served only to burnish that reputation.
Armstrong, though, was repeatedly overlooked by Rafa Benitez, struggled during loan spells at Bolton and Barnsley, and since a £1.75m transfer to Blackburn in 2018 has largely been deployed on the left wing.
Mowbray had good reason for doing so. Prior to suffering a serious knee injury in December, Bradley Dack was considered to be Blackburn's most creative player and a 4-2-3-1/4-4-1-1 formation was utilised to maximise the 26-year-old's talent in the No.10 position.
The system necessitated a physical forward (usually Danny Graham) to service Dack and wide men with the speed to play as conventional wingers, the discipline to defend, plus the technique to cut inside and shoot from range.
Armstrong, who is exceptionally quick but physically slight, fitted the bill. In fact, no player in the Championship was more prolific from outside the area last season, with his 45-yard stunner against Cardiff in July one of eight goals struck from range.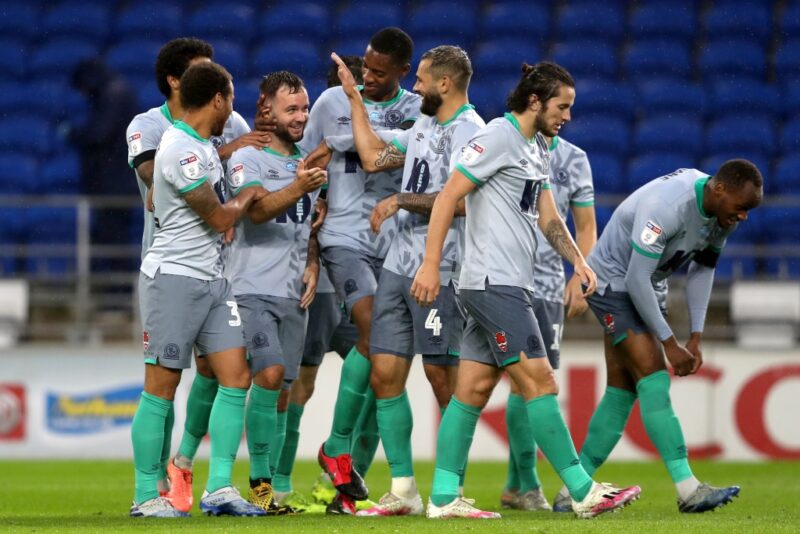 Vindicated by a mid-table finish in 2018-19, Mowbray was understandably reluctant to alter the system, but Dack's injury and Graham's advancing years forced his hand. Blackburn emerged from lockdown sporting a new-look 4-3-3 that placed less emphasis on direct football.
Armstrong, now more advanced and less burdened by defensive duties, returned three goals from four games up top, plus a further two from wide areas.
His shots-per-game (Spg) stats also rose significantly, from 2.2 per match to 3.1 after project restart.
Results actually dipped, but Armstrong's displays as a central striker convinced Mowbray to persist and, pre-weekend, Rovers had scored a Championship high of 11 goals in four matches.
Armstrong started all of them at centre-forward, upping his Spg to 5.2 and showcasing the predatory instincts so prevalent in those early days on Tyneside.
It remains to be seen how Dack's impending return will affect matters, but this is a team now firmly constructed around Armstrong.
"Now he's getting his opportunity to play down the middle, I think he's almost trying to show me that's where he plays, that's what he is and that's what it's going to be like moving forward," added former Middlesbrough manager Mowbray.
CHRIS DUNLAVY / Title image: PA Images