TONY FUNNELL admits the Cherries should have walked off with the Fourth Division title under the management duo of David Webb and Harry Redknapp.
Webb shelled out a bargain £5,000 to take the former Southampton man back to the South Coast at the start of the promotion-winning campaign.
Funnell repaid his faith. He didn't look back after coming off the bench to score a late equaliser at Halifax Town on his debut. It was the first of 16 league goals which saw him finish as top scorer.
The early season pace-setters looked like landing the title after only losing twice in the second half of the campaign only for ten draws to harm their cause.
They ended up finishing fourth with 88 points, three behind Wigan (third) and Bradford City (second), where they clinched promotion. Champions Sheffield United claimed 96 points.
"We were a good side and we didn't give much away," said Funnell.
"We should have won that league, but we had a slight slip-up in the last half a dozen games with some very disappointing results.
"We were definitely one of the best sides. We made a few signings to get promoted, and that's what happened.
"We were confident for most of the season that we would go up because we weren't getting beaten or giving much away.
"You gain confidence that it is going to be a good season. It's hard to explain why we didn't win the league, though, because we were all confident we would do it."
The Cherries achieved promotion in Webb's first full season in charge while Redknapp had joined the club after coaching at Seattle Sounders and Oxford City with Bobby Moore.
"Dave and Harry had us organised. All of the defenders and midfielders knew what they were doing. They all worked together as a unit and covered each other.
"We did work a hell of a lot on our pattern of play. Everyone knew where they were going and that was something that we did every week.
"We also had a bit of flair up front with Andy Crawford and myself who could score goals. We could attack as well as being well organised at the back.
"For a Fourth Division club at the time, we were quite fortunate to have them both there. Even then you could tell that Harry was a good coach, but you didn't know how far he could progress.
"I think he arrived at clubs at the right time and achieved success because he played the right type of football to suit the players that he had," he added.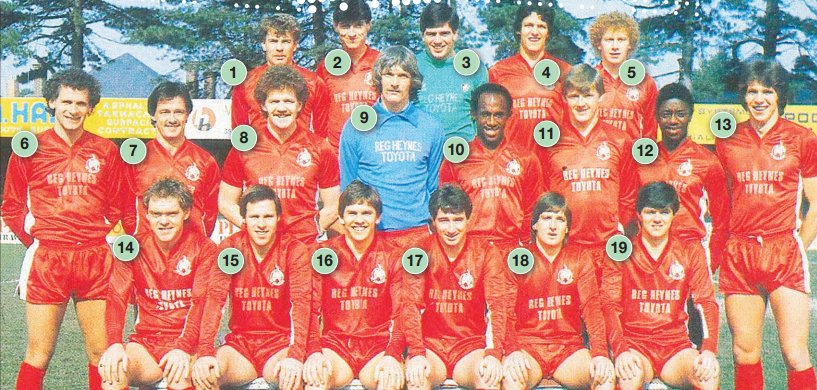 1. Howard Goddard: A forward who won promotion with Newport County. Has coached overseas and worked for a computer company.
2. Trevor Morgan: Forward who won promotions with Bristol City and Bolton. Is now based in Perth, Australia. Has coached in England, Australia, Singapore and India.
3. Ian Leigh: Goalkeeper who won an EFL Trophy with the Cherries. Has sold double glazing, been a financial consultant and a director of an IT firm.
4. John Impey: Defender who managed Torquay. Is now a successful property developer and landlord in that area.
5. Paul Edmunds: Winger who won a Division Two title with Leicester City and is a schoolteacher. Managed Doncaster Belles, who were founded by his wife, Sheila.
6. Phil Brignull: Defender who won an EFL Trophy with Bournemouth. Became a financial advisor and is now principal at go2mortgages.
7. Brian O'Donnell: Midfielder, was a Cherries youth coach under Tony Pulis, and has scouted for West Brom, Middlesbrough and Hibs.
8. Tom Heffernan: Right-back won another promotion with Sheffield United. Lives in Dublin where he is a painter and decorator.
9. Kenny Allan: Goalkeeper won promotion with Swindon. Became a postman and then an ambulance driver for the South & West Devon Health Authority until retiring.
10. Derek Dawkins: Full-back scored a League Cup winner for Torquay at Leicester. Has run a mobile accessories business, coached in Spain and runs tech firm Dantl.
11. Nigel Spackman: Midfielder won a League championship with Liverpool. Has managed Barnsley and Millwall and now works in the media for BeINSports and 5 Live.
12. Milton Graham: Midfielder was Chester's Player of the Year in 1987. Settled in Peterborough and works as a production supervisor for Perkins Engines.
13. Paul Compton: Central defender who stayed in the game coaching and is now Southampton's head of academy recruitment.
14. Brian Smith: England youth midfielder ran a mobile video round and then a sportswear business before his death in August 2013.
15. Andy Crawford: Striker who won promotion with Blackburn Rovers and became a builder in his native Filey.
16. Tony Funnell: Forward won promotion with Southampton in 1978 and now runs a community coaching scheme and a soccer school.
17. Kevin Dawtry: Midfielder worked in warehousing and is now a senior production planner for Exxon chemical in Hampshire.
18. Steve Carter: Winger won promotion with Notts County in 1973 before starting a confectionery business in Wilmslow.
19. Chris Sulley: Left-back won promotion with Blackburn Rovers. Went into academy coaching and is now a coach developer at the FA.
Not Pictured
Dean Mooney: Forward worked for Bournemouth electric for many years before becoming a taxi driver.
Neil Prosser: Forward who settled in the Dorset area and is managing director anWhere Are d a chartered financial planner at Temple Wealth Management.
Keith Williams: Midfielder spent many years working as dispatch manager for Bezier Corporate Print in Poole, Dorset.
Eddie Kelly: Midfielder who earlier in his career won the Double with Arsenal. Settled in Paignton where he became a publican and worked in double glazing.
Charlie George: The Arsenal Double-winning forward ran a pub and a garage business before working in corporate hospitality with the Gunners.
NEIL FISSLER