by Chris Dunlavy
FOR a flashy showboater with a big mouth and no pace, Teddy Sheringham didn't do too badly.
A Premier League title, FA and European Cups, 51 caps for England and 355 goals in 899 career appearances. Then there are the plaudits.
From Gary Mabbutt, his skipper at Spurs in the mid-nineties: "Teddy was among the best strikers and headers of the ball I've ever seen," said the defender. "He was strong, he was clever and his timing was absolutely spot on. He wasn't blessed with pace, but he knew exactly where defenders did not want to go."
From Alan Shearer, the other half of the fabled 'SAS' partnership that carried England to within a penalty kick of the Euro '96 final: "You can't explain how a partnership like that developed," said Shearer, the Premier League's record scorer. "It just happened. It wasn't about the work we put in on the training ground. Teddy just instinctively knew every run and every movement I'd make."
From Terry Venables, his manager for Tottenham and England: "Teddy is one of the best players I have ever worked with," said the former Barcelona boss.  "His movement, the way he read a game. You won't find a striker out there who wasn't happy to play alongside him. Just look at Jurgen Klinsmann – he had a fabulously successful career across Europe and for the German national team. But of the many players he partnered, he always said that Teddy was the most intelligent."
Which to those who watched the former Tottenham and Manchester United man in his pomp, is hardly a revelation.
Yet those who remember Sheringham as a cocky kid at Millwall feared he might never make the grade at the Den, let alone become a garlanded superstar.
"I was a flash kid in those days," said Sheringham in his autobiography. "A real showboater with a repertoire of flicks and touches. I wasn't interested in scoring boring goals – I wanted to bend them into the top corner or chip the keeper."
This didn't go down too well with his manager, the arch-pragmatist George Graham, who ordered Sheringham to cut out the tricks. The headstrong teenager refused to listen, prompting an incensed Graham to ship him out on loan, first to Fourth Division Aldershot and then to Swedish side Djurgarden.
It was there, during a revelatory run of 13 goals in 21 games, that the penny finally dropped. "I realised it wasn't just about me," said Sheringham. "When you're playing for money that can make a difference to people's lives – we got £40 for a draw and £80 for a win – you owe something to the other lads. I suddenly realised the importance of what George had been saying."
Back in Graham's good books, Sheringham took flight, forging a legendary partnership with Tony Cascarino and netting 22 goals as the Lions won promotion up to the top-flight.
By that stage, his qualities were obvious – vision, movement, peerless technique. A poacher's instinct married with an ability to bring others into play.
Yet Cascarino, whose son Teddy was named after Sheringham, says one of his old mate's hidden strengths was his resilience.
"When he was going through a bad spell, our supporters were having a right go," says the ex-Irish international. "But Ted didn't even blink. He knew he could play and no loudmouth on the terraces was ever going to convince him otherwise. He's the only player I ever knew who could miss three one-on-ones and then try to chip the keeper! He had more self-belief and confidence than anyone else that I knew."
Cascarino also describes a forceful personality who – even as a youngster – was confident enough to order senior team-mates around.
It was a trait that left him at odds with Brian Clough, who signed him for Nottingham Forest for £2m in 1991 and then insisted on calling him Edward.
"Teddy is like a Dutch player," said Frank McLintock. "He loves a debate – or an argument – about tactics and was never going to be the sort to just buckle to Brian's domineering personality."
At Spurs, Terry Venables proved far more amenable, giving Sheringham the creative licence he'd always craved. The result was 76 goals in 166 games, a Premier League golden boot and that starring role at Euro '96, culminating in two goals against the Dutch.
A £3.5m move to Manchester United in 1997 (Sheringham said he wanted to "win something") was initially met with mocking chants, reminding him that he'd 'won f*** all' after a pot-less first campaign at United.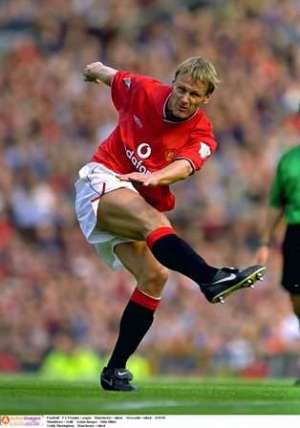 A year later he silenced the jeers with a winner in the FA Cup final against Newcastle and a crucial 90th-minute leveller in that stunning Champions League comeback against Bayern Munich. At the age of 33, Sheringham had completed the treble.
Yet he was far from done. The striker would play on for another nine years, returning to Spurs, helping Portsmouth consolidate top-flight status and scoring 21 Championship goals as West Ham sealed promotion in 2005. To this day he remains both the Premier League's oldest goalscorer (40 years, 268 days) and oldest outfield player (40 years, 272 days).
"His career lasted so long because of his appetite for the game," said former Spurs skipper Ledley King. "I always remember him staying back after training to practice technique with me and Simon Davies. His enthusiasm and keenness, even at 35 or 36, was a great example. He was also very competitive – after training he'd see if anyone wanted to play golf. He didn't care about age. He still wanted to be the best."
For a while, it seemed Sheringham's involvement in football would end with his retirement in 2008, with a successful career on the world poker scene more than enough to top up the pension.
But after a spell as forwards coach at West Ham under Sam Allardyce, Sheringham joined Stevenage and is once again learning from the bottom up.
"I think getting involved here gave him that spark," said Allardyce. "It's a great opportunity for him and maybe he's realised he doesn't just want an easy life."