by Mark Sharman
BURTON ALBION, club stalwarts will tell you, is built on three solid pillars: the unstinting work of chairman Ben Robinson, the ten-year team building of Nigel Clough and cash from two FA Cup ties against Manchester United in 2006, which helped pay for the new Pirelli Stadium.
So proud are they of Nigel that, across the road, you can find Clough Drive, named in his honour and an echo of the A52 between Derby and Nottingham, Brian Clough Way.
Imagine then, what they might do for Jimmy Floyd Hasselbaink who, remarkably, has taken this small and friendly club to the top of League One. He's not yet completed a year in the job but has a win record of 65 per cent, better (so far) than Sir Alex Ferguson and Arsene Wenger. There's just a chance Burton could go all the way to the Championship.
So, how about a brass plate, inscribed Jimmy Floyd Hasselbaink Stood Here, 2014–20?
It would be placed close to halfway and three feet back from the pitch, because that's where JFH spent the entire match against Sheffield United this week. Not for him the jack-in-a-box antics from the dug-out, nervous prowling of the touchline or bawling out his players.
He's rooted to that spot, immaculate in his dark suit, white shirt and striped club tie, encouraging, cajoling, advising. He'll point, he'll give the occasional thumbs up, he'll play an imaginary concertina as he encourages his back four to press higher.
And, now and again, he'll put his fingers to his lips and whistle, loud and surprisingly musical, like a shepherd to his sheepdog.
Even when a defensive header falls short and affords Billy Sharp United's best chance, he stays cool, arms crossed, a man who exudes total confidence in his capabilities.
His boys do him proud. They defend well, run all night and pass the ball with accuracy. Jimmy calls Burton "my Barcelona" and one exquisite move in particular would grace the Nou Camp.
Nasser El Khayati was pivotal and should have won the match from the final pass, United's defence in ruins. The manager is satisfied, though, because Burton have kept their discipline and their shape.
Nil-nil against the promotion favourites is a decent point.
He speaks later of a core principle: "If you want to be successful, don't give anything away. Maybe we can't win, but you're definitely not winning here."
A record of 26 wins, nine draws and only five defeats in 40 League games suggests he has it right.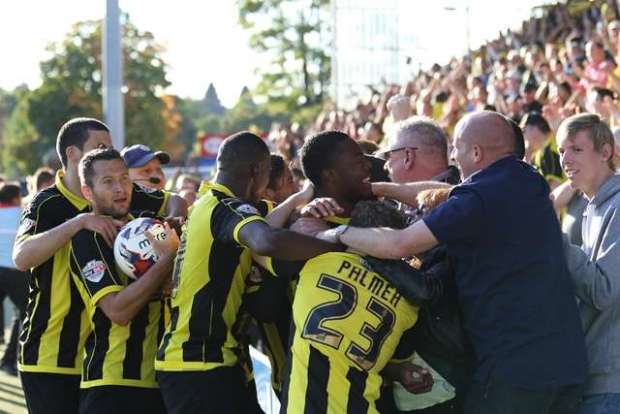 "Jimmy Floyd Hasselbaink has everything it takes to be a successful football manager," says chairman Robinson, a man who carries that rarest of distinctions, a director who earned praise from Brian Clough.
"He's very good technically, has a tremendous work ethic and is excellent with the players. He treats them as individuals. He's a psychologist."
Hasselbaink's reply? "Did he say that? I just love working with people. I like different cultures, the way different nationalities behave. It's very important in today's football."
To back that up, he speaks five languages plus a smattering of German – and he answers every question with patience and honesty, looking you straight in the eye.
As a top-quality striker himself (twice winner of the Premier League Golden Boot), does he have any difficulty getting his message across to lower league players?
"I don't regard them as lower players," he says. "That would be disrespectful. They are football players, giving their best."
What about that touchline composure?
"Oh, I do shout, but usually in the privacy of the dressing room – and only at the older, more senior players," adds Hasselbaink. "Younger players are learning. They need encouragement, maybe an arm around the shoulder."
Hasselbaink is the latest in a line of managers given a chance by Robinson – a young Neil Warnock, Clough and Gary Rowett. So what does the chairman look for when recruiting?
"Strength of character, mainly," says the man whose main business is insurance. "There are dark days in football and you need someone who can handle that. Jimmy was the outstanding candidate of the nine we interviewed when Gary left for Birmingham."
Hasselbaink returns the compliment. "He's a pleasure to work with," says the Dutchman of his boss. "He's a hands-on chairman at the club and he'll make suggestions on contracts etc, but I'm a hands-on manager.
"I make the football decisions – he never makes suggestions on team selection or anything like that."
Robinson won't be drawn on managerial comparisons, but there's a feeling that Hasselbaink has taken everything up a notch.
Burton enjoy the benefit of training at nearby St George's Park – something they have done since their Non-League days when the pitches were first laid and long before the footings of the FA's National Football Centre were dug – and the preparation of the players is exemplary, as is match analysis.
"We may be small, but we do things right," is another Hasselbaink motto.
These are heady days indeed for Burton and Robinson, who first became involved in 1975. Even a decade ago, when Burton were still in the Conference, it would have been unthinkable to play big city teams like Sheffield United on equal terms. There'd be better odds on the Temperance Movement closing the town's world-famous breweries.
But, as he moves between corporate boxes, to the boardroom and to the smart sponsors' lounge, shaking hands and greeting people, nobody begrudges him this time in the sun.
In the past the club has faced tax bills and ruin – one appeal to the public raised just £600.
In fact, the town's response still disappoints, with only around 3,000 die-hard fans from a population of 65,000, despite the charitable Burton Albion Trust regularly engaging 8,000 people in social activities through police, schools and other organisations.
"Hopefully, we're attracting the young fans of the future, as well as helping the town," says Robinson.
Neither chairman nor manager will speak of promotion. Hasselbaink talks only of sustaining a high level of play – "and we'll be in for an exciting season."
Robinson, though, is shrewd enough to have included potential extensions in the Pirelli Stadium plans, in case they need to meet Championship seating regulations.
Equally, Hasselbaink dismisses any questions about his personal ambitions, saying that, at this moment, it's all about Burton Albion. That was reinforced when he rejected an approach to talk to a potential suitor – thought to be Rotherham – this week.
They advertise 'Weddings At Burton Albion FC' at the Pirelli and undoubtedly there's already a harmonious marriage here.
But, if the good times continue, there will be bigger and wealthier suitors calling for Hasselbaink. Robinson hopes the honeymoon will continue for some time.