by Chris Dunlavy
AS schoolboys at Norwich City, apprentices at Bristol Rovers and housemates throughout their formative years, Luke Williams and his best mate Bobby scrubbed boots, cleaned toilets and shared their dreams of hitting the big time.
Yet, while Bobby – Zamora, that is – became a Brighton legend and Premier League star worth millions, the Swindon boss was forced to wait a lot longer for his day in the sun.
Released by Rovers just as Zamora emerged, Williams was rebuilding his career at Non-League Ashford Town when a catastrophic knee injury put him in hospital.
By the time he'd gone through three gruelling years of operations and physio, he was 23 and any chance of a return to the pro-game had gone with the mangled cartilage.
So, while Zamora won golden boots and lined up with Robbie Keane, Williams knuckled down to the unglamourous business of clinging to a career in the game.
With no reputation to fall back on, early forays were modest. In 2006, he headed up the Beckton branch of Kickz, a partnership between West Ham and the Met Police that used football to keep kids aged 13-18 off the streets. Zamora, a former street kid himself, would regularly drop by.
Then came jobs as an FA Skills coach, combined with coaching at Leyton Orient under Dean Smith and Martin Ling. A partnership with Braintree College also saw him head up the academy at Non-League Witham.
So far, so eclectic. But, in 2009, Williams took a call from his old mate, who'd heard through the Brighton grapevine that Gus Poyet was seeking an innovative young development coach.
Aged just 29, Williams beat off nine other candidates to win the job. And, over the next five years, he would rise from just another backroom boy to become one of the most eulogised coaches in the Football League.
Initially, it was Brighton's kids who felt the benefit. Jake Forster-Caskey, Solly March and Steve Cook have all hailed Williams' influence in their development.
"Luke helped me so much," said Cook, now a Premier League regular with Bournemouth. "I'm a difficult player to coach because I'm quite impatient but he stuck with me, made everything easy to understand and I'll always be grateful for that. He's a brilliant coach and a great person."
---
The FLP's weekly profile is sponsored by Marathonbet: Odds here https://www.marathonbet.co.uk/en/
---
By his own admission, Williams' success at Brighton resulted largely from a merging of football philosophies, Poyet's purist principles melding with his young trainer's progressive beliefs in passing and possession.
"At most of the places I have been, as a player and as a coach, it has often been frustrating because people don't want to play the game in the manner I think it should be played," he said in 2010.
"I've had times when my boss hasn't been happy because I'm trying to teach them too much about the game. They want them taught less, taught one way of playing. Gus was the total opposite."
Enticed by Williams' single-minded belief in flowing football, Swindon chairman Lee Power lured him away to become Mark Cooper's assistant in  2013. Initially at least, it was the perfect partnership, with Cooper the experienced pragmatist tasked with winning matches and Williams the hands-on technician employed to embed a philosophy.
Together, the pair led the Robins to the play-off final. Yet it was always Williams for whom the Swindon players reserved the bulk of their praise.
"Luke is an exceptional figure in my football career and that's over 20 years now," said Darren Ward, who played in the top flight with Wolves. "He taught me things that nobody else did, and I've worked with some top, top coaches."
Andy Williams, scorer of 22 goals last season, added: "He was as bubbly as they come and made every day enjoyable. He made you want to learn. I genuinely think a lot of my success was down to Luke. I've learnt so much in the space of one year. He makes us play football in a way that is so much easier than the way we used to play at this level.
"He just un-complicates everything, and it really is such a refreshing way to play. It is a lot more enjoyable than just having the ball booted up to you as a striker and being asked to fight with a 6ft 7ins defender."
Ex-Manchester United trainee Nicky Ajose had bounced around several clubs before landing at Swindon and says Williams is the man who got him back on track.
"He improved me so much," said the striker, now 24. "It was just little things, like if I went to speak to him and said 'Luke what do you think about this?' he would sit down and go into detail about it and he would work with you after training.
"I said to a few of the boys 'You need to appreciate the training you get here because it's very rare at League One level that you will still be able to improve as a player through training.
"He is probably the best coach I have worked with. He can easily work at the top level, he is that good."
And there has been interest: from Sunderland under Poyet, then Aston Villa when Tim Sherwood was in charge. Yet Williams stayed and, when first Cooper and then Ling left the County Ground, Power gave him the chance to prove his managerial mettle.
"The longer Swindon can keep him the better because it's as good as having a 15-goal a season striker," added Ajose.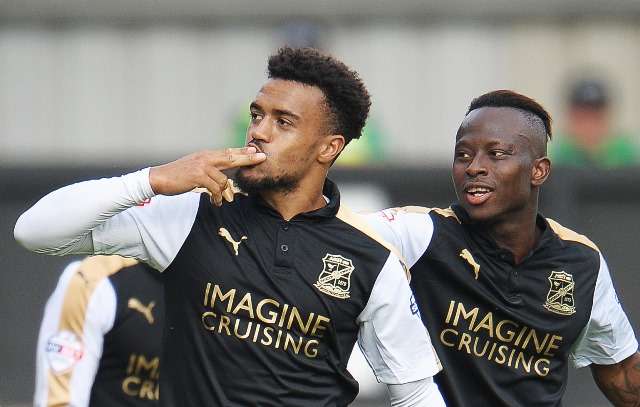 ---
Factfile:
Born: London, 1980 (Age 35)
A schoolboy at Norwich before joining Bristol Rovers as an apprentice, Williams left the Gas without making an appearance and subsequently played Non-League football for Ashford Town.
Seriously injured at the age of 20, Williams spent three years out before retiring to concentrate on coaching – first with a role in West Ham's Kickz scheme, then as an FA Skills coach, where he worked on a programme designed to fight childhood obesity. In 2008, he joined Leyton Orient's youth team under Dean Smith while simultaneously managing the academy at Non-League Witham Town.
Appointed to lead Brighton's newly-formed development squad in 2009, he saw a string of youngsters graduate to the first-team, among  them Rohan Ince and England Under-21 star Jake Forster-Caskey. He then joined Swindon in 2013 and was Mark Cooper's assistant as the Robins reached the 2015 play-off final, ultimately losing to Preston. He was retained when Cooper was replaced by Martin Ling, and Ling's resignation in December led to Williams being asked to manage the club until the end of the season.