by Chris Dunlavy
JUSTIN Edinburgh says he's flattered to be linked to the Brentford job. He shouldn't be. After a decade of drudgery, a bit of recognition is the least he deserves.
To the casual observer, it might appear the 45-year-old has come from nowhere. A promotion with Newport, a stunning start to life at Gillingham.
Just another bright young thing on the rise. Just another ex-Premier League star whose name has opened doors and dazzled star-struck chairmen.
Who wouldn't be impressed by a man who won the FA Cup, played more than 200 top flight games and once sipped champagne with Jurgen Klinsmann?
That's what Edinburgh used to think, too. He'd watched peers like Mark Hughes and Steve Bruce rocket to the top. When his legs gave out in 2003, he thought the offers would come. A bit of coaching, a job in League Two.
But they never did. Nobody wanted him. Nobody even noticed. It was a theme that would repeat itself with depressing regularity as Edinburgh ground out a living the grim way, through part-time football, administration, liquidation, tyrannical owners – even the harrowing suicide of one of his own players.
At Billericay, his first club, Edinburgh spent most of his time hunting for places to train, washing kit and pinching pennies. Scratching a squad together from lads who could get time off work.
At Fisher Athletic, he won promotion to the Conference South. At Grays, he battled constant financial problems and the persistent interference of megalomaniac owner Mick Woodward to avoid relegation.
His reward? A caretaker coaching job at Woking, from which he was subsequently overlooked for the permanent manager's job. "I did start to think 'Will this ever happen?' he admitted.
At Rushden, he faced things no manager ever should. The death of goalkeeper Dale Roberts, the guilt he felt at failing to spot the 24-year-old's distress. The meltdown of the club and redundancy of its staff. Even so, he guided the club to the Conference play-offs.
And, amid it all, he was always available on the end of a phone, world weary but honest, helpful and decent – a million miles from the pampered Premier League star.
I was once on a conference call with a manager who threatened to hang me "by the b***s from a gibbet" if I dared misquote him. Edinburgh, who'd been in the room, rang an hour later, telling me not to worry.
Still nobody cared. He eventually had to fight his way into the Football League with Newport, fully ten years after he'd first stepped into the dugout. No help. No favours. Just pure graft.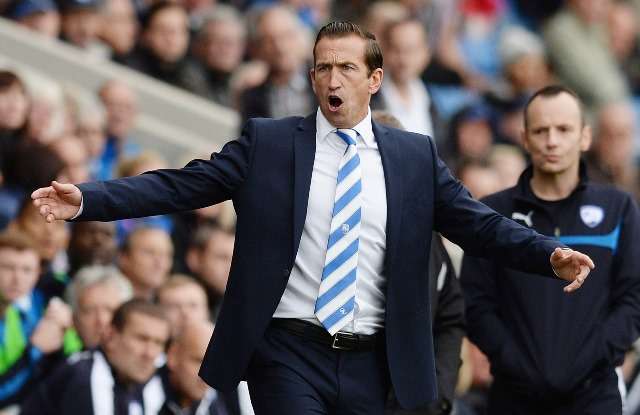 "I've never been big-headed and I've never expected anyone to hand me a job in the League," he told me last year. "I wanted to start from the bottom and get my hands dirty."
They must be filthy. Edinburgh has already managed 542 games – more than Quique Sanchez Flores, Garry Monk and Alex Neil combined. More than Eddie Howe. More even than his old mate Chris Hughton.
His win percentage is 41 per cent, achieved with part-time players and budgets to shame a corner shop. Is it any surprise that, given decent tools and a bit of stability, he's taken Gills to the summit of League One? Just imagine what he could do with real money and elite players.
The League is full of these richly experienced men. Chris Wilder is currently working miracles at crisis-torn Northampton. Steve Davis, who cut his teeth at Nantwich, has repeatedly evaded relegation with an under-funded Crewe side.
These guys get labelled as 'lower league managers', just as Edinburgh was once viewed as a 'Non-League manager'. But, unless you give them a chance, how can they be anything else?
Being a Non-League manager didn't stop Martin O'Neill winning titles with Celtic.
It didn't stop Howard Wilkinson guiding Leeds to the First Division. All they needed was a break.
Edinburgh has worked harder than anyone for his. Hopefully, Brentford will be the first of a deluge of deserved job offers. Mind you, knowing Edinburgh's luck, they'll probably get lost in the post.