by Mark Sharman
AT ANY point in the last 100 years or so, a match between Blackpool and Fleetwood Town would have been like a pillow fight with your little brother. Fun, but no contest.
By any measure, the two clubs have been existing in different football worlds, even though they're separated by a mere £2.50 tram ride along the Fylde Coast.
So, when they come face to face next Saturday, on equal terms in their first-ever Football League meeting, it will be the day's most unlikely fixture. It will also provide the starkest of reminders of how quickly fortunes change in sport.
While Fleetwood have risen through six rapid promotions from the North West Counties League, Blackpool have come tumbling the other way to meet them.
Four years ago, Pool were in the Premier League and Fleetwood, the Cod Army, were in the Conference. How the tide can turn.
Jimmy Armfield CBE, Blackpool's greatest servant, recalls ruefully that, in his playing days, it was Pool's third team that were likely to meet Fleetwood. He admits he wakes up in the night thinking about his club's plight.
"It saddens me greatly," he says, "but in football you have to be a realist. I know what can happen. Look at teams like Grimsby, Lincoln and Wrexham playing in the Conference."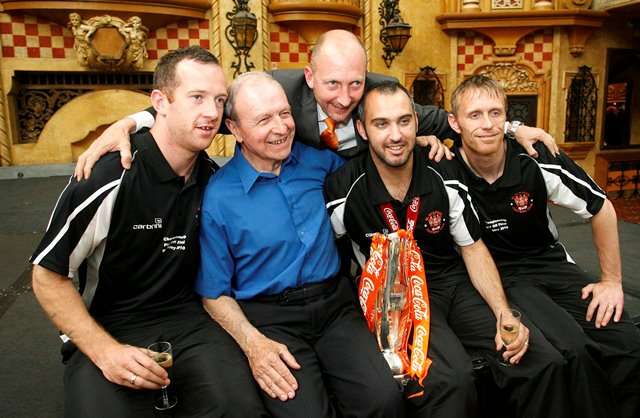 At Fleetwood, they make no bones about it: this is the club's biggest game of all time. Their new manager Steven Pressley says: "It's massive. Winning a derby  can give you momentum. It can lift confidence…the players, the supporters, everyone at the club."
Back down the tramline, Blackpool's Golden Mile is deserted on a grey and wind-swept November afternoon, a far cry from the glorious day in May 2010 when Ian Holloway's promotion winners were cheered down this very promenade by 100,000 people. It's a chilly metaphor for the Tangerine demise.
Two relegations later and a board at loggerheads with a section of the fans, it's a tough gig for manager Neil McDonald. Armfield has spoken to him and says he's "a good guy", but the immediate task is obvious: "He has to check the slide.
"There's still a football public here. The owners and the fans need to pull together. I've spoken to both sides, but it's a difficult situation."
If that's an understatement, so too is Armfield's expression of disappointment at Blackpool's state of affairs.
This is a man who came to the town as a wartime evacuee with a gas mask and a label and went on to play 627 games for the club.
He also captained England on 15 of his 43 appearances and is the proud owner of a World Cup winner's medal.
His statue stands outside Bloomfield Road and the south stand in the bright modern stadium is named in his honour.
At 80 and with interests ranging from playing the church organ to working with the police against crime in Lancashire, to broadcasting on the BBC, Armfield has seen it all.
"Blackpool was a boom town in the Fifties. Holidaymakers came in their droves from the mills and the mines – and football was a huge attraction here," he remembers.
"In Stanley Matthews, we had the most famous footballer in the world. Fathers would bring their sons just to see him play. Stan was the ultimate professional – I learned more from him than anyone else.
"But the economy of an area is reflected in the team and only the big cities can compete now, though Ian Holloway showed what can still be achieved."
On his last three visits to Bloomfield Road, Armfield hasn't been treated to a home goal, but he plans to be there for the inaugural Fylde Coast derby next week, concerned but optimistic of a change in fortune.
Meanwhile, as Fleetwood prepare for their big day out, manager Pressley can point to his own experience of derbies, at a somewhat higher level.
He's one of the few men who've played for both Rangers and Celtic in Old Firm matches. And – seriously – he can see similarities.
"Obviously the crowds, the build-up, the media hype are all much bigger in Glasgow," he says, "but if you speak to Fleetwood supporters the feeling here is the same. There's a real desire to win."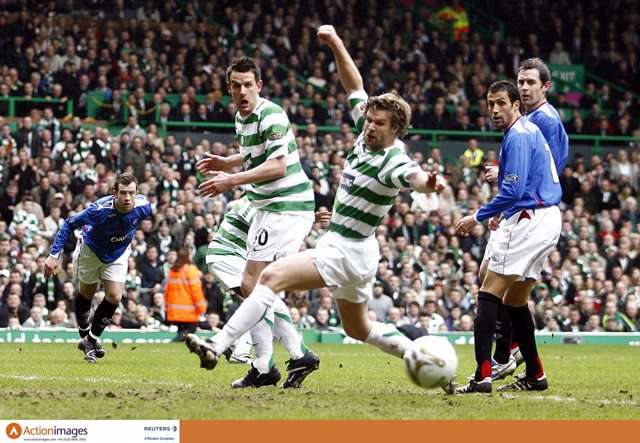 That desire is no doubt heightened by the need for points, as both clubs are hovering around the base of League One, but there's also the spirit of the underdog in search of its day. Apart from the last four seasons, Fleetwood's entire history since 1908 is in Non-League, while their grander neighbours have won the FA Cup and have a Hall of Fame featuring true England greats like the aforementioned Sir Stanley Matthews, Sir Stan Mortensen, Armfield and Alan Ball.
To add more vinegar, many of the Cod Army's backroom staff, including the chairman, Andy Pilley, are former Blackpool fans.
They're all keen to maintain their upwardly mobile march, and at the training ground builders are completing a spanking new complex to replace the current pile of converted freight containers.
The new facilities, including a 4G pitch, will also be open for community use – an important part of the development plan.
"I'm really enjoying it here. It's an ambitious club, " says Pressley.
"In previous jobs I've had to cut the wage bill by 75 and 60 per cent respectively. Here, I know what I have to work with. It's about tactics, analysis and trying to teach and improve young players. I take pride in that."
As the visitor next week, Pressley gets the final word on derbies.
He's talking passion and rivalry and admits that certain people of a Rangers persuasion haven't spoken to him since he signed for Celtic nine years ago.
And he recalls the time a Rangers keeper, responsible for two Celtic two goals, was assaulted by waiting fans at training the following Monday.
He's expecting an intense contest between his new team and their neighbours in the big house down the road, but one that should be a little more civil.