by Chris Dunlavy
LIFTING logs, rolling tyres, running with sandbags – Crewe's latest training session sounds more like an episode of World's Strongest Man.
But whilst the likes of Brian Shaw and Magnus Samuelsson get to flex their biceps on a sun-kissed beach, the Railwaymen were slogging through a field in the Lake District.
Determined to discover just how much pain his players could take, Alex boss Steve Davis organised a surprise visit to Cassius Camps, a gruelling day-long training session designed to push athletes to their limits.
And with some ten hours of activities including an assault course, a 3km fell run and open water kayaking, he certainly succeeded.
"The lads didn't have a clue what was coming," says Davis, whose side's 1-0 victory over Shrewsbury last weekend was their first of the season.
"After we won, I said 'Look, have Monday off – but make sure you're in at 5 o'clock in the morning on Tuesday'. All I told them is that we'd be going off in a minibus for the day and wouldn't be back until 9 o'clock at night. They all thought I'd gone mad!"
After a two-hour journey and 8am breakfast, Davis wisely chose to stay on the sidelines as his players were put through their paces by instructor Phil Ercolano.
"You're set different mental and physical challenges to push you to the edge and see how you react," explains Davis. "Will you keep pushing and get through it? Or will you give up? I wanted to find out if I knew my players as well as I thought I did. I'd already spoken for a couple of hours on the phone to Phil, the organiser, and told him how I thought individuals would perform. And when the players were asked to fill in forms asking them to rate various qualities, it did tally.
"In the event though, one or two surprised me. Some pushed themselves more than they thought they could, others thought they'd do better.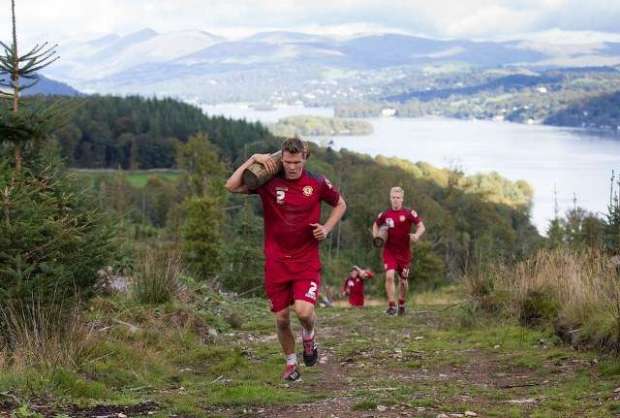 "All of them actually made great improvements as the day wore on. They showed me that I had more leaders than I thought."
At the end of the session, the 15 players were ranked in a league table. The winner? Step forward 23-year-old defender Ollie Turton.
"Ollie came top, so he's obviously been dining out on that all week," adds Davis. "But it was very close. We had a lot of high performers when they ranked us against other people who'd done the course.
"It's great for players to see their mates tested. If they've seen someone go through that and stick it out, they know they can rely on them come Saturday afternoon."
Davis  – appointed in 2011 and currently the seventh-longest serving manager in English football – hopes his side's new-found mental toughness can be turned into points after a desperately unconvincing start.
And he has thanked his board for keeping his side's troubles in perspective.
"Everyone remembers Dario Gradi, who had three relegations and three promotions," says the former Nantwich boss. "He always said he couldn't have done it without a solid board behind him and I'm the same.
"They've been together for a long time and they get it. We've got a small budget, probably the lowest in the league. And they're realistic about where we should be.
"Yes, we all want to do better. We're striving to be a team that competes, not just survives.  But we've got to stick with the young lads. That's what's always brought success here and I still think this can work for us."