by Tony Leighton
Long-serving Arsenal full back Alex Scott will be leading a chorus of "We want our Cup back!" when the Gunners step out to meet Chelsea in Saturday's SSE Women's FA Cup final at Wembley.
Arsenal have a record 13 FA Cup triumphs to their name and came to regard the trophy as their own during a long spell of domination in which they also collected 14 league titles and enjoyed 14 League Cup successes.
But Scott and her team mates had to jealously watch their London rivals lift the FA Cup last season.
Chelsea beat Notts County 1-0 in the first-ever women's final to be staged at the national stadium.
To add extra spice this year, the Blues squad includes no fewer than nine former Arsenal players – five of whom were in the Wembley line-up last season – while the team is managed by ex-Gunners assistant boss Emma Hayes.
England international Scott said: "There's a big rivalry between the two clubs and, with Chelsea having so many players that used to be with us, there's even more of a bite to it.
"But those players are at Chelsea now and their Arsenal days are history. Emma will obviously be doing everything she can to make sure her team wins, but we don't want that Cup to be blue again and we aim to bring it back home."
In a big turnaround from their days of pomp, Arsenal will go into the final as underdogs after recently losing 2-0 at home to Chelsea in the Super League.
That competition was also won by the Blues last season to complete a memorable double.
The Gunners are suddenly playing catch-up, admits Scott, 31, who joined the club at the age of eight and has been there since, apart from a season at Birmingham City and three years in America with Boston Breakers.
"We didn't do ourselves justice in the league game against Chelsea," she said. "We've also lost to Manchester City in the WSL, so it's been a slow start to the season for us and that's so frustrating because we've got such a talented group.
"But we beat Sunderland 7-0 in the Cup semi-final and that was a big boost.
"We'll go into the final with confidence and, believe me, we'll be a different team to the one you saw against Chelsea in the league."
As well as Chelsea going into the final with the edge after their WSL win at Arsenal, they will also be able to bank on the experience gained from playing and winning at Wembley last year.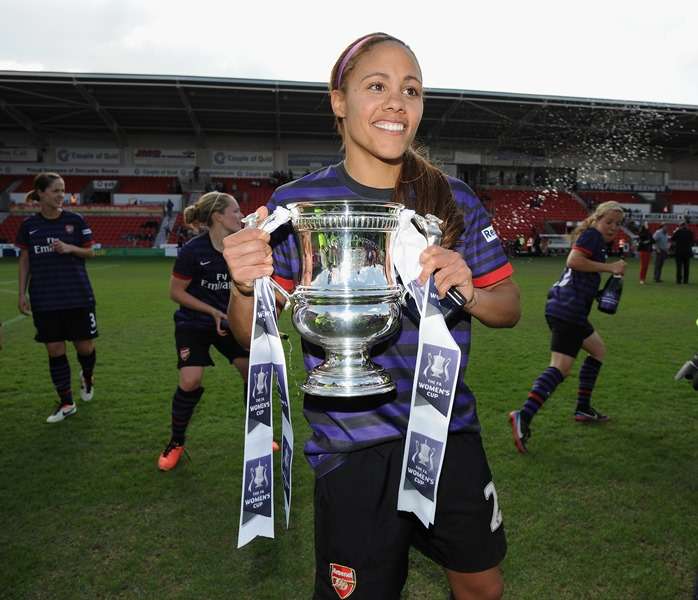 By contrast, the Gunners have only a handful of players who have appeared at the national stadium.
But Scott, who has played there for both England and Team GB, will be passing on her knowledge and wisdom to the Wembley newbies.
"Wembley is the most amazing place to play and I'll be telling the girls not to be nervous but to go out and enjoy it," said Scott, who recently shot to TV fame with her winning performance in the Bear Grylls: Mission Survive series.  "You dream of playing at Wembley, so when you get there why let the occasion get to you?
"Don't freeze on the big stage and have to look back with regrets and 'what ifs' at the end of your career. I've played at Wembley in the Olympic Games and in an England international.
"Now I can put the icing on the cake by walking out there in the shirt of the club I love – and I want to come off the pitch with everyone saying, 'Arsenal are back'!"
*This article was originally published in The FLP's Women's Football Weekly pull-out on 8 May 2016.