As is par for the course, there has been a
high number of managerial casualties in English football this season. If
results continue to go badly for certain clubs, we can expect at least one
other manager axed by the time the season comes to an end.
Which manager is likely next in line for the
chop is always a talking point among fans. So, it's no surprise that the next
manager odds are so popular with bettors. Football betting is, in general,
enormously popular among fans of the Championship and lower leagues, of course.
That explains the success of sports betting brands like
Karamba, with betting opportunities in not just the lower league, but also the
Premiership, the Champions League, and the Europa League, along with numerous
domestic leagues from around the world.
But who should fans feel
most comfortable about betting on when it comes to the next manager to part
ways with his club? At the time of writing, there are more than half a dozen
clubs fighting to stay in the Championship next season. It wouldn't be a huge
surprise to see more than one manager from these clubs being shown the door,
whether they survive relegation or not.
Every day, there are numerous
rumours going around about at least one manager's future, whether a newspaper
is reporting that he's being head-hunted by another team or a rumour on social
media claiming that he's under fire at the one he's currently at. It seems that
managers are facing more pressure than ever before and are seemingly always
answering questions about job security.
The odds of a manager
parting ways with his club depends on how relevant the respective market is at
any given time. If a vacancy has only just become available, for example, the
odds will change by the minute. In such a case, it isn't uncommon to see
multiple managers going from outsiders to odds-on favourites almost
immediately.
Social media and rumours
Some of the top teams always
seem to be in the mix when it comes to the next manager market. Of course, the
odds are relatively stable until a rumour starts. Social networking sites such
as Facebook and Twitter have hugely influenced the way news is managed, with
speculation and rumours spreading in no time at all. These platforms even help
to influence a manger's future. Of course, that's also the case with television
and newspapers.
When it comes to the
manager-go-round, it's the Premiership clubs that steals most of the headlines,
including those clubs in the relegation zone that we just might be seeing in
the Championship next season. Aston Villa manager Dean Howe is around 5/1 to be
the next manager fired, and there are even lower odds available for Bournemouth
manager Eddie Howe, with his club just a point above Villa.
Of course, a sacking doesn't always guarantee that a club will improve. Dutch economist Bas Ter Weel conducted research on the impact of a manager leaving a club. While the following chart focuses on Dutch football, he asserts that it holds true elsewhere.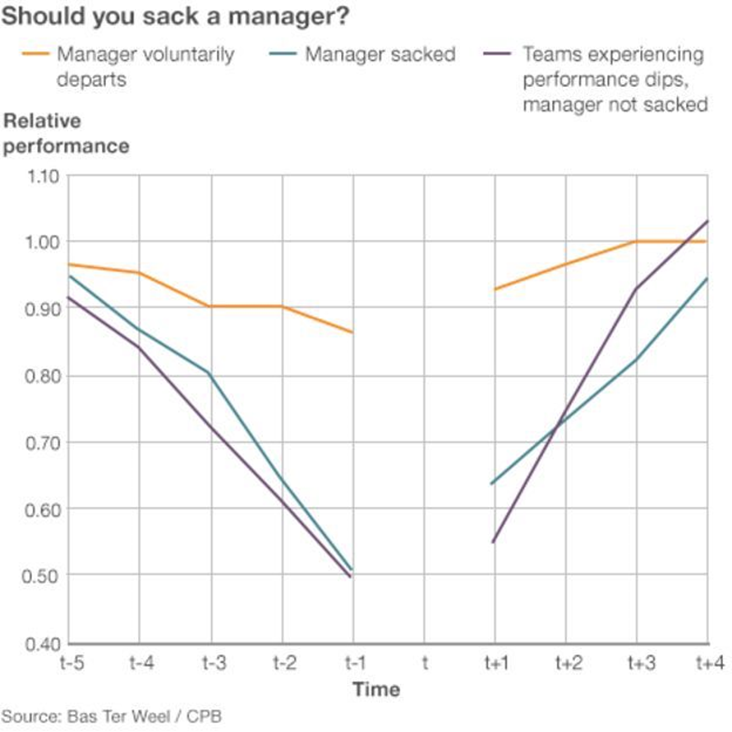 There's another important
factor that Premiership need to consider. According to offthepitch.com, £130 million was paid out in
compensation packages from 2015-2018, including the £19.6 million Manchester
United paid out to Jose Mourinho.
New managers still finding their feet
But what about the
Championship? A number of clubs in the bottom half of the league have
relatively new managers who will get more time to turn around their club's
fortunes. Grant McCann became Huddersfield manager in the summer and Reading
only appointed Mark Bowen in October. November saw Michael O'Neill join Stoke
City and Gerhard Struber become Barnsley manager.
That doesn't mean that every
manager's job is safe, however. So far this season, we've seen Neil Warnock leave his post at
Cardiff City, with Stoke City's Nathan Jones and Reading's Jose Gomes both
given their P45s.
When it comes to the club at
the bottom of the Championship, it can be argued that Graeme Jones quite
literally inherited a no-win scenario at Luton Town. The club may have climbed
two divisions in as many years, but without the squad needed to sustain that
level of success. While there's a case to be made for firing Jones, he's amid a
three-year contract, which means it could cost the club a lot of money to let
him walk, especially while Luton is making payments on a new stadium.
Jonathan Woodgate was on the
chopping block at Middlesbrough after a 4-0 defeat to Leeds in November, but
seems to be hanging in there for now, despite his club sitting only three
points above the relegation zone at the time of writing.