By Chris Dunlavy
IF Thomas Christiansen's mum had got her way, the Leeds boss might be treading the boards at the Teatro Royale, not talking tactics at Elland Road.
Like all of his family, the 44-year-old was a talented dancer. On summer evenings, in the tiny Danish town of Hadsund where Christiansen grew up, families would come outside and dance in the streets.
"Thomas was always the best," his mother told Spanish daily El Pais in 1993. "It was my dream that he would become a dancer.
"Football has taken him, but he is still dancing. His father always says his son moves on the field like a dancer, because he has music in his body."
In those days, before injury and mistreatment condemned him to an unheralded Continental trawl, Christiansen's moves attracted the cream of European football.
At 15, he had trials with Real Madrid and was invited to sign terms on the condition that he move to the Spanish capital. His father refused.
"He wanted me to finish school in Denmark," recalled Christiansen. "He said 'If you are this good now, you will be fantastic at 18'."
He wasn't wrong. The striker spent those years plundering goals for the youth sides of Avedore, Brondby and BK 93, harbouring a dream of joining boyhood hero Brian Laudrup at Barcelona.
Luckily for him, a Barca coach named Toni Bruins was watching the day he smashed six past KB Copenhagen.
"I had heard about him, so I travelled to Copenhagen," said Bruins. "It wasn't wasted. He had all the qualities we are looking for: technical ability, frivolity and joy in the game. Everything I saw confirmed the reports and I immediately advised Johan Cruyff to sign him."
There was only one problem. Christiansen was earmarked for Barca's B team, which had already reached its foreign player quota. Luckily, his mother was Spanish and, as part of his contract, the youngster agreed to became a naturalised citizen.
Photographs from the era illustrate what an oddity Christiansen was in 1991, his blond mop incongruous amid the raven buzzcuts of Pep Guardiola and Luis Enrique.
Yet, football-wise, he fitted perfectly. By the middle of the 1992-93 campaign, the teenager had netted 14 times for Barcelona B and played for Spain Under-21.
"He's fast, he makes goals and he's brave", said coach Quique Costas. "He is a great talent." A month later, he made his first-team debut for Barca, coming on as an 83rd-minute sub in a European Cup clash against Werder Bremen.
Two months after that, Javier Clemente surprisingly handed Christiansen two full Spanish caps. In the second, he scored an outrageous backheel against Lithuania.
"We played in Sevilla and the crowd were shouting 'Torero, Torero' (bullfighter) every time I touched the ball," he said. "Scoring there is one of my greatest moments."
At the time, the presence of a Dane in the red shirt of Spain sparked controversy and hand-wringing. Yet it would be a decade before anyone heard of Christiansen again.
Unable to break into Barca's front line, Atlético Madrid, Deportivo La Coruña, Sevilla and Valencia all offered a way out.
Cruyff refused to sell to a rival, instead sending Christiansen on a succession of loans to strugglers Sporting Gijon, Osasuna and Racing Santander.
By 1996, his cachet had diminished, along with his confidence. Barca didn't want him. Atletico were no longer interested.
He was eventually sold to Oviedo and then Villarreal, neither of whom offered more than fitful appearances.
In 1999, Christiansen spent seven months without a club. Soon, he was back in Denmark, playing in the second tier for Herfolge. Though respectful of Cruyff and a devout follower of the Dutchman's philosophy, Christiansen's neglect at the hands of Barca still rankles.
"I shouldn't have let Johan choose my clubs," he once said. "It stopped my development."
Those dancing feet, though, retained one last shuffle. In 2001, VFL Bochum dispatched a scout to watch Soren Colding play for Brondby in a match against Herfolge.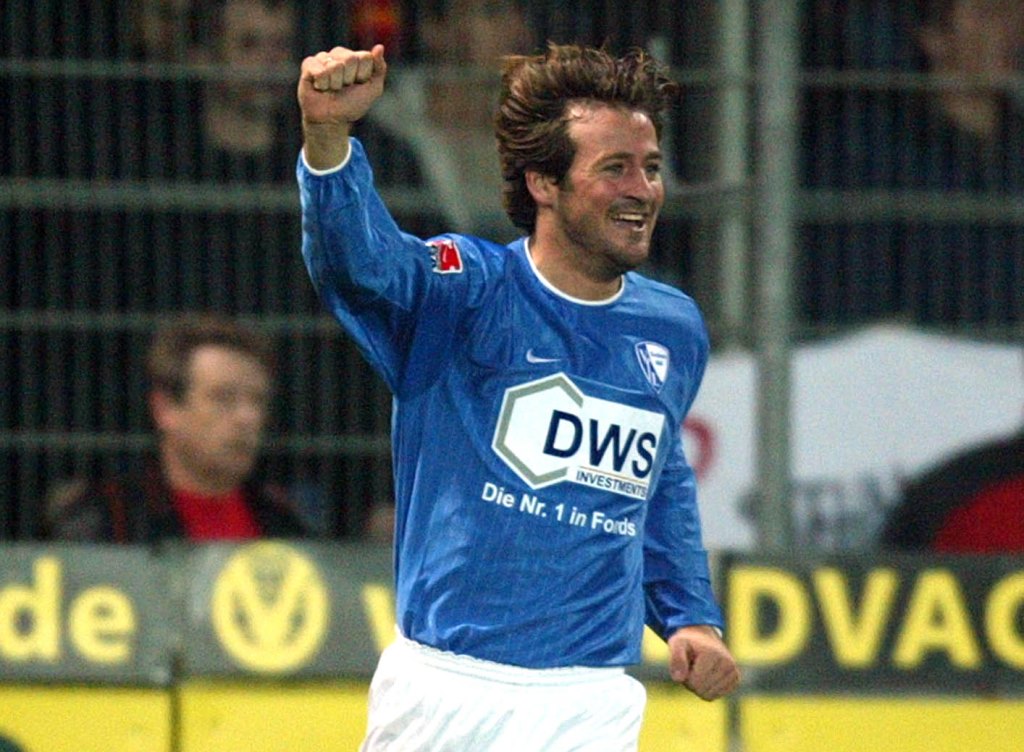 Christiansen scored twice, joined Colding at Bochum and, in 2002-03, burst from oblivion to tie with Bayern great Giovane Elber at the top of the Bundesliga scoring charts.
"It was funny because he was 29 and very experienced but everyone was like 'Who is this guy?'"said team-mate Paul Freier. "But nobody could touch Thomas that season. We knew if we found him, he would score."
Once again, Marca hailed "El Torero". Once again, offers flooded in. And, when Hannover 96 brandished a six-figure signing on fee, Christiansen's barren years informed his choice.
"I'm sorry for the Bochum fans," he explained. "Life is short and I had to try to profit from my successful season."
Christiansen failed to hit the heights at Hannover, laid low by injuries. The last, a fractured shinbone that went undiagnosed for 18 months, forced his retirement in 2006.
By his own admission, Christiansen was unprepared. He worked as an agent, only to realise the industry was a little too murky for him.
Then, encouraged by friend and ex-Brighton boss Oscar Garcia, he attended a UEFA coaching course alongside Mauricio Pochettino.
Since then, Christiansen has coached at Al Jazera in the UAE, Xanax in Switzerland and guided AEK Larnaca to consecutive runners-up finishes in the Cypriot top flight.
Poached by APOEL, he won the title and reached the last 16 of the Europa League, prompting Leeds to make him Garry Monk's successor.