(Photo: Action Images via Reuters)
By Chris Dunlavy
MANAGERS beware. Lee Johnson is a cold-blooded thief – and the Bristol City boss is happy to admit it.
Tactics, movement, shapes and systems. From his vantage point on the Ashton Gate touchline, the former Robins midfielder is more like a magpie, swiping anything shiny and new.
"Maybe I'm just a geek," says the 36-year-old. "But, with all the foreign managers filtering into our game, it's incredibly interesting. They've brought different thought processes, different cultures.
"People like Nuno at Wolves, Jaap Stam at Reading. You watch those teams and, if you're clever, you can steal little bits and pieces.
"I'm not saying they've re-invented the wheel and I'm not saying I want to copy them lock, stock and barrel.
"But, if they do something better than you, even some little intricacy, it's worth knowing. I'm always watching, always learning. You have to, because you can't see the Championship as an English league any more.
"There's European money, Asian money flooding in. Everyone wants famous names, impressive CVs. It's a continental league now. Even a global league."
The stats bear out Johnson's assessment. When he seized his first managerial post at Oldham in March 2013, just two of the Championship's 24 managers came from outside the UK and Ireland.
Today, that number has risen to seven, while last year there were promotions for Spaniard Rafa Benitez and German David Wagner.
On the pitch, the overseas quota has jumped from 23 to 29 per cent.
For all his academic interest, does Johnson worry that home-grown talent is being overlooked?
"I do get frustrated for English managers," admits the former Yeovil midfielder, who kept Oldham in League One before building the Barnsley side that won promotion to the Championship in 2016.
"Because I do think there are some really good ones who get ignored. I come across a lot of these guys doing coaching badges or seminars and you can see their quality.
"It's like players. They just need opportunity. There are some brilliant young English players around, but if you don't play them you'll never know. Unfortunately, all you can do is pit your wits lower down and hope somebody notices."
Johnson will be treated to the ultimate learning experience when Jose Mourinho and Manchester United visit Ashton Gate for their Carabao Cup quarter-final in December.
"I'll be watching every move," he laughs. "It'll be a fantastic day for me and, hopefully, Jose will give me five minutes of his time after the game to discuss all things football."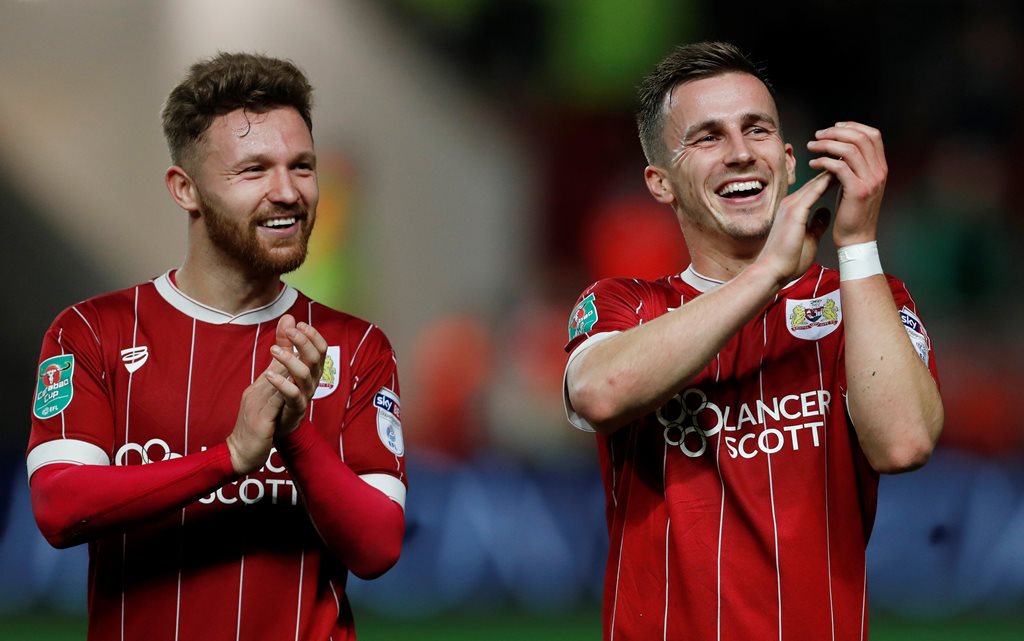 One man who certainly did was former England boss Roy Hodgson, whose Crystal Palace side were demolished 4-1 by the Robins on Tuesday to set up that glamour tie.
"I spoke to Roy for about 15 minutes before the game," says Johnson. "My dad (Cheltenham boss Gary Johnson) knows him quite well.
"He played for Malmo in Sweden when Roy was managing out there. Roy was the man who took him out there in some way. I can't remember if he recommended him or managed him. It's probably one of my old man's million stories that have been exaggerated over the years!
"Anyway, it was something in common we could talk about. I've met him a number of times and always found him fantastically kind and helpful. As a young manager, even five or ten minutes picking the brains of these guys is enough to learn a huge amount."
Hodgson has also managed in Switzerland, Italy, Denmark and Norway during an eclectic 40-year career. Johnson, who travelled extensively as an aspiring coach, is tempted to follow suit.
"Yeah, I would," he says. "I've actually had four offers to manage abroad already. I won't name names but a couple in Europe, two further afield. I definitely thought about it, but that was before the Bristol job came up.
"Now, I feel like I'm at home and I want to be here as long as physically possible."
Last Christmas, that ambition looked stone dead. Eight straight defeats prompted fans to string up 'Johnson Out' banners at Ashton Gate, but chairman Steve Lansdown backed his man.
"We just got caught on a run where things didn't go for us," says Johnson, who made 197 appearances for the Robins as a player.
"Refereeing decisions, players getting injured, missing sitters from a yard out. It was just a horrible, horrible period of my life.
"But me and the board, we kept talking, kept fighting to find solutions. Nobody buried their head in the sand and nobody genuinely wanted a change.
"I'd never chastise any fan for giving an opinion or getting frustrated. I just wanted them to remember that I was a Bristol City man through and through, that it hurt me like it hurt them and to trust me to turn it round. Thankfully I did, and that's rolled into this season."
And in some style. Before last weekend's defeat to Leeds, City had trailed for just 43 minutes all season and went into this weekend just a point and a place off the play-offs.
Young players like Bobby Reid and Joe Bryan have scouts flocking. And, with United round the corner, Ashton Gate is buzzing.
"I hope that game is a real showcase for Bristol City," he says. "The stadium is magnificent. A new training ground is on the chairman's radar. Once that gets done, we really are a Premier League club in waiting."