By Chris Dunlavy
PEP Guardiola had just seen his Manchester City side battered by Barcelona when he was asked if it was time to revisit his dogmatic devotion to all-out attack.
"I am sorry," said the Spaniard. "But never in my life am I going to change the way I want to play football. It is the only way I know."
Similar sentiments were expressed after a mauling at the hands of Leicester, and again in the wake of a Champions League exit to Monaco.
Guardiola is the ultimate exponent of a footballing 'philosophy' – the modern notion that aesthetic principles are the end goal and victory an incidental by-product.
So spectacularly was he vindicated at Barcelona that this idea took root; in recent years it has become de rigeur for any up-and-coming coach to use the p-word.
Yet 2016-17 – for better or worse – has proved emphatically that old-fashioned pragmatism is alive and well.
Chelsea's runaway success has been built on flexibility. An early season switch to 3-5-2, a willingness to go long against pressing opponents, the fuss-free accommodation of Diego Costa's mid-season hissy fit – Antonio Conte will adapt to anything if it makes victory more likely.
While Guardiola waits vainly for the Premier League to bend to his will, Conte goes with the flow, a palm tree bending in a hurricane.
Chris Hughton, whose Brighton side will win promotion to the Premier League in the coming days, is cut from similar cloth.
"I don't have a style," he once said. "I want to win matches and there are different ways to do that. Sometimes you have to play a bit more of a stifling game, sometimes you have to be a little bit more defensive. Ultimately, you have got to be able to score goals."
Brighton won't win many awards for artistic impression this season but a Championship trophy should make up for it.
The starkest illustration of this quixotic obsession with style came from Birmingham's Chinese owners, whose decision to replace Gary Rowett with Gianfranco Zola was predicated on a conviction that losing beautifully beats winning ugly.
They certainly got their wish – the Blues have suffered a catastrophic slump in form that amounts to a victory in absentia for the no-frills football Rowett deployed to overcome barren coffers.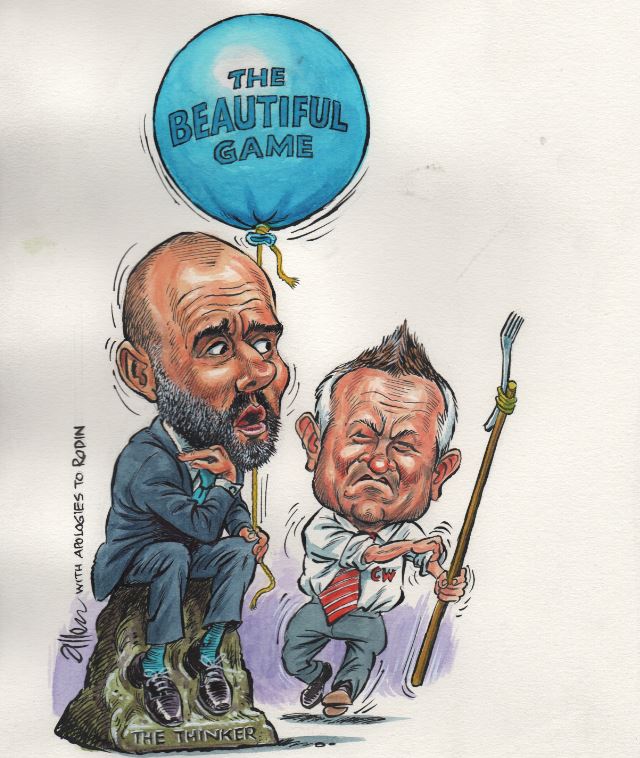 Nobody, though, has captured the essence of pragmatism quite like Chris Wilder. When the 49-year-old took over at Sheffield United last summer, ideals went out of the window.
A boyhood Blades fan, he'd listened to the gripes of his old pals every weekend. He knew they'd had enough of pint-sized playmakers, overpaid has-beens and managers who didn't provide the up-and-at-'em football supporters craved.
"If you look at the club's most successful periods, there are common factors," explained Wilder, a ballboy and player at Bramall Lane in his youth. "We've always been competitive. We've always got after teams, not so much emphasis on possession and build-up.
"These fans want to see you run around. They want to see you battle. Sometimes a big header or a crunching tackle or chasing a lost cause gets more appreciation than 20 successful passes or a Cruyff turn. That's the DNA of this place."
Out went the technicians and the reputations. In came grafters and battlers, lads from Non-League backgrounds who saw playing for United as an opportunity, not a favour. So ended a six-year absence from the Championship.
There is nothing progressive or visionary about Wilder's side. Yet there is much to be admired about a man who can recognise exactly what a specific situation requires and implement it successfully. That is the essence of pragmatism.
Guardiola is not wrong. Nor are fellow idealists like Jurgen Klopp or Eddie Howe. Any attempt to play beautiful football should always be encouraged. A landscape of Jose Mourinhos would be bleak indeed.
But in an era when we venerate the philosopher, we should not lose respect for the pragmatist. It is every bit as skilful to bend and yield as it is to remain steadfast.