By Neil Fissler
JACK WALKER had £360 million burning a hole in his back pocket after selling his steel holding company to British Steel, so took control of his home- town club.
His first master stroke was persuading Kenny Dalglish to come out of retirement following a disastrous start to the season.
Don Mackay had overseen the first five matches, which produced two draws and three defeats, one of which saw Rovers crash out of the League Cup to Third Division Hull City.
Midfielder Mark Atkins recalled: "Jack had come in that summer and gave Don some money to go and get some players, but he didn't get the results. Tony Parkes took over as caretaker and got us up the table.
"Jack then got hold of Kenny and Ray Harford to turn the club around. And the moment they walked in through the door, it changed everything.
"Jack wanted to win the Premier League within four years, which is what he did, but first of all Kenny had to get out us out of the Second Division.
"That meant giving Kenny money to spend and we signed players who wanted to play for him.
"We brought in players like Alan Wright, Gordon Cowans, David Speedie and, later, Mike Newell. Those type of players don't go to clubs that don't have ambition."
The Dalglish effect was immediate. After ten games with him in charge, Rovers were top of the table and appeared to be set to race away with the title.
But a run of six successive defeats in March and April checked their progress and they found themselves needing a win at Plymouth Argyle on the last day of the season to reach the play-offs. Rovers won 3-1.
After seeing off Derby County 4-2 at home and losing 2-1 away in the play-off semi-finals, it was Leicester that stood between  Rovers and a place in the new Premier League – and Rovers triumphed 1-0.
"At one stage we looked odds on to be champions, but in the end we were grateful to be in the play-offs," said Atkins.
"I think if you gave a player the choice as to how they would get promoted, they would say the play-offs.
"It's the best thing ever. That play-off final day at Wembley is a fantastic day and you cannot take that away from anybody.
"In that era the play-offs didn't start for two weeks and it gave us a chance to get some people fit again and ready to play.
"We knew that we had good players on the pitch against Leicester  and if we played to our potential we would win the game  – and that's what we did.
"Mike Newell scored one penalty and missed another late on, we had a few chances and I should have scored myself.
"Leicester caused us some problems at the end, knocking balls into the box, but we were comfortable.
"It was a fitting reward for Jack, but also for all those people who had put in a lot of hard work to help us get promoted. It was a day that you take with you for the rest of your life, really."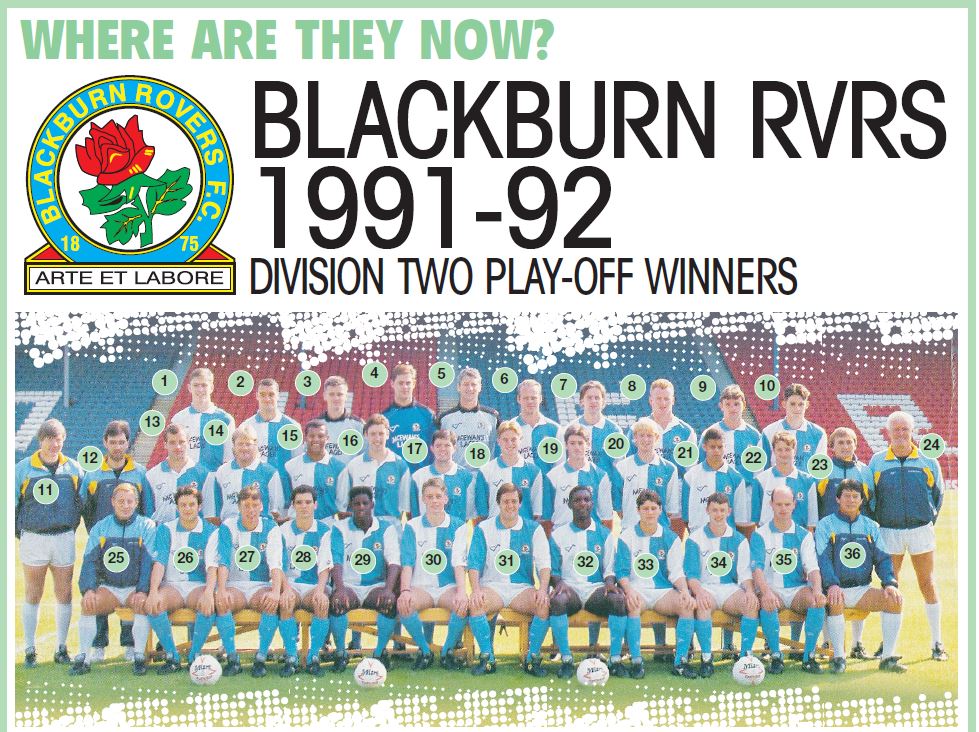 Rob Dewhurst: Defender lives in Brough, East Yorkshire, where he runs an after-school club.
Mark Atkins: The midfielder won a Premier League title with Rovers. Works in the family plastering and dry lining business.
Darren Collier: Goalkeeper is now back living and working in his native Stockton-on-Tees.
Bobby Mimms: The goalkeeper won a League title with Everton and has worked for various clubs as a goalkeeping coach.
Terry Gennoe: A goalkeeper, he spent 16 years at Ewood Park. Went into coaching and his last job was at Aston Villa.
Tony Dobson: Defender who has had two spells as manager of Rugby Town and Solihull Borough.
Keith Hill: Defender, helped Plymouth Argyle win promotion. Is in his second spell as Rochdale manager after a spell at Barnsley.
Steve Livingstone: Forward whose father Joe was a footballer. Has been a property developer in Middlesbrough.
Kevin Moran: A Republic of Ireland defender and the first player sent off in an FA Cup final. Is a director of a player management company.
Peter Thorne: Striker, won a Division Two title at Swindon. Has a number of business interests overseas.
Don Mackay: He went on to scout for a number of clubs and was Leicester's sporting director.
Mike Pettigrew: Is now running his own sports injury clinic in Blackburn.
Nicky Reid: The defender was an FA Cup finalist at Man City. Is now a physio in Preston North End's academy.
Stuart Munro: Defender settled in Australia where he runs his own football academy.
Howard Gayle: The winger is based in Liverpool where he has been involved in coaching and social work.
Jason Wilcox: England winger won a Premier League title at Ewood Park. Is Man City's head of academy coaching.
Chris Sulley: Left-back who won a promotion at Bournemouth. Is Burnley's head of academy coaching.
Craig Skinner: Midfielder who is now a southern regional coach for League Football Education.
Alan Irvine: The winger was a League Cup finalist at Everton. Has managed Preston, Sheffield Wednesday and West Brom. Is now Norwich's caretaker-manager.
David May: A centre-half, he won five major trophies at Manchester United. Works for MUTV and runs a wine business.
Peter Baah: Winger is now a coach at Indiana Fire Juniors in the United States.
Scott Sellers: Midfielder, twice a member of the PFA Team of the Year. Now coaches Wolves under-23s.
Tony Parkes: The former midfielder is still employed at Ewood Park on the scouting staff.
Jim Furnell: Blackburn's former youth development officer is retired in Wilpshire near Blackburn.
Asa Hartford: Scotland midfielder who has managed Shrewsbury and now scouts for Birmingham City.
Lee Richardson: Midfielder, managed Chesterfield and is now a sports psychologist working for Crystal Palace.
Mike Duxbury: England full- back had a successful career at Manchester United. Became a PE teacher at Bolton School.
Darren Donnelly: Forward who won a promotion with Chester City. Is now living and working on Merseyside.
Lenny Johnrose: Midfielder, later won two promotions with Bury and is now a primary school teacher in Burnley.
John Butterworth: Defender, who went into financial services and is now working for Atherton & Associates Wealth Management.
Simon Garner: The legendary Rovers striker worked in mortgage sales and as a postman. Is now a painter and decorator in Berkshire.
Richard Brown: Midfielder whose career was ended by injury. Is now working for Salford Community Leisure.
Matthew Holt: Midfielder is living and working in his native Manchester.
Paul Shepstone: Winger who has worked in retail industry and owns Blissful Lingerie in Leamington Spa.
Steve Agnew: Midfielder later won promotions with Leicester and Sunderland. Is Middlesbrough's caretaker-manager.
Sammy Chung: Former Wolves manager. Worked in a children's home. Now lives on the Somerset coast.