By Chris Dunlavy
THE Mannequin Challenge has, mercifully, fallen out of fashion. Unfortunately, nobody appears to have informed Aleksandar Mitrovic.
Not since Kim Kardashian first waved her derriere at a camera has a person garnered such adoration for doing absolutely nothing.
Newcastle fans – especially the younger generation – love the big Serb. No other name on the team-sheet is cheered louder than his. Even a trot down the touchline receives more applause than a successful launch at NASA.
Many are convinced he is the natural successor to Alan Shearer. A big, powerful striker, passionate about the black and white shirt. "I have no words to describe my love for Newcastle fans," he said in October. "I want to stay here forever."
In one sense, it's easy to see the appeal. Goals are celebrated with unhinged abandon, tackles savage and untamed. Seeing Mitrovic rampage round the park is reminiscent of Alex and his Droogs meting out ultra-violence to Beethoven's Ninth.
Having spent the best part of three years watching highly-paid wastrels like Moussa Sissoko cravenly go through the motions, the attitude of 'Mitro' is a refreshing change.
But it is is now 18 months since Newcastle paid Anderlecht £15m for their star striker and, excluding soundbites and fistpumps, the Magpies have seen very little return on that investment.
Mitrovic scored 36 goals in 69 games in the Belgian league but has managed just 14 in 54 for Newcastle.
Proponents will justly point to the fact that only 27 of those games were starts. Nevertheless, a record of one goal every three-and-a-half hours is a poor show, especially compared to summer signing Dwight Gayle's tally of one every 87 minutes.
For a six-foot meathead, Mitrovic doesn't win enough headers, nor dominate defenders. He misses a lot of chances. Positionally and tactically, he has the discipline of a six-year-old.
And, as for pace, he's like a tanker stuck in first. It's an issue not helped by fitness levels more variable than a Southern Trains timetable.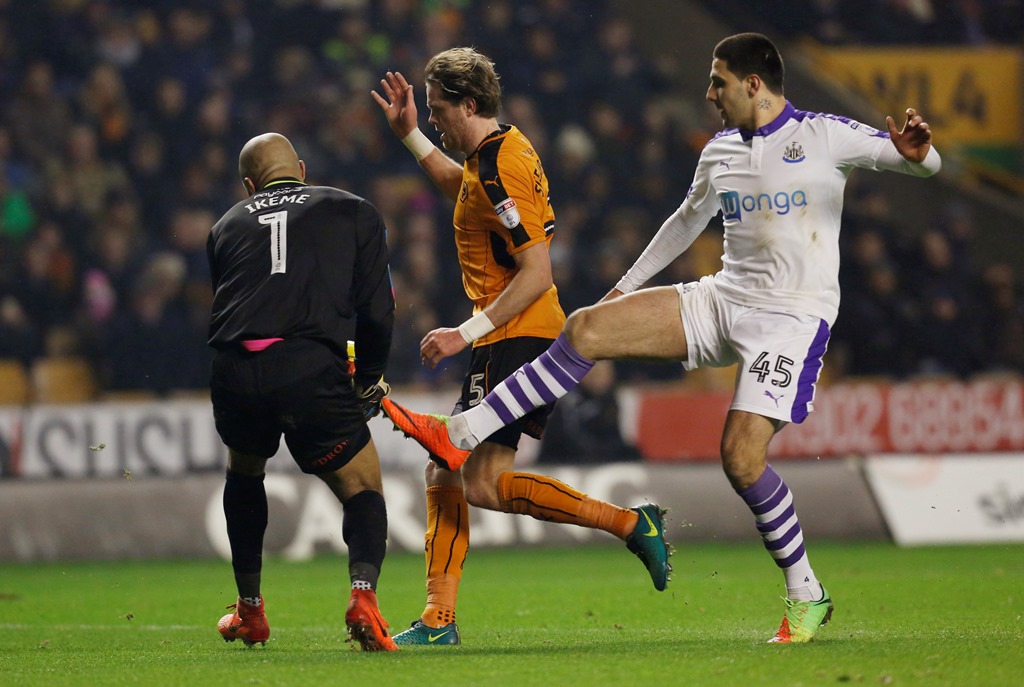 Mitrovic is capable of the odd swashbuckling performance, as in the 2-1 victory over Preston at Deepdale in October.
But there is no upward trajectory, no sense that the 22-year-old is learning and improving. Last weekend's limp display against Derby was arguably his worst in a Toon shirt.
Fans argue that he's only 22, that patience is required. Yet waiting for Mitrovic to demonstrate what all the fuss about is like watching Vladimir and Estragon kill time in Waiting for Godot. You watch in hope but, deep down, know it's likely to come to nothing.
Clearly, Rafa Benitez agrees. Mitrovic is paid more in wages than any other player at the club yet has started just five times this season.
The Spaniard has rarely indulged a maverick and is known to consider the Serbian incapable of sticking to a game plan.
Shorn of the injured Gayle, he has preferred Daryl Murphy up top. Last weekend's display will have done nothing to improve Mitrovic's place in the pecking order. It already feels as if the big man is out of Brown Ale at the last chance saloon.
Indeed, it is starting to feel that Mitrovic represents not Newcastle's bright future but its grim recent past – a past where Ashley and his chief henchman, Graham Carr, gambled on untested players in the hope of making a fast buck and were relegated as a result.
Benitez has made it abundantly clear that, if he is to stay and lead an assault on the Premier League, those days are gone. That players will be signed for their output, not their sell-on value.
Which is why Mitrovic may be the only person at St James' Park hoping that rumours of a summer exit for Benitez are on the money.