(picture: Reuters / Phil Noble)
By Chris Dunlavy
GROWING up a Manchester United fan, the last thing Wolves rookie keeper Harry Burgoyne expected from the Kop was affection.
But, after helping his side dump Jurgen Klopp's Reds out of the FA Cup last weekend, that's exactly what he got.
Burgoyne, 20, marked only his third start for the club with a match-winning block as Paul Lambert's men held on for a gutsy 2-1 victory.
Yet, while his elastic stretch to deny Divock Origi saved the day, the ovation from the Kop will live longest in his memory.
"I didn't realise beforehand, but Liverpool have this tradition of applauding the opposition keeper as he walks towards the Kop," explains the home-grown stopper.
"My goalkeeping coach, Pat Mountain, informed me of it before I went out. He said 'If they give you a clap, make sure you respond'.
"At the time, I just thought 'That's a bit weird'. But when it happens and you see that famous stand welcoming you, it's really special. They gave me a good ovation at the end as well.
"I'm a United fan but I'll never say anything against Liverpool fans after that. It was something I'll never forget."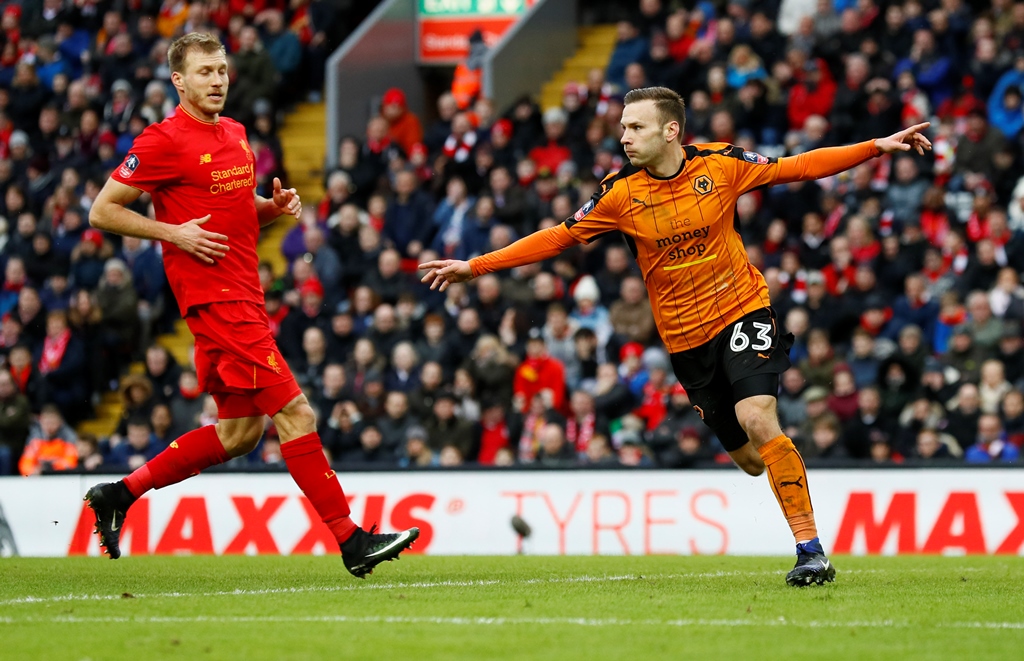 Seven days earlier, Burgoyne was preparing for an Under-23 clash against Everton, not an FA Cup tie on live TV. But a red card for regular stopper Carl Ikeme during Wolves' 3-1 defeat to Norwich suddenly thrust him into the limelight.
"It didn't sink in until we got on the bus to go home from Norwich," adds Burgoyne. "I sat down and Pat said 'Listen, you're not playing on Monday. Concentrate on getting yourself ready for Saturday'.
"That's when you think 'Right, I've got a real chance here'. After that, it was all about training hard so I didn't give the gaffer any doubts about putting me in.
"When I made my debut against Fulham in December, it was very quick. The gaffer pulled me a few hours before the game and just said 'You're playing'.
"I didn't have any time to think about it, whereas this time I had a whole week. It didn't bother me, though. I just knew I was going to give a good performance.
"I was expecting to be a lot busier but the lads in front of me were unbelievable. They were blocking everything, filling gaps.
"And the atmosphere was incredible. The 8,000 Wolves fans behind my goal in the first half were louder than the rest of the stadium. I couldn't even hear the whistle. That's how much racket they were making.
"My dad was with them. Everyone else went to my mum's house and watched it live on BT. It was a proud moment for them and I'm told they had a great day."
This time last year, Burgoyne was playing for AFC Telford in National League North. Now, he has his sights on a place in the Championship and says those formative experiences (he also spent time at Lowestoft and Corby) were critical to his development.
"On the pitch, it was about the physical battle side of things and learning how to manage the game," he says. "Off the pitch, it was about realising how lucky you are to be at a club like Wolves.
"It's so easy to get comfortable in the Under-23s. Everything is done for you.
"In Non-League, I had to look after myself, watch what I ate, wash my own kit. It's an important side of the game that too many people don't see."
*This article originally featured in The FLP's 5 February 2017 edition – pick up your copy of the paper every Sunday in supermarkets/newsagents nationwide.