by Chris Dunlavy
SEAN Dyche swivels in his chair and points a chunky finger at yours truly. "Bobby Gillespie," he proclaims, referring to the dashing – and not at all skeletal – frontman of Primal Scream. "You're definitely Bobby Gillespie."
Next, the attention turns to a Bez lookalike leaning against the back wall, prompting an impersonation of the Happy Monday's drug-addled dancer. "What's going on?" says the Burnley boss in cock-on Mancunian. "Me 'eads cabbaged."
The jokes and quips keep coming, the pressure of preparing for two destiny-shaping games in six days seemingly no more burdensome than a wig out to some 90s shoegaze. His head, it seems, is clear as a bell.
Clarity radiates from Dyche, whose Burnley side are just four points away from the Premier League. He is certain of his purpose and his methods. Every point is illustrated with examples and metaphors.
"Take journalism," he says when asked to explain how he drills a squad. "You guys will do lots of research, but you can't get it all into an article. The key is turning it into something useful and informative. It's the same here.
"With all the staff we have, we could give players endless reams of information, but what would they do with it? Our job is to dig out the gems and turn them into something players can a) take on board and b) use in a game."
That clarity extends far beyond his own backyard, too. Despite his immersion, Dyche retains an ability to view the game objectively, possessing a wry acceptance of the mechanisms that drive a multi-million pound industry and the vagaries that govern every Press box and boardroom.
"Leicester are very interesting to me," he says. "At the beginning of the season, it was 'Good old Leicester, aren't they doing well'.
"By Christmas it was 'Hey look, they're still there'. It gets to February and suddenly people realise they're actually going to have a go.
"Then it's 'Oh Leicester just play the long ball'. They're being broken to bits, tactically and technically. People are questioning them, instead of just saying 'Isn't that marvellous'. Isn't that strange?
"It's the same with managers. If something doesn't look right, the media have to say 'It looks like there should be a change'. At other times, they'll argue that chairmen are too ruthless. That's not me having a go – it's just an observation. Rational facts are very difficult to find in football now."
Dyche, of course, was kept on following last year's relegation from the Premier League, trusted to repeat the trick so remarkably achieved in 2014.
"That's what I mean about rational facts," he says. "If you looked at any business now, it's highly unlikely a new manager would get 6-7 months to turn the thing round.
"Most – and I've spoken to one or two businessmen – would probably look at a 3-5 year plan and stick with it down the line. In football, plans are discarded in a matter of weeks.
"Fans, owners, board members.  Information is thrown at these people from all angles these days and it's hard to stay rational. But you also have to take the business climate.
"There's more foreign investment. Possibly younger investment. Those people have grown up in a society driven by change. You want to buy a fridge and the following year a new model comes out and it's 'Let's have that one then'. The pace of life, the pace of change, is faster.
"Owners are more visible. When I was growing up, the owner was someone who sat in the background. You rarely heard a thing. I remember speaking to my dad as a kid and saying 'Who owns that club?'. And he wouldn't really know. It would be 'Er, I think it's so-and-so'.
"Now, they're being interviewed on Sky, they're on twitter. When your profile is out there as an owner, guess where the questions go? Not to me. Suddenly, you're under pressure to act."
Listening to Dyche's gravelly expositions, it isn't remotely difficult to see why he inspires such trust and loyalty. Why the man Clarets fans call the 'Ginger Mourinho' was hailed by Joey Barton as the best manager he's worked for.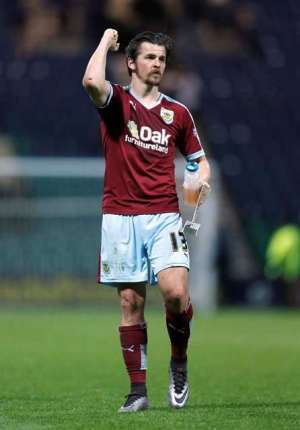 Released by QPR in May, Barton was widely viewed as a risk not worth taking. Dyche felt differently and, nine months on, has been rewarded with committed performances, exemplary leadership and not a single suspension.
"One of the first questions I was asked was 'How are you going to handle him?'," recalls Dyche, now 44. "And I told them exactly what I told Joey – that I wasn't going to handle him.
"He's a man now, not a boy. I speak to him and he's enjoyed that openness. We have respect, we have honesty. He thrives on that.
"Sometimes you have to interview someone to know how they're feeling. With Joey, you just look at him and you know he's in a good place. His conduct, the way he's been around people in Burnley. He's been a credit to the club."
For Dyche, management is about reading people. "I don't do names," he insists. "I don't do screaming at players. If I use expletives, it's to enhance a moment. It's not directed at someone. And, despite how I look, I don't chuck teacups either. Why would I do that? Everybody is just trying to do a job.
"A footballer's job is to learn. So, first you have to work out how they learn – visual, audio, kinesthetic, written or discussion.
"With footballers, the usual three are kinesthetic – that's showing them things out on the grass – discussion and visual. Very rarely do footballers write things down. Not because they're thick, they're not at school any more. It doesn't come naturally. Some of that's done from me looking at you, some from you telling me – though most people don't tell the truth. It's psychological profiling, but it's not science. It's not man-management. It's life: meeting someone in the street or speaking to someone correctly in a restaurant."
Dyche's methods have plenty of admirers. After the Clarets took Spurs to an FA Cup replay in January, Mauricio Pochettino spent an hour quizzing Dyche about how he'd won promotion with a team tipped for relegation.
"It's funny because the supposition in this country is that we need to learn things from the foreign guys," he smiles. "But he actually wanted to know all about what we did. I thought the interest he showed was brilliant."
And no wonder. When Dyche arrived in the summer of 2013, Burnley were skint and had just sold Charlie Austin, their top scorer, to QPR. Now, thanks to a prudent year in the Premier League, promotion is a bonus, not a necessity.
"We're in great business shape," he adds. "The training ground will be paid for. The ground upgrades will be paid for. There's money in the bank, the accounts look great.
"We haven't got the same pressure as other clubs to get our hands on that finance. But that doesn't mean we don't want it."
Does Leicester's imminent coronation show that even Burnley can one day dream of the ultimate prize?
"Everyone dreams in football," admits Dyche. "We're still kids at heart. We're all searching for those rare magic moments.
"The Leicester story is great because, let's face it, most things in life revolve around money. We all strive for a way to subvert that. So yeah, let's dream. But I'll keep mine grounded in reality."
*This article was originally published in The FLP on 1 May 2016.