by Chris Dunlavy
WIMBLEDON Common and Wembley Stadium aren't separated by much. Thirteen miles on the north circular, a trip up the District Line.
But for Brighton defender Liam Rosenior, it was a journey that took buckets of sweat, sleepless nights and every inch of willpower.
Back in the summer of 2010, the full-back had just been ditched by Reading. His agent had gone quiet. His telephone too. As the weeks trundled by and old mates returned to pre-season, a nagging sense of doubt became outright desperation.
"It was the hardest period of my professional life by a long way," says Rosenior, now 31. "I'd played in the Premier League, in the Championship. You're thinking 'Surely somebody could use me'. But then… nothing. I realised that I had to do something for myself."
For many, that would be a trip to Dubai or a Caribbean island. For Rosenior, it meant a makeshift – and very public – training camp in the leafy corner of SW19 made famous by the Wombles.
"I trained on Wimbledon Common," laughs Rosenior, who finally got his reward when Nigel Pearson and Hull came calling in late October. "I set up my own cones, did my own drills. I was out there running for hours.
"The thing is, I always had faith in my ability. I had to, or I'd never have been able to go out on my own every day. I was training harder than I would have done even if I'd been doing pre-season at a club.
"I remember when I first went to Hull, I played a trial game on a Tuesday. That was my first match in six months and I'd done maybe three proper training sessions.
"I came through that, then got chucked straight into the first team on the Saturday. But because I had trained so hard on my own, my fitness wasn't an issue.
"Four years later I'd been promoted back to the Premier League, played in an FA Cup final at Wembley and got to Europe. It was nice to prove a few people wrong."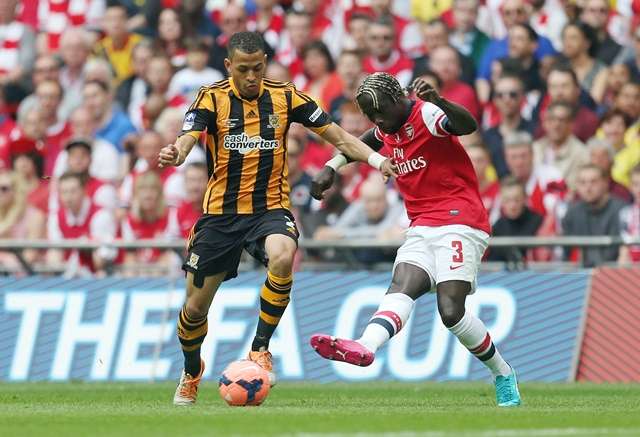 Rosenior, though, is bright enough to realise that players don't end up on the scrapheap by accident.
Having come through the ranks at Bristol City, he joined Premier League Fulham as a teenager and – despite the guidance of dad Leroy– fell into a familiar trap.
"I didn't realise it then, but I'd been very fortunate," he explains. "I was a young guy of 20-21, playing regularly in the Premier League for Fulham.
"And, looking back, I got complacent. I took my eye off the ball, thinking I'd made it. I didn't do as much as I could to improve, I didn't work on my weaknesses.
"I didn't have a bad attitude or anything like that. I wasn't going out every night. It was a lot more subtle – maybe I just dropped from 100 per cent intensity to 99. And at that level – unless you're Messi or Ronaldo – that's not enough.
"I ended up without a club at the age of 26 and was probably lucky to get back into the game. It was a painful time for me, but the lessons have been learned."
Sadly, not by Hull. Promoted to the top flight under Steve Bruce in 2013, a solid first season was followed by the dreaded sophomore slump.
Big signings like Abel Hernandez failed to fire, others – like Robert Snodgrass – fell victim to long-term injury. The Tigers won just eight matches and were eventually relegated from the top-flight with an 18th-place finish.
"That's what can happen if you get complacent," says Rosenior, who was released in May and subsequently joined Brighton.
"And I do think that happened to an extent at Hull. We stayed up, got to the Cup final, then bought a load of new players. But just spending money doesn't guarantee success.
"You still need a core of players with an affinity to the club, who know how hard the division is and remember how to battle. Maybe that's what Hull lost last year.
"It's a shame, but that's gone now. I had a wonderful five years there and I'll always be grateful for the chance they gave me."
Now, though, the focus is on Brighton. Tipped to struggle, Chris Hughton's men have taken the Championship by storm, winning six of their first eight games. And, heading into the weekend, Rosenior's Brighton are one of only three unbeaten sides in the country.
"The league isn't won by bookmakers or pundits," says Rosenior. "It's won by what happens out there on the pitch.
"And when we go out on to the pitch, everyone is willing to fight and tackle for each other.
"People talk about quality, but every team in this league has good players. But do they have the mentality to win games under pressure? Do they have the resilience to dig points out when things aren't going well? At the moment we're passing those tests and, if we can keep it up, we could do something very special."
Shot-shy and unadventurous last season, the Seagulls have hit 11 goals this term, with Israeli striker Tomer Hemed amongst the Championship's top scorers.
"Tomer's a quality player and things are going really well for him," adds Rosenior. "Then you've got Sam Baldock, who's showing everybody just why he's so highly rated.
"The fact that they're keeping out a living legend in Bobby Zamora tells you everything."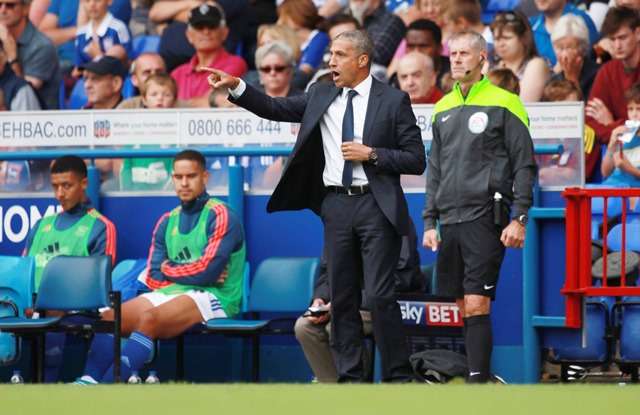 But the full-back reserves his greatest praise for gaffer Hughton, who won promotion from the Championship with Newcastle in 2010.
"In football terms, he's very consistent in his message," he says. "When Chris is your manager, you know your job.
"But before we even talk about tactics or motivation or anything like that, it's important to say that he's just a very, very good man.
"His honesty, his integrity – there's no edge, no side to him beyond what you see. In my experience, that's quite rare in football.
"When you have that, you get people on side very quickly. Not just the players, but the fans and everyone who works at the cub. People want to make you successful and that's very different to just doing a job for somebody.
"Chris is someone who all the lads respect enormously and nobody wants to let down."
And with ambitions in management – he has already completed his coaching badges – Rosenior has vowed to watch Hughton like a hawk.
For now though, he simply wants Brighton's clutch of youngsters – like Rohan Ince and Jake Forster-Caskey – to dodge the minefield that very nearly detonated his own career.
"It's about keeping an eye on them, getting their mentality right," he says. "We've got players with Premier League potential for sure, but if they don't keep improving, they'll not realise it.
"My job is to make sure they don't have to go through what I did."