by Tony Leighton
Britain's got talent – and aiming to prove it in America on Thursday in arguably the world's biggest women's domestic club game.
Four Brits – English head coach Laura Harvey, Wales midfielder Jess Fishlock and Scotland colleagues Kim Little and Rachel Corsie – will be out to make Seattle Reign the USA's undisputed top team when they face Kansas City in the National Women's Soccer League Championship match.
"This game is the women's soccer equivalent of the Superbowl," said former Birmingham City and Arsenal boss Harvey.
"There are lots of events around the occasion. There'll be a huge crowd and the match is being shown live across the country on Fox Sports TV."
Harvey's team have already won the regular NWSL season, as they did in 2014. However, at the season's end, the top four clubs have to go through play-offs that culminate in the Championship clash.
Last year, the Reign lost in the big finale to Kansas City, who will once again be their opponents on Thursday at Portland's Providence Park Stadium.
Harvey is already a winner, having just been named the NWSL's Coach of the Year – in the process becoming the first person to win the award twice after also taking the accolade last year.
"Getting the award again is a great honour and very special," said Harvey, 35. "It's down to the hard work and application of the players, who've given us another tremendous season.
"Hopefully, this year it can be even more special by taking the Championship title," added the coach, who says her trio of Brits – each of whom she signed from Women's Super League clubs – have been key to Reign's continuing success in what is acknowledged as the most competitive women's league on the planet.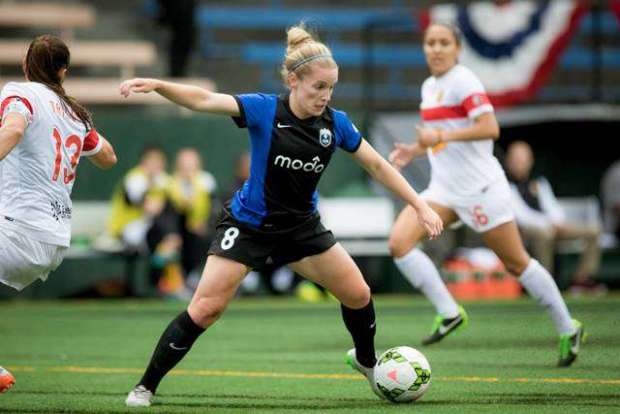 Ex-Arsenal playmaker Little, who on Tuesday hit a hat-trick as Scotland beat Slovakia 3-0 in the first of their 2017 European Championship qualifiers, was named the league's MVP (Most Valuable Player) last year – her first in America – and will be the opponent most feared by Kansas on Thursday.
The 25-year-old Scot has made such an impact that Harvey insisted: "Kim was great for Arsenal, but she's gone to another level and, in my opinion, she's the best player in the world right now.
"In this league, she's playing against the world's best and they just can't get near her. She was top scorer in the league last season. This year, she's had the most assists and been involved in some world-class goals.
"She's been absolutely phenomenal for us. I'd go so far as to say that she's changed the fortunes of Seattle Reign, from a club who could compete to a club who are one of the best in the world."
The Reign have certainly stepped up in the last two years following their somewhat disjointed 2013, the NWSL's inaugural season.

Fishlock, signed from Bristol Academy ahead of the league's launch, was a tower of strength, says Harvey, whose team had to kick off the campaign minus their three big American stars – Hope Solo through rehabilitation from surgery, Megan Rapinoe as she was finishing the French season with Lyon, and Amy Rodriguez who was pregnant.
"It was a very difficult first year," said Harvey. "We started with no members of staff, apart from me, and we were short on the playing side, too, so it was hard for someone like Jess, who'd come over from Britain to join us.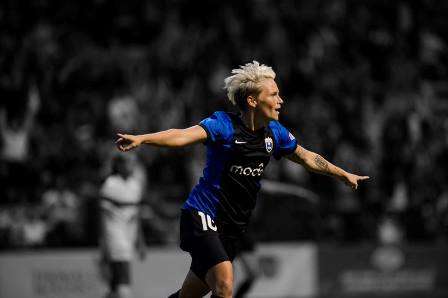 "She had to go through all the problems we had in that first year and she could have left, but she stuck with us and I can't speak highly enough of her attitude and commitment.
"She's always given everything on the pitch and, as well as being a top player who's highly respected over here, she's a great ambassador for the club." Fishlock is back in Seattle after playing for Wales in Tuesday's 3-0 Euro 17 qualification defeat by Austria.
As the 28-year-old Wales stalwart finishes her third Reign campaign on Thursday, former Notts County central defender Corsie, 26, will be closing out her debut season in the American league.
"Rachel's done really well for us and exceeded expectations," said Harvey. "She took a risk in coming here because I told her our central defensive partnership was the best in the league last season and that she had no guarantees of playing.
"But she stepped up to the plate from day one.
"She's now fitter, stronger, a better footballer and a regular in the back line. Like Kim and Jess, she'll have an important part to play against Kansas."
When the two teams met in last year's Championship match, Kansas were surprise 2-1 winners after Seattle had reigned supreme in the regular season.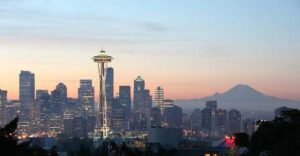 Harvey recalled: "We won the league by 13 points, so no-one was even close to us.
"That would make you champions in England, but over here it just puts you in a position to go into the Championship play-offs.
"We'd been totally dominant, so when we lost the Championship match it was a weird feeling – the worst feeling I've ever had at the end of a game.
"Kansas had spoiled our party and I was distraught, devastated, and of course the players were, too. So, on Thursday, we'll be out for revenge. It's as simple as that – we want that Championship title!"
As focused as she is on the massive game ahead of her, Harvey, who as Arsenal manager won the WSL, the FA Cup and the Continental Cup – twice each – this week took time out to contact Liverpool manager Matt Beard following his appointment as head coach of Seattle's NWSL rivals, the Boston Breakers.
"I've dropped Matt a message to give me a call if he'd like to have a chat about coming to work in the NWSL," she revealed.
"I'll be happy to give him any advice I think might be useful to him. Boston finished bottom this season so it's not going to be an easy job, but Matt's got a good track record in England and that's obviously why they've chosen him.
"His teams are always hard to play against, and I reckon that, once he's got used to the draft and trading systems over here, he'll get them on the right track."