FOR a kid of 21, swapping the beautiful boulevards and boutiques of Paris for the slate grey skies of Dunfermline must have been a nasty shock, right?
"Hmm, not really," laughs Sol Bamba, who first left his homeland for Scotland in 2006. "After all, I did move out of the house when I was 11 years old."
Eleven? "Yes, 11," explains the Leeds skipper, now 30 and a dad of three. "When I was young, I joined Paris St Germain. My family and I, we lived in central Paris, a commune called Ivry-sur-Seine.
"As you probably know, land in Paris is very expensive. No green spaces. Even clubs like PSG have nowhere to train or play, so their base was out in the countryside.
"My family had no car. It was too far to walk. So from Monday to Friday I lived at the academy. You went to school in the morning, finished at 4 o'clock. Then you went to train. After training you had dinner, then the next couple of hours were for doing homework. By then it was already time to sleep.
"That was Monday to Thursday. On Friday, after school and training, you finally got to go home at about 6 o'clock.
"Saturday was mine to do what I wanted. To see my friends and family. But early on Sunday morning, you had to go back because you always had a game to play in the afternoon.
"That was my life from 11 to 15 and I cannot lie – being away from home was not easy. I missed my brothers and sisters. My mum worried about me. I have three kids now; I wouldn't want them to do what I did.
"But I wouldn't change it, because it made me an adult from a very young age. I had to be responsible and look after myself. I do think that independence made me a better person."
Not to mention a nomadic one. Imbued with an instinctive adaptability and unburdened by home ties, Bamba's career has taken him from France and Scotland to England, Turkey and Italy.
"Let me think," he says, when asked how many languages he speaks. "I do a bit of English (this is self-deprecating in the extreme), obviously French, Italian, a little Turkish and an African language. So five. I'm thinking about working for the UN when I finish playing!"
Not that Bamba is particularly diplomatic. Signed on loan from Palermo last January, he discovered a club riven by dressing room splits, a manager (Neil Redfearn) forced to work without an assistant and a chairman, in Massimo Cellino, making arbitrary and divisive decisions. And can they? After all, this is a side culled primarily from the academy, with the likes of Alex Mowatt, Sam Byram and Lewis Cook all relatively wet behind the ears. Bamba's defensive could tighten oddsmaker's goal lines, though an EFL championship bid is less certain
Too old and too principled to toe the party line, he first doled out a few home truths in the dressing room.
"It was a young side and I think they needed a leader," he explains. "There were basically two groups – the Italian players and everybody else. They didn't dislike each other, it was just hard to communicate. I spoke both languages, so I think that brought us together a bit more."
Bamba then publicly lambasted Cellino, urging him to "do better for the sake of the supporters, even if it costs me a contract."
"Everyone knows what I said last season and I stand by that," says Bamba, who was re-signed by new manager Uwe Rosler in June and was immediately handed the captaincy.
"If the decisions at the top aren't right, there's no way what happens on the pitch can be right. It was a big struggle last year and that's why.
"Now he (Cellino) has maybe taken a step back and I think bringing someone like Adam Pearson in as CEO has been very important. He knows the club, he knows English football. That's helping the president.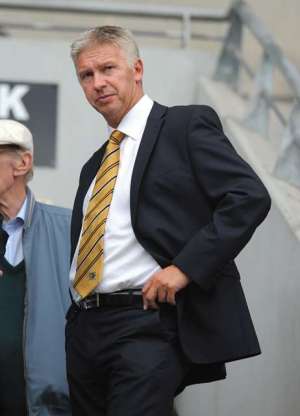 "Everything is a lot more settled so they have done their part. Now we have no excuses. It is up to us to make it work on the pitch."
And can they? After all, this is a side culled primarily from the academy, with the likes of Alex Mowatt, Sam Byram and Lewis Cook all relatively wet behind the ears.
"If we can keep the staff and players together, we could do something very big," he insists. "We may not have much experience, but the talent is there.
"I'm not going to say we're going to win the league or even that we will make the play-offs. But if we can do better and be in the mix, I think everyone will be more than happy."
Bamba is a fan of Rosler and Redfearn, but saves his greatest praise for Sven Goran Eriksson – the man who first brought him to England with Leicester in 2011 and later made him a mainstay of the Ivory Coast back four.
"Sven has been huge for me," says Bamba, who qualifies to play for the Ivory Coast national side through his parents.
"I've always said that I owe him everything. He took me down to England and picked me for the 2010 World Cup. And apart from all of that, he's also a great man. I have great respect for him and he is still someone who I speak to regularly for advice.
"People who don't know him might think his personality is cold or whatever.
"People who do know him realise he is just someone who loves football and is incredibly passionate about the game.
"I think a lot of people forget that Sven laid the foundations of what Leicester are today. He brought a lot of players with good pedigree and if he'd had the time, I believe 100 per cent he would have made it. Unfortunately, we all know football is a ruthless business."
It was during his spell with Leicester that Bamba met his English wife, Chloe. So with firm ties to the UK and kids in school, is Bamba finally ready to put down some roots?
"It's a good question," he adds. "The truth is, we don't know yet. We're just buying a house in Leeds now, so it looks like I'll be based here for a while. But we have a place in Paris as well.
"It really depends on the kids – how they make friends, how well they are doing at school. We enjoy our time here so, yeah, we'll probably decide to stay.
"I've enjoyed everywhere I've been and made a lot of friends. Seeing these amazing places, bringing the kids to different countries and exposing them to other cultures. I wouldn't change any of it.
"But I have to say that the UK is the place where I've been treated best. People talk about xenophobia and these things, but to me the English people have always been very friendly and welcoming.
"I also like the spirit of the game here; hard but fair, with respect for every player. There's no better place to play football."
And if anyone should know, then it is  Bamba.
by Chris Dunlavy