IT JUST seemed like five hours watching Stoke draw 0-0 with Millwall a few weeks back. But glutton for punishment Michael O'Neill actually spent five hours going through the video.
That gives an idea of the detail, and the dedication, it has taken over
the past three months to improve Stoke from basket case to a team with a good
chance of staying in the Championship.
Stoke were
bottom and six points adrift of safety when O'Neill, left, took over and
had won only two of their first 15 league games.
Nathan Jones had looked more and more frantic in his frenzied desire to
find a winning team and caretaker Rory Delap lasted one game, a defeat at home
to West Brom, before O'Neill took over on November 8 and won the next day at
Barnsley.
True, Friday
night's 4-0 drubbing at Derby was a setback, but O'Neill's league record is P15
W7 D2 L6. That's 23 points out of 45 and a return to optimism after successive
years of decline. On his current ratio of points-to-games, O'Neill is heading
for a low mid-table finish.
His Northern
Ireland job parked for the time being, O'Neill has brought calm and
organisation to a club that is on its fifth manager in 25 months.
There was a time whenStoke fans were disenchanted with what they regarded
as a so-so mid-table life in the Premier League.
Before O'Neill, Stoke were looking at away trips to Fleetwood and Rochdale in League One next season – that's how far they had fallen. Home form has benefited in particular with last week's 2-0 win over Swansea their fourth clean sheet in five.
O'Neill has
gone microscopic in detail to rebuild Stoke and imported what he learned with
Northern Ireland into how he has got the Potters playing.
"That Millwall
game, not the best I know, but we went through it for five hours," says
O'Neill. "You have to look at it collectively, 'we can do better at that, and we can
do better at this'.
"Often, when we review a game, we go through it with the units of the
team: midfield, back four, front three as well.
"You have to
do it with an individual as well, areas where you can help him improve, areas
where we need to get better at. I look a lot at set-pieces.
"I look at
them particularly, retaining possession at throw-ins," he says.
"They are the
small things you can work on. And if you improve on all those things, all those
little improvements, they add up to a whole.
"If you look
at it from a statistics point of view, I think on average you will get between
20 and 25 throw-ins a game.
"That's 25 times when you are going to keep possession or lose possession.
"If you kept possession, then it could be an extra 100 passes. Equally, if
you can exploit teams at defensive throw-ins, it gives you an opportunity to go
and press.
"For example,
in that Millwall fixture we weren't happy about their only chance in the game
coming off our throw-in.
"In the Huddersfield game, the free-kick for their second goal came off
our throw-in. You have to look and think 'Well, if we could improve in those
areas…'."
Joe Allen, in
particular, has benefited from O'Neill's arrival and once again he is at the
centre of what Stoke do well.
The experiment
to turn winger James McClean into a full-back, so doggedly pursued by Jones,
has been binned.
Centre-halves Danny Batth and Liam Lindsay are more solid – while James Chester, 31, has arrived on loan from Aston Villa – and that's been a relief for O'Neill with Ryan Shawcross still recovering from injury.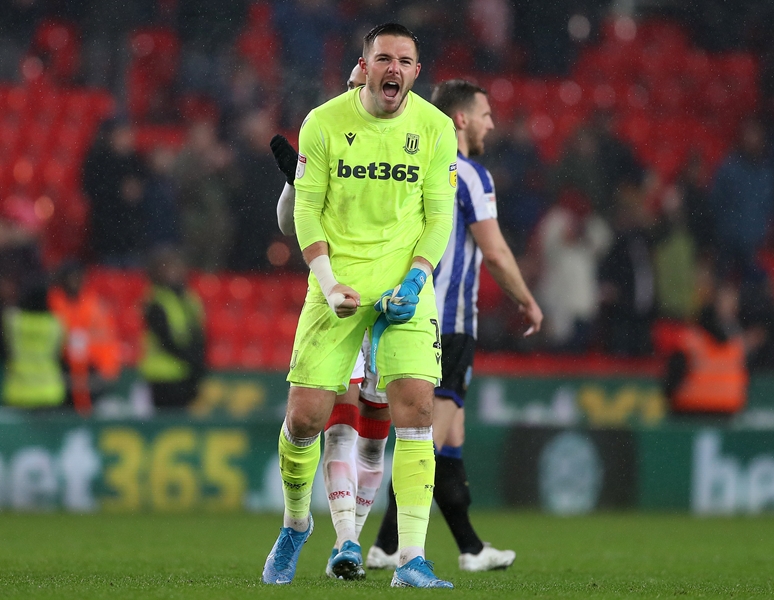 Goalkeeper
Jack Butland, nervy all season, has benefited from the added defensive security
and become consistently reliable once more.
O'Neill hopes to have Stoke safe by the time the European Championship play-offs come around and Northern Ireland are away to Bosnia and Herzegovina towards the end of March. And you can bet he will have the videos out again.
"It was something we worked very hard at at international level," O'Neill
adds. "Against
the better teams, we can't squander possession, though against the likes of the
Germans or the Dutch, it's very hard to get any possession in the first place!
"When they have throws in their defensive third, if you press the game
properly it gives you opportunities to win the ball higher up the pitch.
"It's easier
to do that off a throw-in as opposed to trying to do it in open play because
their players are so good on the ball.
"We should
have been one-up against Germany after eight minutes and that chance came off
pressing one of their throw-ins.
"Just little
things that we worked hard on in international football.
"When we
played against the bigger nations, maybe because they have more talented
players, perhaps they don't put the same emphasis on that.
"But I know,
for example, Manchester City have had someone in as a throw-in coach."
Liverpool have
also had specialist throws coaches and it is something, says O'Neill, that the
bigger clubs can indulge in with their greater resources.
"They are all
things that are important," he said. "You have to look at all aspects.
"I've said to
the players, if you look at the game, the game is essentially somewhere in the
region of probably 57 minutes to 60 minutes of the ball being in play.
"So, for the
other 30 minutes you will be restarting a game. That will be throw-ins,
free-kicks, goal-kicks. That's one third of the game.
"If you are
good at restarting a game, your possession will increase, your number of passes
will increase, therefore your dominance in the game will increase."
The question now is: How long will O'Neill spend poring over the Derby video nasty?
JOHN WRAGG