By Chris Dunlavy
WEMBLEY is an awful place. Sterile. Bland. Corporate. Home of football? Hardly. It only opened in 2007. There's more heritage in the O2 Arena.  
It hogs England matches, depriving kids from Manchester, Newcastle or Nottingham of the chance to watch the national – yes, national – team play. Or forces their parents to shell out a few hundred quid on train tickets.
It has stolen FA Cup semi-finals from neutral venues like Old Trafford and Villa Park, leading to the kind of ludicrous situation that in 2016 saw fans of Everton and Man United travel 400 miles to watch their teams do battle.
We all know why. Wembley cost too much in the first place, ineptitude and in-fighting blowing the budget by an outrageous £300m.
A sum, by the way, that included £120m from Sport England and £20m from the department of culture media and sport. That's our money, paid for in taxes and lottery tickets. "It was a lot of public money," said Richard Caborn, the former sports minister who inherited the fiasco from predecessor Kate Hoey.
"So you've got to ask what the public got out of it, and whether it was right to use that money to help build a stadium given the riches in football."
The answer to the first question is nothing. The public got a stadium it did not need and that most of us cannot visit, a whited sepulchre that to this day drains critical resources.
When Fulham owner Shahid Khan offered £600m to buy the stadium in April, the FA promised to shovel the funds into grassroots football.
Yet that's exactly what they could have been doing for the last 11 years, but for running costs of £85m a year and a debt that, as of 2017, stood at £140m.
Instead, pitches have been left to rot whilst children change in crumbling facilities that wouldn't pass muster at Strangeways. This week, former FA chairman David Bernstein called the situation a "national disgrace".
As for whether it was right to use public funds, ask the social workers, nurses and other public sector workers who have suffered through austerity. Ask the local councils whose budgets have been decimated.
Part of me – a large part – desperately wanted Khan's offer to succeed. Mainly to reverse a decade of grassroots neglect. Partly on the off chance that he'd jettison England entirely, sell the naming rights and we could all stop pretending that this gleaming vanity project has anything to do with football heritage.
Yet the American's withdrawal this week – ostensibly on the grounds of "divisive" public uproar – is probably a blessing. Not because London gets to keep the England team. But because Jacksonville gets to keep the Jaguars.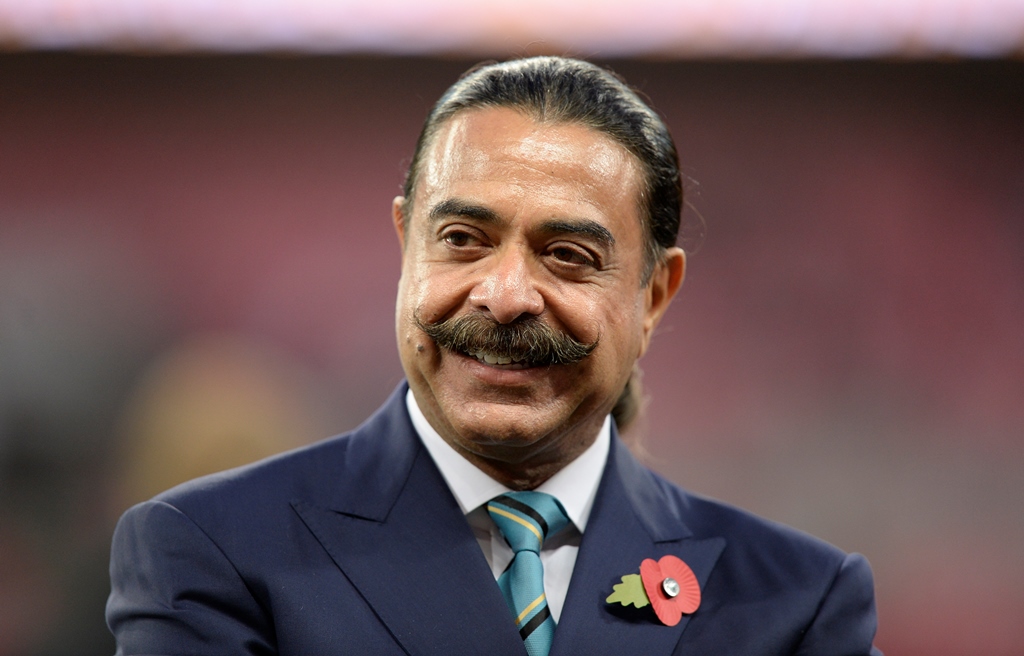 Khan, who owns the Jags, has always denied that his purchase of Wembley was a precursor to the NFL side making a permanent move to the stadium, where they currently play one of eight annual home games.
Yet many commentators in the US are convinced that – long-term – Khan wants the Jaguars to become the first NFL franchise based overseas.
And why wouldn't he? At Everbank Field in Jacksonville, the Jags' average attendance last season was 64,000, the seventh lowest in the NFL. Wembley would yield an 84,000 sell-out every game, with ticket prices 40 per cent higher to boot. Khan would literally double his money.
Yet to host an NFL side in England – even for the few games we currently do – is to tacitly endorse franchised sport in its entirety.
To accept that it's OK to rob 60,000 Jacksonville residents of their team. To force players of both sides into gruelling transatlantic flights. To put the bottom line before sporting integrity.
That might be OK across the pond. But here? It is anathema to all our sporting values. It is to say there's nothing wrong with Barcelona and Girona plotting to play a La Liga fixture in Miami. To legitimise Richard Scudamore's poisonous plans for a 39th Premier League game.
To look upon the destruction of Wimbledon 16 years ago and say 'Hey, that's business'. Uprooting a team should never be tolerated on these shores again – even if it is a willing import. In that sense, at least, some good may come of the FA's failure to squeeze out from under this white elephant of a stadium.