STOKE City's primary contribution to the Championship in recent seasons has been to prove that parachute payments aren't all they're cracked up to be.
Defeat. Humiliation. Proven managers reduced to helpless inadequacy and high-class players transformed into quivering wrecks.
Since relegation from the Premier League in 2018, the Potters have occupied an average position of 19th place in the second tier.
And this despite possessing players like Joe Allen, a semi-finalist at Euro 2016, Jack Butland, a goalkeeper with nine caps for England, and an international cast to rival the Eurovision song contest.
Why such a talented squad was so fragile is a question nobody has adequately answered, though a fractured dressing room certainly played its part.
Rumours of ructions and bad apples are overblown in football, but when members of the inner sanctum air their fury in public, it is fair to assume that the smoke is fed by a roaring blaze.
Glen Johnson, who retired following the club's relegation from the Premier League in 2018, told the BBC that the attitude of some players made him feel like quitting the game.
"You had players who didn't want to be at training, walking off the pitch, kicking balls about," he said. "I've seen stuff at Stoke that I hadn't seen before in my life."
Liam Lawrence, writing in the Stoke Sentinel last year, said he'd heard things that would make fans' eyes water. "I only wish I could name names," he said, before adding that former team-mate Glenn Whelan would have 'murdered' several offenders.
Yet that does not explain why Erik Pieters – a member of the infamous 'bomb squad' supposedly ruining morale – was signed by Sean Dyche, a man famously insistent on good character, and has since performed with distinction in the Premier League.
Ryan Woods, meanwhile, was signed after winning back-to-back player of the year awards at Brentford. Hopeless in the Potteries, the midfielder joined Millwall in January and was instrumental in the Lions' late push for the play-offs.
To don that striped shirt, it seemed, was to capable players the equivalent of Samson shearing his mane. Stoke was a club cursed, impotent and hopeless.
Then, like Gandalf at the battle of Helm's Deep, Michael O'Neill rode over the horizon. Precisely what the Northern Irishman did is unclear, but the facts speak for themselves.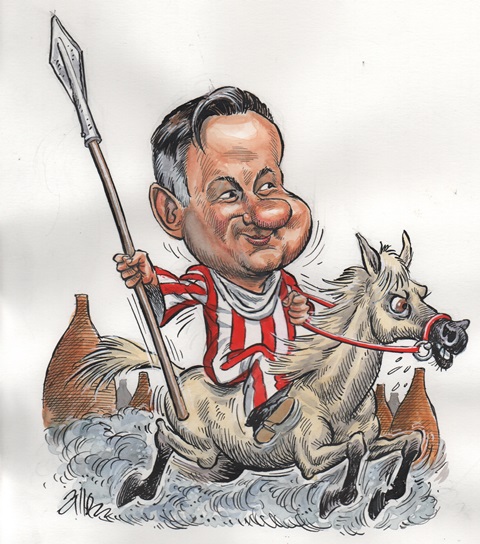 When the former Northern Ireland manager replaced Nathan Jones in November, the Potters were bottom of the Championship. They eventually finished 15th, and the 48 points gained after O'Neill's appointment would actually have kept Stoke in the division irrespective of what went before.
Had the season started when the 51-year-old arrived, Stoke would have finished in seventh place. They were more solid. More dangerous. Ask Brentford, whose eight-game winning run ended in a comprehensive 1-0 defeat at the Britannia.
Much of O'Neill's success has been based on simple, pragmatic changes; a system that suits the players, not preconceived ideas; recognising the game-changing talent of Nick Powell and playing to the former Manchester United man's strengths; defensive rigour; ditching those, like Butland, whose confidence was shot.
Yet he has also brought a calm, fatherly assurance. As one Stoke supporter told me recently, it feels like his club is in the hands of an adult.
O'Neill's straight-talking interviews, honest assessments and willingness to call out individual players struck a chord not just with the fanbase but the dressing room itself.
For the first time in several years, optimism is coursing through the club. What's more, a month behind closed doors may loosen the shackles from players cowed by rancour from the stands in recent seasons.
The Potters have an excellent side, a class manager and – for the first time in years – genuine belief. A flying start is crucial to banish old demons, but if Stoke can hit the ground running then they might just speed all the way to promotion.
CHRIS DUNLAVY