by Chris Dunlavy
If. But. Maybe. Chris Kirkland has never escaped the doubt and distrust engendered by those simple words.
"Chris is one of the top three goalkeepers in the country," said Paul Jewell, his manager at Wigan Athletic,"if he is fit and playing regularly."
"But for injury," said Steve Bruce, one of the 34-year-old Preston's stopper's staunchest advocates, "we could be talking about him in the same bracket as Joe Hart. He should have a stackful of caps."
And Roberto Martinez, circa 2008: "Maybe the fact he is not being considered for England comes from some worry about his fitness because I can't understand it. He is up there with the best."
If, but, maybe. Not since 2001, when a £6m move from Coventry to Liverpool made Kirkland England's most expensive goalkeeper, has praise come untempered by qualification.
Back then, the gangly youngster was just about the hottest prospect in the country, hailed by Sven-Goran Eriksson as "the future of English goalkeeping".
Steve Ogrizovic, the legendary Coventry keeper who acted as a mentor to Kirkland, still remembers his youth team debut.
"Chris was on his paper round and had to be called in as a late replacement," he said. "Even then he stood out. Partly it was his size. Even at 15 he must have been 6ft 4ins. But it was also his presence – he already commanded a box."
---
The FLP's weekly profile is sponsored by Marathonbet: Odds here https://www.marathonbet.co.uk/en/
---
Tall, agile, brave as a lion; former Sky Blues boss Gordon Strachan said he was a "big bambi who couldn't kick the ball out of the penalty box" but that didn't stop him choosing the teenager over veteran international Magnus Hedman.
Remarkable for a man who, in his youth days with Blaby & Whetstone, was forced to play outfield because he wasn't trusted between the sticks.
Yet Kirkland always wanted to be a goalie. His father, Eddie, would regularly finish a 12-hour shift as a crane driver, only to spend hours in the park helping to hone his son's catching and kicking, pounding shot after shot, cross after cross.
Years later, this obsessive dedication to the craft was still in evidence. Indulged by Liverpool coach Joe Corrigan, the Spanish underlings of Rafa Benitez were horrified to see Kirkland leaping around for hours on end. Ordered to conserve energy, he would doggedly stay put.
Following a move to Wigan in 2006, Bruce made a similar observation. "Chris was one of the old-fashioned types who just wanted balls blasted at him from six yards," he said. "He was a workaholic. He would be on the pitch at 9am and still there at 2pm."
Sadly, all the practice in the world couldn't bring Kirkland the fitness he craved. At Liverpool, a season-ending ankle injury was followed by a cruciate knee ligament operation, a broken finger and surgery on a broken wrist.
Underpinning the lot was a persistent back problem that no amount of surgery or physio could fix. In five years at Anfield, he made just 45 appearances.
Once widely tipped for England greatness (he eventually made his bow in 2006, famously winning his dad a £10,000 bet in the process), Kirkland's Liverpool letdown saddled him with an injury-prone reputation that he never managed to shift. So are the ifs, buts and maybes justified? Certainly that back problem never went away. To this day, each save is followed by a wince or grimace.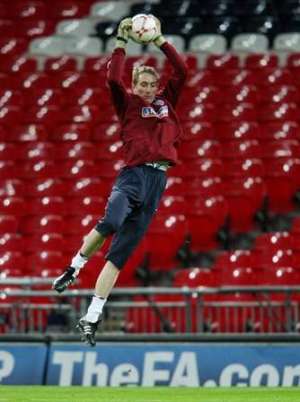 Eriksson, Steve McClaren and Fabio Capello all selected Kirkland for England, only for injury to prompt a withdrawal.
Then there were the freak scrapes; he dislocated a finger, damaged his collarbone in training, got knocked out cold by a charging Johan Elmander.
Yet Kirkland has always rejected the 'sicknote' title. "It sounds funny and I'm sure I won't be believed," he said in 2013. "But I've not actually been injured that much. It's just what people make out."
And, in truth, he's got a point. In the ten seasons since leaving Liverpool, Kirkland has made 241 appearances for Wigan and Sheffield Wednesday, including almost two seasons when he wasn't first choice. That's roughly 30 games a season.
Paul Jones, the former Wales keeper who worked with Kirkland at Liverpool, argued this point in 2006.
"Chris is a young lad who grew very tall very quickly," he said. "His body is still trying to catch up, which would explain all the back problems.
"Otherwise, he's just been very unfortunate. He seems to get these knocks and never get a consistent run of games under his belt."
Injured or not, Kirkland's talent was never in doubt. Only fitness concerns cooled the interest of bigger clubs and stayed the hand of successive England managers.
"When he's fit and playing he is the best goalkeeper in England, without question," said Bruce in 2008. "I've had the privilege to work alongside a great one in Peter Schmeichel at Manchester United and he is right up there."
And though Kirkland – currently second choice at Preston –  would surely argue, his former Wigan boss offered perhaps the most concise summation of a career forever blighted.
"Chris is a fantastic goalkeeper," he said. "He just has a horrible bad back."