by Kieran Thievam
When Arsenal Ladies midfielder Leah Williamson was ten years old she made a bet with her mum that if she ever captained her country in a competitive match, she should be allowed to stay in her dream hotel.
She wouldn't have to wait long for a plush night in London's Dorchester Hotel after making her competitive debut for England's Under-17s two years ago, but do not mistake Williamson's bet as arrogance or over-confidence.
"Much to people's surprise, I'm really not that confident at all," she confessed.
"I remember when Shelley Kerr (former Arsenal manager) told me that I was coming on as a sub in the FA Cup Final last year. I tied and untied my laces three times to waste time, because I didn't think I was good enough and didn't belong on the field."
Whether this is modesty or perhaps a touch of shyness, what the 18-year-old lacks in self-confidence, she certainly makes up for in raw ability.
Having already represented her country at youth level up to Under-20s, she was awarded the PFA Young Player of the Year last season following a difficult campaign for her club that saw a mass exodus of experienced heads, including England captain Steph Houghton and Scotland international, Kim Little.
She was also thrust into the limelight in April this year after an unprecedented decision by UEFA saw her successfully retake a wrongly ruled out penalty against Norway in a European Championship U19s qualifier – five days after the refereeing gaffe had been made in Belfast.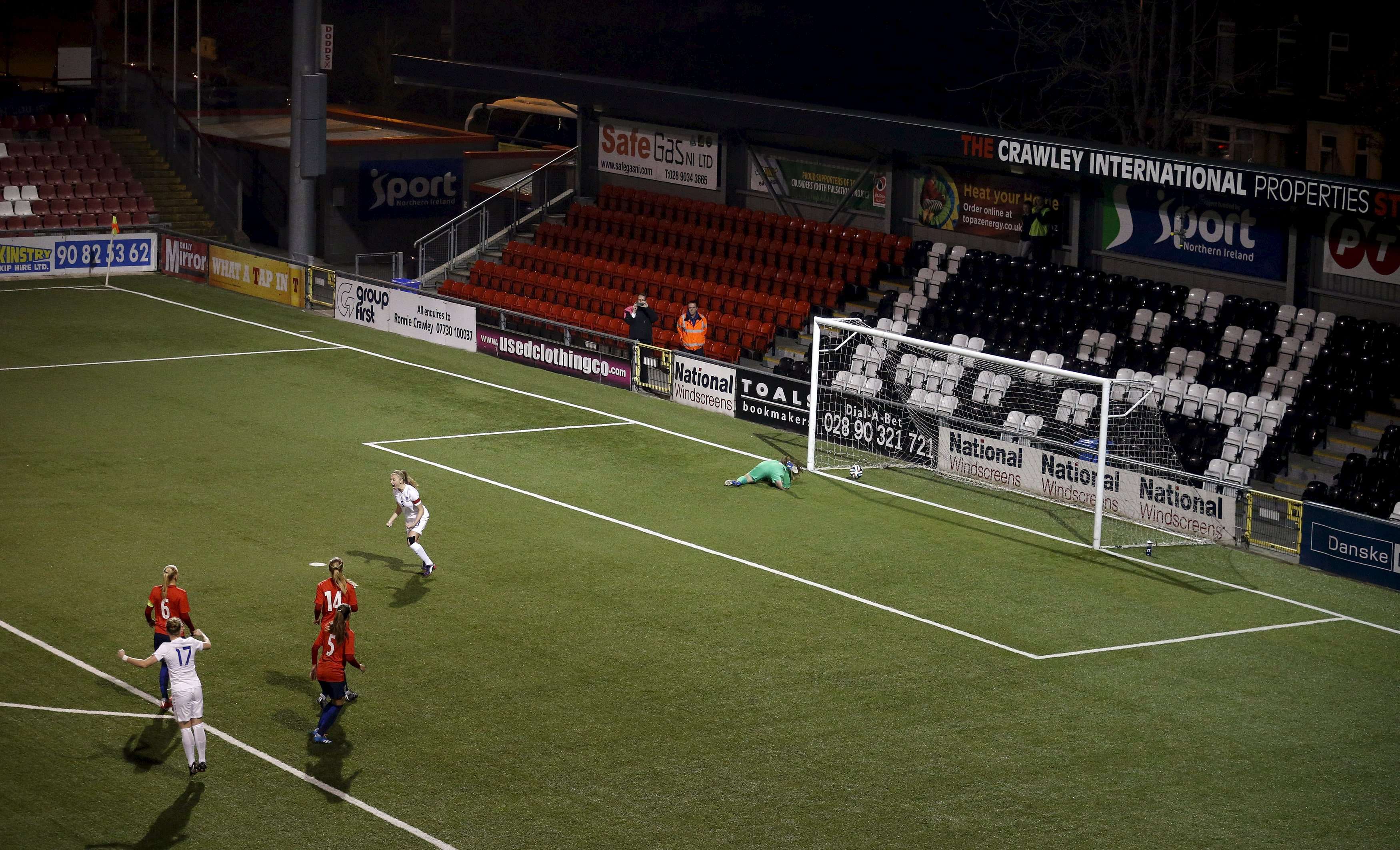 The versatile midfielder has taken this all in her stride and was earlier this month rewarded with a new contract at Arsenal, which came as no surprise having been touted by respected figures in the game, such as team-mate and coach Kelly Smith, as one of the brightest young prospects in the country.
But with Manchester City Women and Chelsea Ladies investing heavily in their squads over the last couple of years, was there ever a temptation for Williamson to continue her development elsewhere?
Coming from a family of Arsenal fans, there was only one place she wanted to be.
"I've been at the club since I was nine and I have developed as a person as much as I have as a player in that time, so I don't see any reason to leave.
"The club has its own plans and I think these are exciting times. There's a lot of potential here to win things, and to do that in an Arsenal shirt would mean the world to me."
What's all the more remarkable is the Milton Keynes-born midfielder has reached her current level while balancing her football with her studies, having received her A-Level results a few weeks ago.
It could have been so different for Williamson though, who admits she came close to quitting the game a few years ago.
"When I was 15 I did wonder whether football was for me, because my studies have always been very important and football was a hobby. But I carried on because I wanted to see how good I could be.
"My studies are over now and it's not a hobby anymore. I want to achieve so much more and I have all the opportunities in front of me to kick on."
The England youth international highlighted the impact of the senior team's performance at this summer's World Cup as a real inspiration for young players looking to achieve their goals, and admitted it has given her even more hunger to succeed at both club and international level. But it is experienced professionals such as Casey Stoney, who once worked in the laundry room at Arsenal, that Williamson admits has helped keep her focused.
"I'm lucky that I get to go into Arsenal as a professional footballer every day, because the platform is there for me now and that's thanks largely to what the England girls did in Canada.
"It was Casey's third World Cup and she's worked all her life against the odds, and what we have now is the best it's been. I'm lucky enough to walk into that, whereas players in the past didn't have what we have now."
After a difficult campaign in 2014, Arsenal Ladies currently find themselves with an outside chance of winning the league and have qualified for the quarterfinals of the Continental Cup.
Manager Pedro Martinez Losa has added stability to the side following a number of managerial changes last year, and has given youngsters such as Williamson, Carla Humphrey and Chloe Kelly the opportunity to show that, while Arsenal may not have the financial power of some, they still lead the way in youth development.
This was highlighted when the PFA Young Player of the Year was handed the captain's armband by Rachel Yankey in a game against Watford Ladies last month – a privilege the youngster hopes won't be the last time.
"I know I want to be a captain because it's a massive honour and I think I have leadership qualities in me as I've been a captain in my youth teams," she says.
"To take that armband from Rachel Yankey was an incredible moment for me and my family. It's not something I go looking for, but I hope that just being me will be enough and I'd embrace that responsibility."
With qualification for the European Championships commencing in September, the talented Williamson made no attempt to hide her ambition to represent her national side at senior level.
However, she remains humble, something she says her family has taught her from a young age, and reveals that when the time comes that England boss Mark Sampson gives her a start, it will not come at a cost to her mum again.
"We didn't raise the stakes when I made my England debut in the youth set-up… which I think mum is pleased about," Williamson concluded.
"As for the senior side, all I can do is make sure I work hard and play well for Arsenal, and hopefully that will be enough to turn Mark's head and show him what I am capable of contributing."
*This article was originally published in FLP on 30 August 2015