A BRIEF dalliance with basketball and early experiences in Non-League football have blessed Josh Gordon with a remarkable leaping ability – and now he's looking to soar all the way to League Two promotion.
Despite his 5ft 10in frame, the Walsall forward often gets the best of giant defenders in the air, allying that with a fiery attitude and relentless work ethic to become a fan favourite.
That work ethic helped him navigate a long road into professional football – being released by Stoke as a teenager due to his height and earning a university degree while playing for Nantwich Town and Stafford Rangers before getting a shot with Leicester City.
That eventually led him to Walsall in 2018 and Gordon, who turned 26 on Saturday, is thankful for the experiences which shaped the player he is today.
"Everyone always mentions me competing in the air and how my aerial duels are good for my size," said Gordon. "I think that comes from starting from a young age in Non-League after being released by Stoke when I was 15 because of my physical attributes.
"I was playing men's football from the age of 16 – you have to adapt quickly and that Non-League experience has helped me compete with the tallest players in League Two.
"I also used to play basketball when I was younger as well – I played at age-group county level for Staffordshire before focusing on football.
"I'm not the tallest, so jumping and trying to compete in the air on the basketball court has helped in the long run."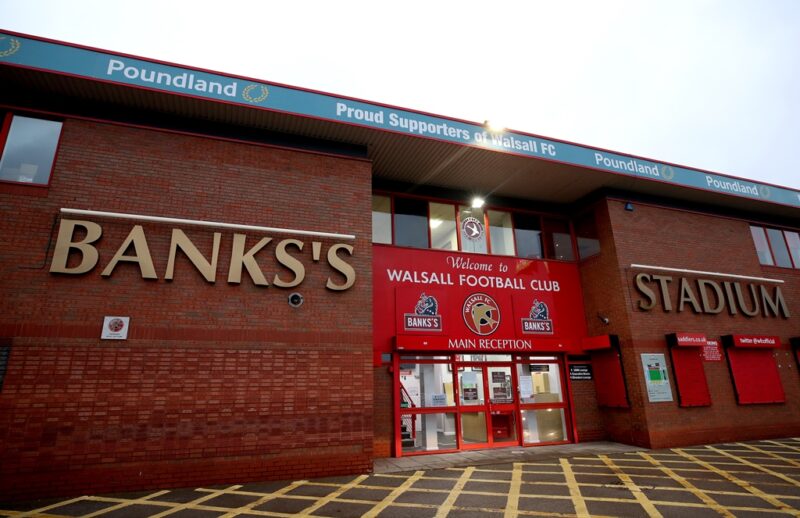 Gordon will always have his degree in sports development and coaching from Staffordshire University to fall back on but after two impressive seasons with the Saddlers, his trajectory is upwards – as evidenced by him being linked with Championship clubs Preston, Millwall and Barnsley over the summer.
The striker bats those links away as mere rumours but he is certainly desperate to make the most of a career that he easily could have missed out on.
"I just know that in life you get obstacles and a lot of knock-backs but the knock-backs help you push yourself to where you want to be," he added.
"It's not that I want to prove other people wrong as such but prove to myself that I can succeed.
"Having that experience of the other side of life, not being a footballer, to be able to do what I'm doing now is a big opportunity. It's not something I will take for granted, regardless of the level I play at."
That level could soon be League One again – where he scored seven goals during his first season with Walsall in 2018-19 – as the Saddlers eye a promotion tilt this term.
Huge turnover following relegation, as 17 players joined and 23 left the club, ensured a slow start last season that scuppered any real chance of an immediate return to the third tier.
But Walsall were on a five-game unbeaten streak when the pandemic stopped the season in its tracks and Gordon is adamant they have carried that momentum into the new campaign.
"We kept a lot of the players together this time around, so it has been easier to start strongly, which has been shown in the results," said Gordon, with the Saddlers unbeaten in their first three league games ahead of the weekend.
"We've got the right manager behind us (Darrell Clarke) – he's got experience of getting promoted from League Two (with Bristol Rovers in 2015-16).
"Last season was a building block, bringing a new squad together. We finished on a high and having the players stick around, now our objective is to be competing for promotion.
"The club have mentioned that, as has the gaffer – hopefully we can meet those goals."
LUKE BAKER / Title Image: PSI