(Photo: Action Images via Reuters)
By Matt Badcock
THE day after Danny Lloyd signed for Peterborough United he was back selling bins. The 26-year-old winger still had to work two weeks' notice at waste giant Biffa, where he was a business and development manager.
Just six months later, he's showing he can bridge the gap between Non-League's National League North and League One.
He's had to be patient for his chance, but his goal on New Year's Day in the 1-1 draw against Doncaster Rovers took his goal tally to ten in 12 starts in all competitions, with four assists thrown in for good measure.
But Lloyd could have been sat at home watching the goals flash up on TV, rather than scoring them himself, had he decided to walk away from the game 18 months ago.
Disillusioned after finding regular action hard to come by at AFC Fylde, he was seriously contemplating packing it in.
But a phone call from Stockport County manager Jim Gannon persuaded him to carry on and a scintillating season in the National League North re-energised his whole career.
He hit 29 goals and laid on another 19 to have Football League clubs falling over themselves to check out what the fuss was about.
And the likeable Scouser admits he sometimes has to take stock of how far he's come in a short space of time since arriving at Grant McCann's Posh in the summer.
"If it wasn't for Stockport County and Jim Gannon convincing me to go and play there last season, I would literally not be playing football right now," Lloyd told The FLP.
"So I'm just thankful I'm playing in League One. Sometimes, I have to pinch myself because of what I'm doing right now.
"I've made eight (league) starts in my first season at this level – though I feel I could have made more."
Pre-weekend, Lloyd was on a hot run of form, with five goals in his last five games, including a stunning strike in a double salvo against Bury.
It came after it was revealed in December that he had been put on the transfer list as Posh looked to reshuffle their squad in the mid-season transfer window.
Then, his goalscoring exploits attracted interest from League One and above, with the club now saying he's off the list. Chairman Darragh MacAnthony confirmed on twitter last week they had turned down a bid from a division rival.
Lloyd isn't worrying about any of that, however, as he looks to build on his current platform.
"I'm just doing what I'm doing," says Lloyd, who also hit an FA Cup hat-trick against Tranmere this season. "I work hard every day and I just believe in the process I set myself when I came here.
"I know in myself that my game has come on so much just in this short time that I've been here.
"It's the full-time training, the sharpness of mind. I see things so much quicker. Obviously, I still make mistakes, but they are things for me to work on. I'm playing against a higher calibre of player and I'm doing well.
"I've always felt I'm good enough to play in the Football League. How high remains to be seen, but I'm in League One on merit and I'm proving I can play at this level.
"No one will work harder than me. I'm always doing extras after training, coming in on days off, working on my passing and my shooting, and trying to be the best player I can be."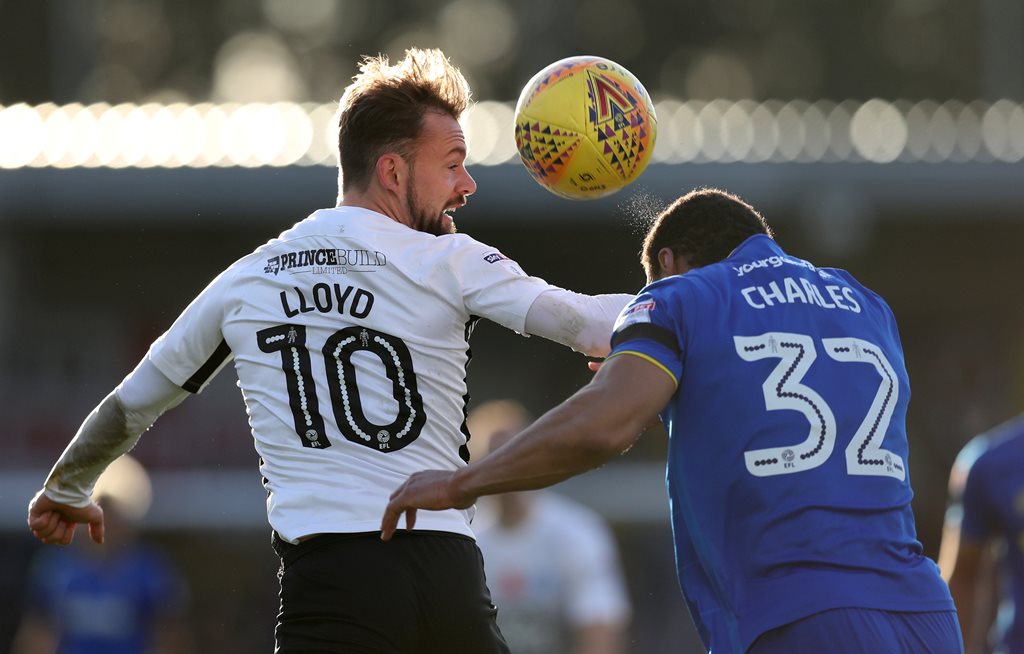 Lloyd was acutely aware he had to show he could make the jump and says he's quickly got to grips with the ups and downs of being a professional footballer.
"I knew this would be difficult and the step-up wouldn't be easy," he says.
"I was bypassing the Conference and League Two to go straight to a League One team pushing for promotion. I knew it would be difficult physically, but I didn't envisage how hard it would be mentally at times.
"When you're playing in Non-League football and you've got a job like I had, if I played crap on a Saturday I would go into work on Monday, sell a big job and get that feel-good factor again.
"As a full-time player, if you're not playing it can be mentally tough. But you've got to believe in the process of working hard every single day.
"I've got my head around that now. I understand it and I'm over it. I know, if I fall out of the team again, the only way to get back in is working hard every single day. We've got some really good players here, so you have to battle to get into the side.
"Me and the gaffer had the conversation towards the end of pre-season about getting myself up to speed after the initial elation of becoming a Football League player.
"I look at how I am in training now and I feel I'm doing really well."
And he's determined to show EFL clubs are right to be mining Non-League football as Peterborough have so successfully done down the years.
"Me and Alex Penny came from Non-League in the summer and I think we've done brilliant for lads making that step up," Lloyd says. "We're going to have that monkey on our back at first.
"People can say, 'Oh, they've come from Non-League, it's a gamble. It might pay off, it might not, time will tell'.
"But I don't believe in that. We've come and shown we can cut the mustard. There are so many good players in Non-League football who can make the step.
"I just feel that, when you come from Non-League, people can have an element of doubt. That's fine, it doesn't bother me. It is what it is.
"It's down to me to keep doing what I'm doing. I love working hard.
"I love working hard every day. I love getting up in the morning, putting my training kit on and going to training. It's the best job in the world, the best job I've ever had."
It certainly beats the bins.