by Nick Lough
With the Republic of Ireland preparing for their do-or-die Euro 2016 play-off tie with Bosnia, one Dublin-born striker is hoping his goals can attract the interest of Martin O'Neill.
Scunthorpe United striker Paddy Madden is currently the highest goalscoring Irishman across the top four divisions, with his total of ten in all tournaments making him the most lethal striker in League One.
The 25-year-old forward admits he is delighted with his stellar start to the season, smashing all of his early targets even though he has been operating from an unfamiliar position on the wing.
Madden told The FLP: "Nine league goals plus my one in the Capital One Cup has got me into double figures for the season already, which is very good.
"I'm not playing up front, I'm playing on the right wing. A lot of wingers would take ten goals for a whole season, so to have ten now is fantastic and I've not finished yet.
"Hopefully I can keep my appearances up and keep scoring, and who knows how many goals I might hit?"
Handed his first and only senior cap for the Republic of Ireland by Giovanni Trapattoni in August 2013, Madden impressed the Italian with his work ethic and ability to get into threatening positions behind the defence.
Unfortunately for the former Yeovil and Carlisle striker, the 76-year-old was given his marching orders by the Irish FA just a month later, with Martin O'Neill overlooking the striker so far during his tenure.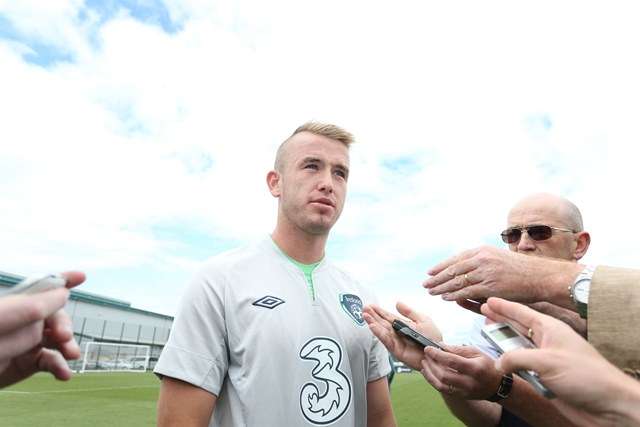 Madden is not giving up on his hopes of representing his country once again, with the belief that a continuation of his form and his goals in the claret & blue of Scunthorpe can help force his way back into the Green Army set-up.
He said: "I'm not too sure the way the new manager works, whether he only picks Premier League and Championship players, but all I can do is keep scoring goals with Scunthorpe and hopefully get noticed.
"I think I showed against Wales in my first international game that I didn't look out of place; on another day I would have probably hit a hat-trick in 25 minutes.
"Things didn't quite go to plan and their keeper made quite a few good saves from me, but I got into some good positions and had three good chances against a team who have qualified for the Euros. I played against a lot of Premier League players and I didn't look out of place.
"I know if I was to get into the set-up on a regular basis I will score goals. I have confidence I can score at that level and I just need to be given the opportunity."
With Madden banging in the goals left, right and centre, he has proven to be one of the key figures in the Iron's revival after a slow start saw them languishing near the foot of the League One table.
Now, confidence is high around Glanford Park as Madden and his crew are within touching distance of the play-offs.
The forward believes that the team finally have a strong understanding on the pitch, and that this season's League One could throw up many surprises along the way.
"You're not always going to hit the ground running straight away with all of these new players, but we've gelled now and we know how each other likes to play, so we're starting to get a lot of wins and racking up those three points," he said.
"I don't think there's going to be anyone running away with the title like Bristol City did last year.
"I think this season any team can beat anyone, it's a very hit and miss league this season and I expect it to be very tight towards the end all over the board."
Looking towards the rest of the campaign, Madden admits he is focused on racking up at least 20 goals in League One, backing his own ability to produce the goods in front of goal.
Madden: "My target every season is always to get 20 goals. A few years back I managed to hit 24 in one season with Yeovil at this level and I managed 17 with Scunthorpe by the end of last season.
"I always average at least 15 in this league. With playing out wide more, it may be difficult but I'm just hoping I can get to that 20 mark by the end of the season.
"I've just got to stay hungry all the time, not hungry as in being selfish and thinking all about yourself but in a sense that you keep working hard in training and keep going.
"If you get big-headed you're no good to anybody so you have to stay humble and if you work hard the rewards will follow."
Perhaps for Scunthorpe United and the Republic of Ireland…