DRAGGED to Ewood Park by a friend of his gran, David Dunn's earliest memory of Blackburn Rovers was that it was "bloody cold, and a bloody long way".
Thirty years and 378 games later, he left the old place with a lump in his throat and a tear in his eye, revered as one of Rovers' greatest servants.
"His love for Blackburn was there for all to see," said Sam Allardyce, his manager at Ewood. "If he wasn't playing for them, he'd be talking about them. He might have been a player, but he was a fan above all else."
And the love is mutual. To many in East Lancashire, Dunn is the greatest Blackburn player of his generation, a midfielder of immense natural ability – who would have shone for England but for the injuries that wrecked his career.
"He was a player of tremendous talent," said Graeme Souness, under whom Dunn enjoyed his best years at Blackburn. "He had all the qualities required to play at the highest level. Even considering the injuries, how he didn't is a mystery to me."
As a youngster, Dunn was obsessed with Paul Gascoigne, watching his VHS copy of the Spurs maverick's life story every day, twice a day, "for about a year".
And he wore that influence on his sleeve – at his peak, Dunn had the same barrel chest, the same gliding gait; even the same impish sense of mischief.
Yet if Gazza fed the young Lancastrian's dreams, it was his grandfather – David – who was the true inspiration.
"He made me practice," Dunn recalled earlier this year. "And he wouldn't let me join a team until I could kick with my left foot. He hates people who can't use both feet and said that I'd be showing him up."
Dunn joined Rovers at the age of eight and made his debut ten years later. It didn't last long – introduced in the 70th minute, he was subbed back off again after 81 thanks to a red card for Swedish star Martin Dahlin.
But it wouldn't be long before he was making a more meaningful impact, spearheading a young team that included the likes of Matt Jansen and Damien Duff.
Dunn scored 18 goals in 52 games as Blackburn were promoted to the Premier League in 2001, then bagged 16 over the course of two Premier League seasons to win his solitary England cap.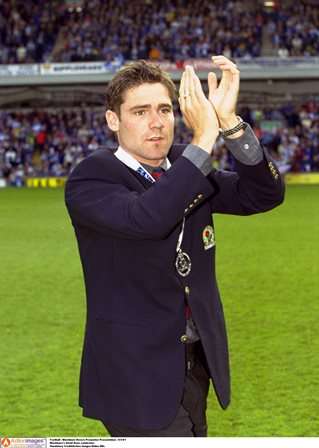 "He is so smooth in his movement and on the ball," said former team-mate Ryan Nelson. "He is Spanish in the way he plays. He's like an Iniesta and there are not many Englishmen like that. When he is on the field and playing consistently, there is no better player to watch."
So why just one cap? On the one hand, it was Dunn's misfortune to emerge at a time when Frank Lampard, Steven Gerrard and Paul Scholes were vying for two slots in midfield.
On the other, Dunn acquired a reputation as a playboy who too often burned the candle at both ends – an accusation he still rejects.
"I was just conscious of not seeming big time and one thing I didn't want to do was lose touch with the people I grew up with," he told FourFourTwo in 2013. "Yes, I went out with friends. But I got accused of going out more than others and that was never the case. A lot of it was just exaggeration. I'd be out for a meal and it would get reported I'd been clubbing."
The real problem, though, was injuries.  Hamstrings, ligaments, cartilage – everything failed him and, after a £5.5m move to Birmingham in 2003, Dunn made just 58 appearances in four seasons.
"It was a poor return on their investment," admits Dunn, who turned down an approach from Chelsea – newly minted under Roman Abramovich – to honour a promise to join Blues gaffer Steve Bruce.
"Steve was fantastic, but it just got to a point where he was as frustrated as I was. I honestly thought about quitting half a dozen times at Birmingham because of the injuries."
By the time he returned to Blackburn in 2006 – a yard slower and a fraction less mobile – his England dreams were dead. What remained, however, was an agile football brain and an infectious personality that could galvanise any dressing room.
"He didn't often come in miserable," said Allardyce. "When you talk about banter, David was always starting it. He'd be in for a bit of mickey taking and all in good humour.
"He was one of those players whom it was good to have in the dressing room when things weren't going well. He knew when to have a laugh, when to get serious. And when the pressure was on, he'd be the one to raise spirits and lighten the mood."
And there were plenty of dark days. The Venky's takeover and shock sacking of Allardyce in 2010; relegation from the Premier League in 2012; the parade of five-minute managers that turned Blackburn into a laughing stock; and three seasons of Championship mediocrity.
Yet Dunn stayed loyal, taking his Blackburn tally to 59 goals in 365 appearances before leaving to join League One Oldham in July. Now the 35-year-old has been handed the chance to manage the Latics – and, according to one former Blackburn team-mate, he has all the credentials.
"David put so much time and effort into me," said Rovers youngster John O'Sullivan. "He worked one-on-one and came and watched me loads of times when I was out on loan at Accrington.
"Even in his final days at the club, he was pulling me aside in training to help me improve and give me pointers. He didn't have to do that, but that's the type of guy he is. He'll make a brilliant coach."