by Chris Dunlavy
WHEN Real Madrid mystifyingly pluck-ed Thomas Gravesen from Everton in January 2005 and shoved the Danish playmaker into a holding role, a rumour swept around Goodison Park.
Real, folk said, had accidentally bought the wrong bald-headed midfielder. The man they wanted was actually Lee Carsley.
"I heard that," admitted Gravesen in an interview with the Telegraph in 2006. "And you know what? If they had signed him instead of me, I wouldn't have been surprised. He did a tremendous job for Everton. Tremendous."
The tale is, of course, apocryphal. Yet it neatly summarises the career of the new Brentford boss, a man whose immense contribution to the Toffees' success under David Moyes went largely unnoticed by everyone but those in the stands.
Signed by Walter Smith for a fee of £1.9m in 2002, the arrival of a twice-relegated journeyman (with Blackburn and Coventry) did little to excite supporters and when Smith was sacked just weeks later, Carsley actually attempted to call the move off.
Fortunately, the ink had dried, Moyes kept faith and, after a rocky start, Carsley became the beating heart of a resurgent Everton – both on the pitch and in the dressing room.
"For me, Lee was the key player in those days," said former Toffees defender David Weir. "He flourished under David.
"He was outstanding, a great player and a really funny lad. He was a Brummie and used to get pelters for looking like Harry Hill but he had the best sense of humour – so blunt with expressions that could knock you down. He also got on very well with the staff and was the life and soul of the place.
"And what a job he did. Me, Tommy Gravesen, Tim Cahill, Kevin Kilbane – he helped all of us do our jobs and made all of us look better. He covered everything, a multitude of sins, and filled the gaps that everybody else created."
Moyes himself called Carsley his "Mr Reliable" and still owns a signed photograph of his skipper's winning goal in the Merseyside derby at Goodison. Yet perhaps Carsley's greatest contribution came in 2004-05 when his role as the defensive pivot in 4-1-4-1 formation saw Everton finish fourth.
"I think he is the main reason we qualified for the Champions League," insists Kilbane. "The way he sacrificed himself for the team, sitting in, winning the ball and giving it to people he felt could do a better job going forward.
"The season after he was injured throughout and Everton struggled. The next year he came back and they finished fifth. I don't think that is a coincidence."
Kilbane, a close friend of Carsley, also says the midfielder had a "fear factor" about him and, while funny and good-tempered, wasn't afraid to stand up for himself.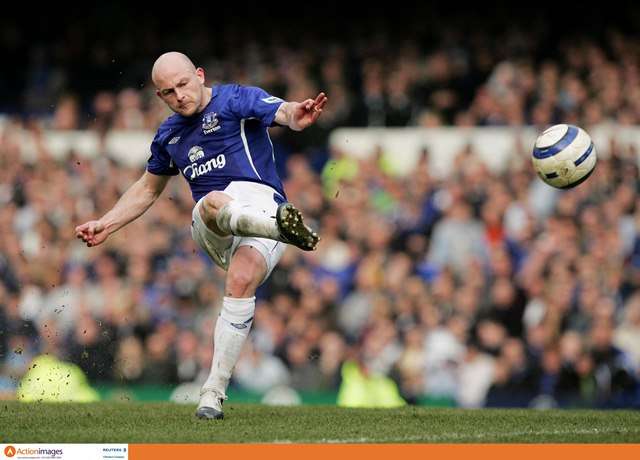 Graeme Souness can attest to that. Relegated immediately after joining Blackburn in March 1999, Carsley privately informed manager Brian Kidd that he was willing to spend only a single season outside the top flight.
When Souness replaced Kidd and learned of this ultimatum, he consigned the popular midfielder to the reserves. In front of a packed dressing room, Carsley stood up and told the daunting Scot exactly what he thought of him before ditching the club for Coventry.
"Graeme felt I let him down," said Carsley in 2001. "I felt I was being honest and sticking to my guns. I don't regret it."
This mix of dressing room geniality and steely resolve undoubtedly has its roots in a football education under the tough, acerbic Jim Smith at Derby County as a teenager.
A debutant against Italian side Cesena in 1994, he played 138 games, won promotion to the Premier League and rose to captain the Rams.
Yet Carsley's outlook on life and football has been most deeply shaped by second son Connor, who was born with Down's Syndrome in 1999.
"We'd lived in a bubble where everything was rosy," he admits. "We've got money, we've got houses, we've got cars – we have got all our possessions and then suddenly our little boy is born and we are hit with this bombshell.
"Suddenly you realise it doesn't matter what car you drive, or what house you live in. As long as you are healthy and your family are healthy, who cares? I would rather have had three normal children and worked at the Rover factory, lived in Sheldon where I was born and just been happy."
But while Connor has given Carsley a sense of perspective and duty (he was vice-president of Everton Disabled Supporters' Association and a patron of the Down's Syndrome Association of Solihull), he has never used it to denigrate modern players.
"We've been sat in waiting rooms with people from all walks of life," he said in 2007. "It does bring you back down to earth. Now my lifestyle and my attitude is a lot different to some other players, but I would never knock them for that because they haven't experienced what I have. Would I be fund-raising if Connor didn't have Down's? Probably not."
Carsley, who won 40 caps for the Republic of Ireland and appeared at the 2002 World Cup, retired in 2011 and has since coached at Coventry, Sheffield United and Brentford, worked with England Under-19s boss Adie Boothroyd and taken his Pro Licence.
Now Carsley has reluctantly accepted the challenge of keeping Brentford in the Championship.
But while the 41-year-old insists he has "no interest" in being a manager, former Coventry team-mate Carl Baker reckons the glove fits. "Players look up to him and he used to get an extra five or ten per cent out of me just by being on the pitch," he said. "I said when he left we'd be seeing a lot more of him – and I think he'll make a great manager."