by Chris Dunlavy
IT is the moment of truth. Simon Grayson, swaddled in a lab coat, stands before a workstation at York's Wentworth College.
Half an hour earlier, the Preston manager had performed a 'Western Blot', a procedure using a UV marker to pick out protein strands in prostate cancer cells. Now it's time to see if his work cut the mustard.
"Perfect," nods Professor Norman Maitland, director of the York Cancer Research unit, as a machine ejects a polaroid of Grayson's efforts. "Really. I don't think it would have come out much better if I'd done it myself."
Beginner's luck? Hardly. In football terms, Grayson has been an alchemist for the best part of a decade.
Since taking his first managerial job at Blackpool in 2006, the former Leicester centre-back has won four separate promotions to the Championship.
Perhaps more impressively, he has used those clubs as his very own Petri dishes, cultivating superstars from scraps and cast-offs – and making his various employers a ton of money in the process.
"I love that part of the job," says Grayson, who was at York promoting the Football to Amsterdam cycle ride which last year raised more than £350,000 for Prostate Cancer UK.
"Picking players up, seeing hidden potential. I've always liked trying to bring in players who other managers have failed to work with.
"I'm not saying I've got them all right. But when I look back at my record, I'd like to think that a lot of players have either gone into the Premier League or been sold for a lot of money.
"Ross McCormack cost me £400,000 from Cardiff, where he was barely getting a game. He moved on for £11m.
"Bradley Johnson was at Brighton on loan, just disappearing. I brought him back in at Leeds and he eventually ended up playing in the Premier League for Norwich.
"Wes Hoolahan was at Livingston, completely unknown. Now he's an international. Max Gradel's just gone to Bournemouth for £6m. I bought him for £100,000 from Leicester.
"Jermaine Beckford is probably the best example. A lot of people aren't having him for whatever reason, but we have a connection and I get the best out of him. He scored 18 goals for us last year.
"I just try to create that environment where players enjoy their work and give them a chance to prove people wrong."
Which, after a busy deadline day, is exactly what new strike pair Stevie May and Eoin Doyle will be hoping to do.
Loanee Doyle, 27, scored 32 goals in 69 games for Chesterfield, but struggled to hold down a place for Cardiff following a £1m switch in January.
May, meanwhile, has joined on a three-year deal from Sheffield Wednesday after failing to transfer his prolific goalscoring form for St Johnstone to the Championship. Can Grayson work his magic again?
"I hope so," he laughs. "Hopefully it'll be a bit like when you take young lads on loan from the Premier League. Sometimes that first one doesn't work out. It's too big a change.
"But by the second and third they've toughened up and got used to life outside of their comfort zone. That's what we're hoping will happen with Stevie and Eoin."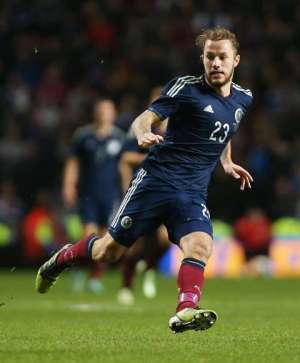 Grayson, who played in the Premier League for Leicester under Martin O'Neill, believes part of his success with players results from treating them as adults, urging them to take responsibility for their own careers.
"It's tough for players these days," he says. "Yes, they get a lot of the trappings, the money and the fame. But they're also under immense pressure. Socially, privately, professionally – they are under the spotlight 100 per cent of the time.
"When I was at Leicester we got to Wembley five times in six years. It was a tremendously successful team. But it was also full of characters – Matty Elliott, Steve Walsh – and we had a great social life. Would we have got away with some of the night outs now? No way.
"But ten, 15 years ago, you took more personal responsibility with your career. It was your duty to make yourself better, to make sure you didn't do anything stupid.
"Now, because of the academy system – which I'm not knocking – young players don't necessarily want to make decisions for themselves. They're waiting for a coach or manager to tell them what to do.
"I know because my lad (Joe) is at Blackburn, a first year scholar. Over the last few years he's had everything done for him.
"Modern day footballers are given the best opportunity to make it, from the amount of time they train, the better pitches and coaches. But they do sometimes lack the ability to think for themselves – on the pitch and off.
"So for me, it's about getting that balance. You're in the public eye and you have to be respectful of that. But I try not to impose too many rules and regulations because I want my players to be responsible adults."
If Grayson has mastered the art of getting into the Championship, getting out of it has proved more tricky.
Twice he was hamstrung by finances; neither Blackpool nor Huddersfield could realistically eye anything more than survival. But Leeds United, his boyhood club, was a different matter.
"I'll always remember Christmas in our first year in the Championship," he recalls. "We'd just beaten QPR to go second or third. I wanted to spend £500,000-£1m on a centre-half because I thought we were lacking a real, genuine leader at the back.
"I had Rob Snodgrass, Bradley Johnson, Jonny Howson, Neil Kilkenny. Up front we had Luciano Becchio. Of that front six, all but one have since played in the Premier League.
"If we'd got that centre-half I think we'd have been promoted, because the rest of the team was as good – if not better – than anything in the division. But the board said no and we fell away."
So can Preston, promoted from League One through the play-offs last term, finally be his vehicle to the top flight? Though officially the only debt-free club in the Championship, cash remains tight at Deepdale and Grayson is making no promises.
"There is a gulf in the Championship," he admits. "You look at us this week and, besides the £50,000 on Daniel Johnson, that's the first time I've paid a transfer fee.
"You look at Derby on the same day, they've gone and spent £6m on Bradley Johnson. It's a completely different level.
"It'll be hard, but Bournemouth have shown how far you can get with a good, honest bunch and a bit of organisation. It's not impossible."