by Charlie Talbot-Smith
DERIDED by Walsall fans last term for his lack of goals, Romaine Sawyers has started this season like a man on a mission – and all it took was a summer break to the Caribbean to restore his confidence.
The Saddlers forward has four goals already this season, one short of his total from the entirety of last year, as Walsall came into this weekend sitting pretty at the top of the League One table.
Strike partner Tom Bradshaw had to do most of the heavy lifting last season as Sawyers struggled for form.
But after a summer on international duty with St Kitts and Nevis – where Sawyers scored in his side's 2-2 draw with El Salvador in 2018 World Cup qualifying – he looks a new man.
"I do feel my good start to the season is a lot to do with my time over there (with St Kitts) and I thank them for that," he said.
"Going away was a massive help. The way they treated me was fantastic and it filled me with confidence. That good energy from going there translated into good performances coming out of me.
"We are out of qualification for the World Cup, which is a shame. We were not expected to go through, but our ambition is to get into the top 100 in the FIFA rankings soon.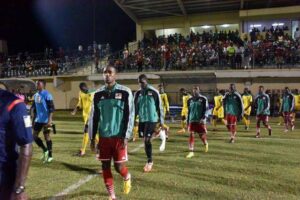 "We are around the 120-mark (119) at the moment and the squad is getting stronger."
Last year, when fans were calling for Sawyers to be dropped, Saddlers boss Dean Smith remained unmoved.
Indeed the man they call the 'Ginger Mourinho' went out of his way to publicly back his man and that faith finally appears to be paying off.
"I was speaking to the gaffer in pre-season and he told me he wanted more goals from me," added the former West Bromwich Albion man. "I have hit the ground running, but it's a case of starting as I mean to go on, and this is only a start.
"I have got a great relationship with the gaffer, we have a close bond. It is now about working hard to become the player that he believes, and I believe, I can be.
"I always believed I could score goals, the gaffer never stopped believing in me and so far this season we have turned it into a reality."
The Saddlers received a massive boost when they held onto the highly sought-after Bradshaw at the start of this week.
The Welsh front man already has five goals this campaign and Sawyers is confident the duo can fire Walsall to success.
"With the players we have got, we are always going to create chances," added the 23-year-old. "So for me it is a case of sometimes gritting my teeth and going and getting on the end of some of these chances, playing a bit further up the pitch and not always being the playmaker.
"I love playing alongside him (Bradshaw). He is a very important player for the whole team and the two of us have a great relationship.
"He stretches the play and that makes space for me to move into, he trusts me to make chances for him and I trust him to stick them away – 20 goals last year is proof of that.
"The gaffer has always said since the start of the season that our goal is to be No.1, you cannot think anything else really.
"With the start that we have had we are obviously on course, but there are a lot of games to come, we are not stupid enough to think that because we have started well we are definitely going to win the league.
"But as a team we don't normally have the best of starts to the season, it normally takes us ten or 15 games to get going, so now we need to make sure we push on and make the most of it."