By Neil Fissler
NEIL WHATMORE says Bolton were determined to make it third time lucky when clinching the Second Division title 40 years ago.
Ian Greaves's side had missed out on promotion back into the First Division  in each of the previous two seasons.
In 1976, they finished fourth after two defeats in the last five games, but the Trotters were to go even closer 12 months later.
A Kenny Hibbitt goal sent them spinning to a crucial 1-0 defeat in their penultimate game against champions Wolves and meant they needed to beat Bristol Rovers by an improbable 14 clear goals in their last game to pip Nottingham Forest to promotion. They drew 2-2.
A year later Greaves's side were neck and neck with Keith Burkinshaw's Tottenham, but this time held their nerve with a 1-0 win at local rivals Blackburn to secure promotion.
A 0-0 draw with Fulham on the final day clinched the title – with Southampton a point behind in second and Tottenham a further point behind in third.
"We missed out on promotion on the last day of the season in the previous year and the year before that," said Whatmore.
"I suppose, like everybody in that situation, we felt a little bit sorry for ourselves. We felt we were good enough to go up both years but obviously we weren't.
"This time, we were all a little bit wiser, a little bit more experienced and thought we were better footballers as well.
"We probably had a little bit more luck and believed we were good enough to do it."
Whatmore, who was Wanderers' leading scorer with 19 goals, says they wanted to make a statement of intent from the opening game of the season.
"We were determined to go out from day one against Burnley (a 1-0 away win) to make sure we didn't feel like that again at the end of the season," he added.
"We didn't lose too many games out of the 42 and whoever was around us we beat. We were the best team in the league which was proved by going up as champions
"We won away at Blackburn in the second to last game (1-0) and that made it a little bit more sweeter as it was a local derby.
"It was a tense game. We played well and Frank Worthington scored the deciding goal, which for a lot of Bolton fans will go down in history.
"I know he scored better and more exciting goals, but a lot of older Bolton fans will remember him for scoring the goal which took us up. We rode our luck at times but deserved to win.
"It was an absolutely fantastic feeling when the final whistle blew to know we were going up into the big league.
"We had started to run out of games and began to think we were going to miss out a third time running, but we were determined not to let that happen.
"It was a kick up the backside, a jolt. Nobody was going to give it to us, we had to go out and earn it and we didn't have to rely on other teams.
"Then the last game of the season against Fulham was a dour game, I don't think there was anything exciting about it. I don't know why because the Championship was at stake.
"It was a full house and you wanted the big finale which never happened. I guess it did as we went up as champions, but we wanted to win 1-0, 2-0 or 3-0."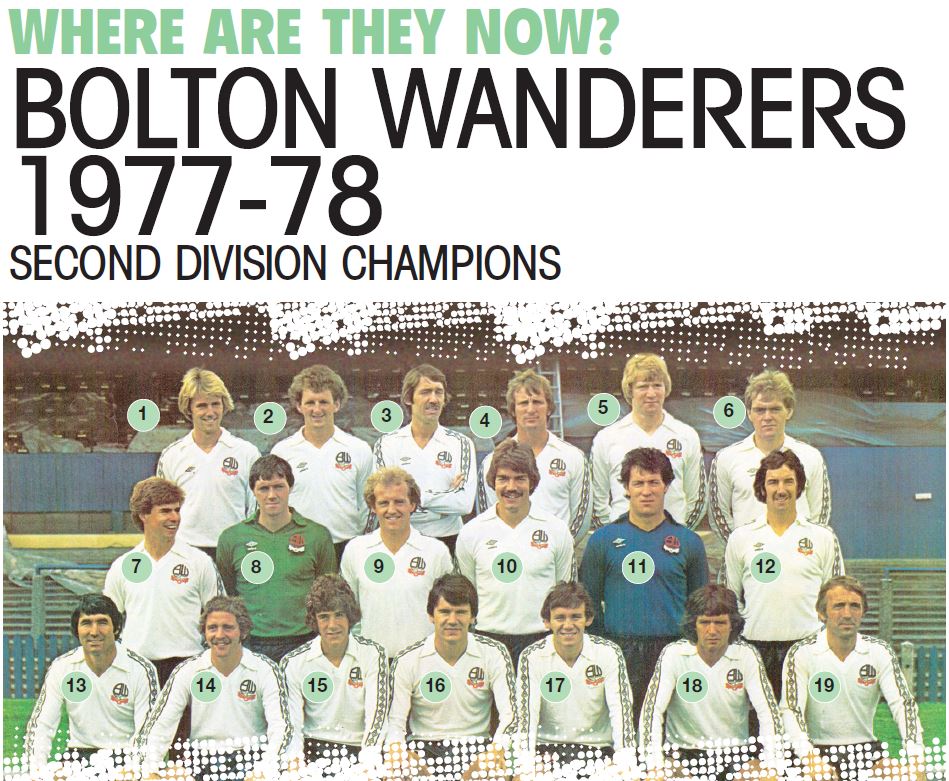 Garry Jones: Centre-forward who helped Bolton win a Division Three title in 1973. He became a director of building and building supplies companies. He died in April 2016, aged 65.
Steve Taylor: Forward who later won a Division Three title with Burnley. Lives in Shaw, near Oldham, and worked in insurance before becoming a gym manager in the prison service.
Roy Greaves: Midfielder who was part of Bolton's 1973 Division Three title-winning side. Ran the Monteraze pub close to Boundary Park, then had a wholesale beer company.
John Ritson: Right-back and another member of the 1973 Division Three title-winning squad. Ran a newsagents in the Potteries, then his own building firm.
Mike Walsh: Republic of Ireland defender who managed Bury, Barrow and Southport. He was assistant at Swindon and was Sunderland's chief scout, then opened a restaurant in Spain.
Brian Smith: Midfielder who went into Non-League management. He worked for Fizeek Sportswear and ran soccer schools. He died in September 2013, aged 57.
Alan Waldron: Midfielder and member of the 1973 Division Three title-winning squad. He has run a number of building companies in Conwy, Wales.
Terry Poole: Goalkeeper who won a Second Division title with Huddersfield. Lives in his native Chesterfield and was a cash-and-carry video wholesaler, then ran a minicab company.
Neil Whatmore: Striker who won a promotion with Mansfield. He was a milkman, facilities manager at a college, a property manager and then worked on leak detection for Severn Trent Water.
Sam Allardyce: Central defender who helped Preston win a promotion and has worked in management since 1994. The former England boss is now in charge of Everton.
Jim McDonagh: Goalkeeper who won a promotion with Rotherham. He has worked as a goalkeeping coach for a number of clubs in England and is now working for the Republic of Ireland.
Peter Nicholson: Full-back who won two promotions at Bolton, coached the academy and worked for the club commercially before switching to Blackburn.
Tony Dunne: Left-back who won a European Cup with Manchester United. Lives in Sale and is retired after running a golf range called Strokeplay in Altrincham.
Ray Train: Midfielder who helped Sunderland and Watford to promotions. He was community officer at Port Vale before moving on to Middlesbrough.
Andy Clements: Central defender who settled in York and worked for Rowntree before going into the insurance industry.
Paul Jones: Central defender, three times in the PFA team of the season. He has made cardboard boxes and has scouted for Crystal Palace, Hull City and Bolton.
Peter Reid: Midfielder who won two League titles at Everton. He managed Man City, Sunderland, Leeds, Coventry and Plymouth and has also worked in the media.
Willie Morgan: Winger who won a promotion with Manchester United. Opened a chain of laundrettes, then a sports shop before running a marketing company.
Peter Thompson: Winger who won League and Cup honours at Liverpool. Ran a caravan park then hotels in the Lake District and Harrogate.