(Photo: Action Images via Reuters)
By John Wragg
AITOR Karanka is a good friend of Jose Mourinho, the Special One. Nottingham Forest just hope they have finally appointed the Right One.
Karanka kicked off his new career yesterday against Aston Villa and became Forest's 20th manager in the 25 years since Brian Clough left the club.
Both Stuart Pearce and Billy Davies sat twice in one of the hottest seats in football.
When Evangelos Marinakis bought Forest in May and Nicholas Randall was made chief executive, they promised that the hire-and-quickly-fire days were over, that the club needed continuity and a bit of patience.
The promise was broken on New Year's Eve when Mark Warburton was sacked after nine months as manager and out with him went assistant David Weir and director of football Frank McParland.
Another year, another clean sweep.
Now it's Karanka, 44, who was close to joining the madness of Birmingham City in September until advanced negotiations broke down.
From one impatient club to another.
Karanka has joined Forest on a high after the electrifying FA Cup win over Arsenal, but a long way from promotion to the Premier League – and that is what he will be judged on.
Whether Karanka is judged later or sooner is the very problem at the heart of Forest.
He looked a little lonely as he sat in front of TV cameras and media on Thursday.
He spoke pretty confidently, pointed out that, if you can work at Real Madrid, as he did as a player and Mourinho's assistant, then you know what pressure is.
But Forest is more than an old club trying to get promotion. There are many of that sort up and down the country, their noses pressed against the Premier League door.
For a long time, though, right up until the final day of last season when Forest stayed up by two goals, they have been so far away from the door they couldn't even see it.
Where Karanka gave his press conference is where the old club offices used to be in the Clough days.
Karanka was sat in what is now called the Peter Taylor Stand after Clough's assistant.
It used to be simply the Main Stand when Forest, for successive years, were the best in Europe.
The Brian Clough Stand is the other side of the ground.
There are two European Cups on show in one of the corporate rooms.
"It is an honour to be here as everybody knows the history of this club," said Karanka.
"I have been waiting to take the right job. I didn't want to make a mistake and rush into something. I created my career step by step. The first step was really good and I had no doubt that Forest, for me, was the next step.
"The history, the crowd, the facilities – everything is perfect here. There is a great history at this club. It is not easy to win the European Cup.
"To work at a club that has two of them is really nice."
What Forest did to Arsenal was once routine for them in the top flight of English football. But they haven't had that status for 19 years and spent three years – more like a sentence – in League One.
It's a tougher task than Karanka had at Middlesbrough. They have never been so high to fall so low, and even allowing for the fact that working for Real Madrid would have exposed him to the need to win every week, Forest remain one of the toughest gigs in English football.
Particularly if Greek owner Marinakis has a tendency to smash plates if Forest don't climb into the Championship's top six very quickly. This is the first manager he's apointed, having inherited Warburton. We will find out.
"They have showed me their desire and ambition to do something nice with this big club," says Karanka, who took Middlesbrough to a Championship play-off final defeat and then got them up automatically as runners-up two years ago.
"A club like Nottingham Forest belongs in the Premier League and we will try to get it there," he said.
"But I have signed for two and a half years, as I did at Middlesbrough, and it's important to be patient, to take things step by step because we have two and a half years to get it done.
"The important thing is to feel progress every game and every month."
Karanka has a lot of self-developed young talent to work with and a leaky defence to sort out. As a former centre-half, he should be good at the latter.
If he wants detail on what he has inherited, he only has to ask academy boss Gary Brazil.
Brazil was in charge for the thrilling 4-2 Cup win over Arsenal, the third time he has been caretaker boss. Billy Davies went, kicking and screaming, in 2014, Phillipe Montanier in 2017 and then Warburton. Brazil is a victim of the Forest malaise as well. Appointed until the end of 2016-17 after a good start as Montanier's temporary replacement, he was gone and back at the academy after five defeats in seven.
Warburton, set to take over the following season, was parachuted in – and then gone again.
Karanka was a little confusing as he talked about his plans, saying promotion this season was unlikely and then saying it was important to get up as soon as possible.
"It's always important to get time, but as managers we know it's our business," he says.
"One of the reasons I came here was because I felt the owners, the chairman and the club are building something and it's a really nice project.
"I would like to stay here and I am calm because they trust me and I trust them.
"This is not a short race. It is a marathon and we have two and a half years.
"If we can get it as soon as possible that's better, but the club and me have the same aim, which is to get promotion.
"As for the time, we will see.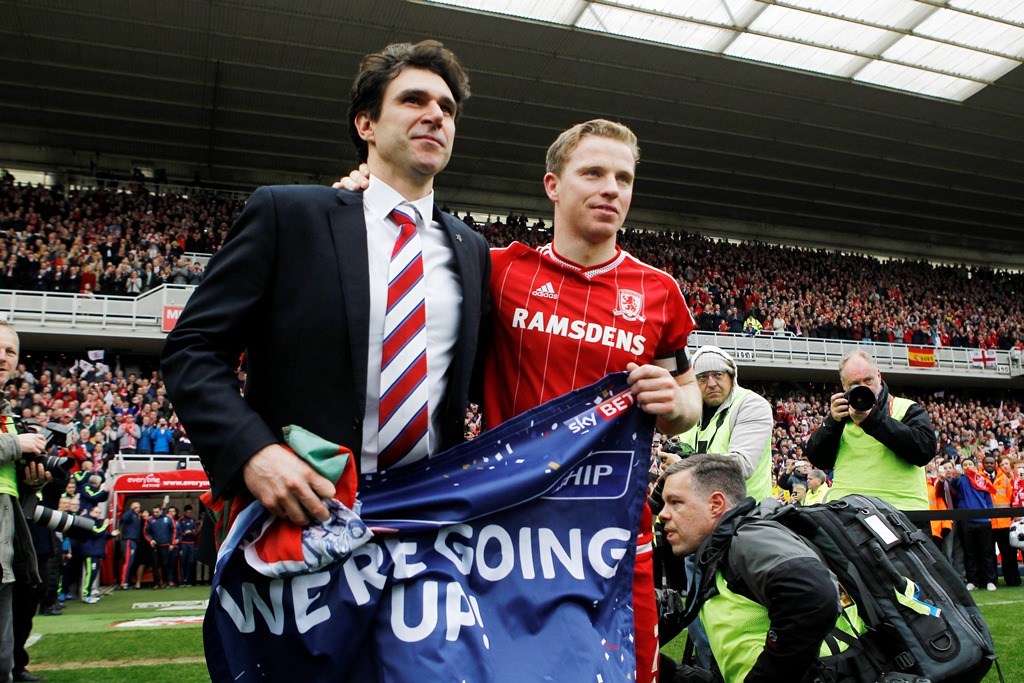 "I would like to be promoted this season, but it's going to be difficult.
"We should have a clear target, which is promotion, and then as soon as possible.
"The pressure is on me because I am here to get promotion.
"If it's this season, then perfect. If it's the second or third season, then perfect. It is not a problem for me."
One of the problems at Forest is perhaps that it's too much of a youth club. A bit more experience, a bit more steel is needed.
Karanka had his rucks at Middlesbrough, throwing such a wobbly in their promotion season that he considered his future before returning and getting Boro up after seven years in the Championship.
It didn't last, though. Boro couldn't score a goal in the Premier League, defended well (good news for Forest there, with one of the worst defensive records in the Championship) and Karanka was gone by March last year.
He is rested, he says.
"People tell me my face has changed. I am more relaxed. A new year, a new life."
Jose sent Karanka a special message of best wishes for his new job.
He will need it.