By Neil Fissler
ORIENT started the Swinging Sixties with promotion to the First Division for the only time in the club's history but then suffered two relegations in four seasons.
They ended the decade by winning only their second  league title, after the Division Three (South) crown that came in 1955/56.
Using only 16 players all season, they took the Division Three crown with 62 points, two more than runners-up Luton.
Tommy Taylor, Mick Jones, Barry Dyson and Peter Allen played all 46 games, while Dennis Rofe missed one game, Ray Goddard two and Micky Bullock four.
Bullock was top scorer with 19 goals, while Barrie Fairbrother hit 13 goals.
Captain Terry Mancini says they had the perfect side.
"We had beaten Shrewsbury to stay up the previous season and then went on to win the league," he said.
"We had a good blend of youth and experience. We had some jokers and some serious guys. It was a great time to be involved with the club.
"Tommy Taylor and Dennis Rofe were only 18 when they got into the side. Both of them went on to do very good things. (Barrie) Fairbrother was another youngster who got into the side.
"Our goalkeeper, Ray Goddard, was very under-rated. He never gets a mention. Peter Allen in front of us in midfield was also under-rated.
"He protected the back four, and you wouldn't want to meet him in a dark alley! He never pulled out of anything. He was solid and dependable.
"Then we had the two wingers, Peter Brabrook and Mark Lazarus. Both were stars, hugely experienced. They could get us out of trouble."
Mancini almost missed the title run-in after breaking his leg against Tranmere in January and remembers the relief of returning to action.
He says he shed tears of joy and pain at the same time, after a game against Doncaster at Belle Vue on Easter Monday.
"I broke my fibula against Tranmere and I was out for two months," he said. "But we had a spell of postponements and Jimmy Bloomfield wanted me in the team.
"When they took the plaster off my leg, I thought 'this is easy, I'll be playing in a week' but I couldn't even put my weight on the leg.
"I came back at Plymouth and played three times in four days. The last one was at Doncaster and we won 1-0, I think with an own goal.
"How in the hell I got through that game I don't know, but I remember laying  on the bench in the dressing room and crying my eyes out because my leg hurt that much.
"We didn't lose two matches in a row that season. We all wanted to do well for the club, even if it meant playing when we weren't fit."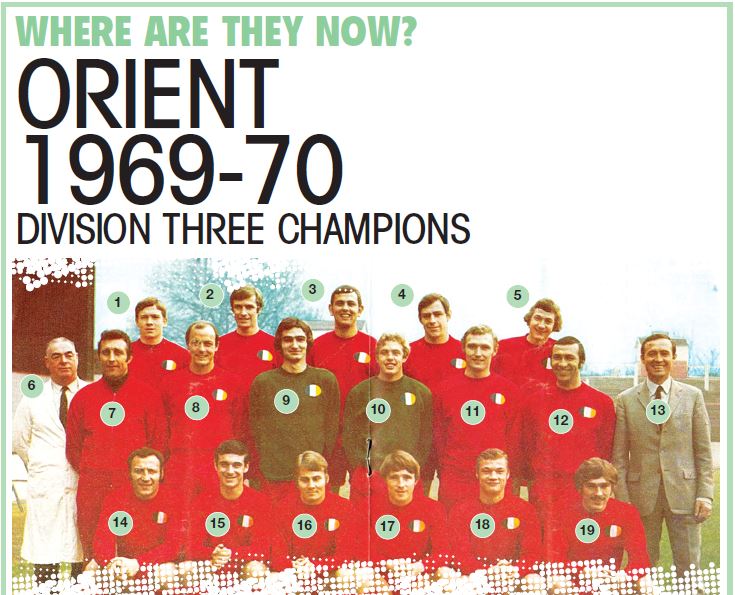 Terry Brisley: Midfielder who won promotions with Millwall and Portsmouth. Worked as a broker in the City of London and is now a gardener in Brentwood, Essex.
Peter Allen: A midfielder who holds Orient's appearance record. Qualified as a solicitor and started his own practice Deibel & Allen in Portslade, Sussex.
Dick Plume: Midfielder who ran a beach bar and coached in the United States until returning to live near Dover, where he ran pubs and then started his own catering business.
Mick Jones: Full-back who made 300-plus appearances. Now retired after living and working in his native Berkhamsted in Hertfordshire.
Brian Scrimshaw: A forward who is now living in Hove, East Sussex. He became a school teacher and has been involved in property management.
Charlie Simpson: Orient's long serving first-team trainer and physio.
Peter Angell: The first team coach sadly collapsed and died of a heart attack during a training run in July 1979, aged 47.
Terry Mancini: Republic of Ireland central defender who later won a promotion with QPR. He has had various business interests and is now running a travel and events company.
Steve Bowtel: Goalkeeper who ran a video shop in his native Bethnal Green before becoming a taxi driver.
Ray Goddard: Goalkeeper who won promotions with Millwall and Wimbledon. Ran a bar on the Costa del Sol for many years but died following a stroke in December 2007.
Dave Harper: England youth midfielder who won two promotions at Millwall. Owned a sandwich bar, was a cab driver and then ran a pub. He died in 2013. Son Frank is an actor.
Peter Brabrook: England winger who won FA Cup and Cup Winners' Cup honours at West Ham. Ran a butcher's shop and worked for a paper firm. He died in December last year.
Jimmy Bloomfield: The manager had two spells at Brisbane Road and later coached at Luton until his death from cancer in 1983, aged 49.
Mark Lazarus: Striker who won the League Cup and Division Three double with QPR. He was a minder for snooker players and ran a Romford-based removals business.
Mickey Bullock: Centre-forward who won a promotion with Oxford, managed Halifax, Goole and Ossett Town. He also scouted for Hereford and Portsmouth and was an insurance consultant.
Terry Parmenter: A winger who was converted into a full-back. Now retired and living near his native Romford.
Barry Dyson: Centre-forward who won five promotions. Ran his own haulage company in Colchester until he died in February 1995 aged 53, a month after suffering a heart attack.
Dennis Rofe: The left-back later won a Division Two title with Leicester City. He managed Bristol Rovers and Bournemouth, as well as having lengthy spells coaching at Southampton.
Barrie Fairbrother: Forward who later won promotion with Millwall. Now based in Queensland, Australia, where for more than 30 years he has worked in the property business.
NOT PICTURED
Tommy Taylor: Central defender who was an FA Cup winner with West Ham. He managed Orient for five years and is now reserve team boss at Royston Town.
Malcolm Slater: Scotland amateur winger. He became a regional manager with Combined Insurance Company of America and settled at Westcliff-on-Sea, Essex.
Eric Whitington: Midfielder who played for Crawley Town, like son Craig. Lives in Brighton and has been involved in property development.