(Photo: Action Images)
By Chris Dunlavy
AN hour after the biggest farce since Joe Kinnear was unleashed on St James' Park, I stood at the mouth of the tunnel asking a stream of players what the hell had just happened.
"You tell me," said a baffled Paul Dummett. Dwight Gayle shrugged his shoulders. Christian Atsu just laughed. "Crazy," he said. "Nobody knew what was going on."
Moments later, we all had our answer. A statement from PGMOL, the refereeing body, announced that Keith Stroud had dropped an epic clanger.
Having disallowed Matt Ritchie's 30th-minute penalty for encroachment by Gayle, Stroud should have ordered a retake. Instead, he bizarrely awarded Burton an indirect free-kick, inadvertently detonating a maelstrom of fury and bafflement.
Thanks to that statement, we all know why – Stroud suffered a "lapse in concentration" and "misapplied" the rules. At the time, however, confusion reigned.
Rafa Benitez, usually about as emotional as a cement mixer, turned puce and bounced around like Zebedee, frantically explaining the laws to an equally perplexed fourth official.
Nigel Clough, clearly aware his team had got away with one, urged his players to smash the free-kick upfield before Stroud came to his senses.
Journalists scoured twitter for replays and scrambled to read the laws of the game. Had we all missed some subtle change to the encroachment law?
Half-time offered even less clarity. Word filtered up from the dressing rooms that one Newcastle player had accosted Stroud in the tunnel and been told that the free-kick was awarded for a foul by Gayle. A preposterous scenario given that a) Gayle was miles from any Burton player and b) the foul would need to be committed in the split second between Ritchie striking the ball and it hitting the net.
In retrospect, you wonder whether Stroud concocted this story on the hoof in a desperate bid to cover his backside. Only he knows.
Professionally, the whole sorry circus is a catastrophe for Stroud. Had Newcastle lost, they could have demanded a replay.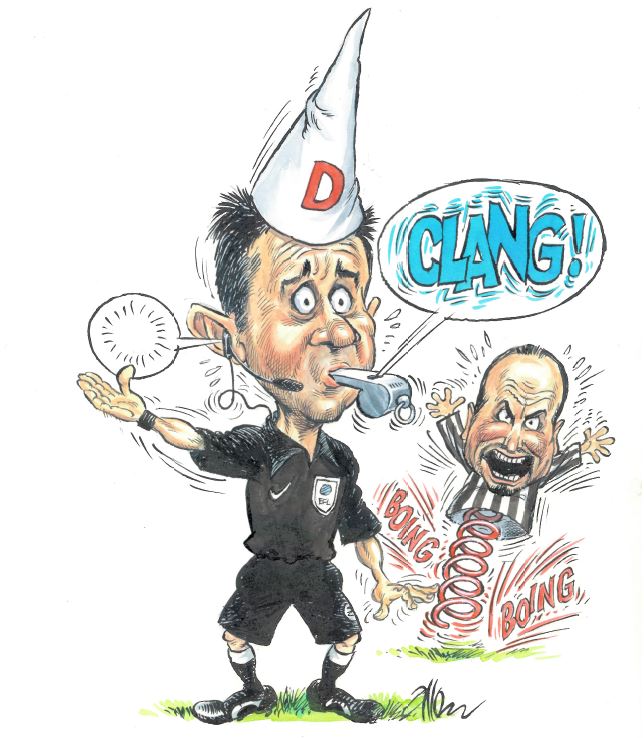 In 2005, a World Cup qualifier between Bahrain and Uzbekistan was re-run after an identical refereeing error, as was a Spartan South Midlands League match between Edgware and Harefield 12 months later. The EFL demands a final say, but the precedent is strong.
But, thankfully, Newcastle did win. Nobody died. In hindsight, the whole thing was a mildly hilarious diversion from a drab match, so let's not start treating Stroud like a murderer. The bloke must be gutted.
In fact, the real scorn should be reserved not for Stroud but for the two linesman and a fourth official who failed to rescue him.
David Avent, Matthew McGrath and Tony Harrington all know the laws. All had a direct line to Stroud. During those five minutes of mayhem, couldn't one have said 'Listen mate, I think you've had one here'?
Even post-statement, that is the one mystery yet to be resolved, though I think the answer may be fished from a mixture of peer pressure and confirmation bias.
Having given Burton a contentious free-kick, Stroud was naturally desperate to hear anything that vindicated his decision, which, according to one member of the Newcastle bench, is exactly what one linesman provided.
Like everything on the night, this is all Chinese whispers and allegation.
But if that linesman did insist on a free-kick being awarded, misguidedly compelling Stroud to stick to his guns, that could explain why the other two would fall silent or even acquiesce.
Even junior pilots, plummeting from the sky and capable of averting certain death, have been proven to shrink from questioning a negligent superior at the controls. Such is the power of          seniority and confidently-expressed certainty.
Could better training prevent a repeat? Possibly, but the set of circumstances are so rare and unique – and the consequences so minor – that it probably isn't worth it.
Let's just put it down as one of those footballing curiosities, safe in the knowledge that every referee in the land has just received a crash refresher course in penalty law.