By Chris Dunlavy
MOMENTS into his first press conference, Gary Rowett was asked what he'd said to the shower of underachievers currently masquerading as Derby players.
"We just shared with them one or two of the things we think are perhaps missing," said the former Birmingham boss.
One or two? Rams fans can name a few more than that. Leadership. Responsibility. Heart, guts, any sense of culpability.
Pretty much the only thing they do possess is mercurial talent, fat pay packets and an astounding ability to see off managers.
Rowett is Derby's sixth permanent boss in 21 months, two more than Massimo Cellino has employed at Leeds in the same period. Considering the Italian is paraded as a trigger-happy nutjob, what does that make Mel Morris?
The Rams owner has much to answer for. Morris undermined Paul Clement by bursting into the dressing room, then sacked him for failing to play the 'the Derby Way' – a non-existent philosophy already shot down in flames by Rowett.
"If I feel we have to play one way to win one game and a different way to win the next, I'm going to have the opportunity to do that," said Rowett. "That was made quite clear."
Yet Morris' single greatest failing is his blind faith in Derby's players – a faith they have both abused and routinely failed to justify. Derby were deeply unfortunate to be beaten by Bobby Zamora's last-gasp sucker punch in the play-off final of 2014. Only blind luck and a bad error saw QPR through.
But since then? Three years of bottle jobs. Three years of capitulation on the big stage. Three years of post-Christmas collapses. When the pressure mounts, Derby shrivel.
Tom Ince is a class act. Will Hughes is a wonderful technician. Darren Bent a proven poacher. So it must be the manager's fault, right?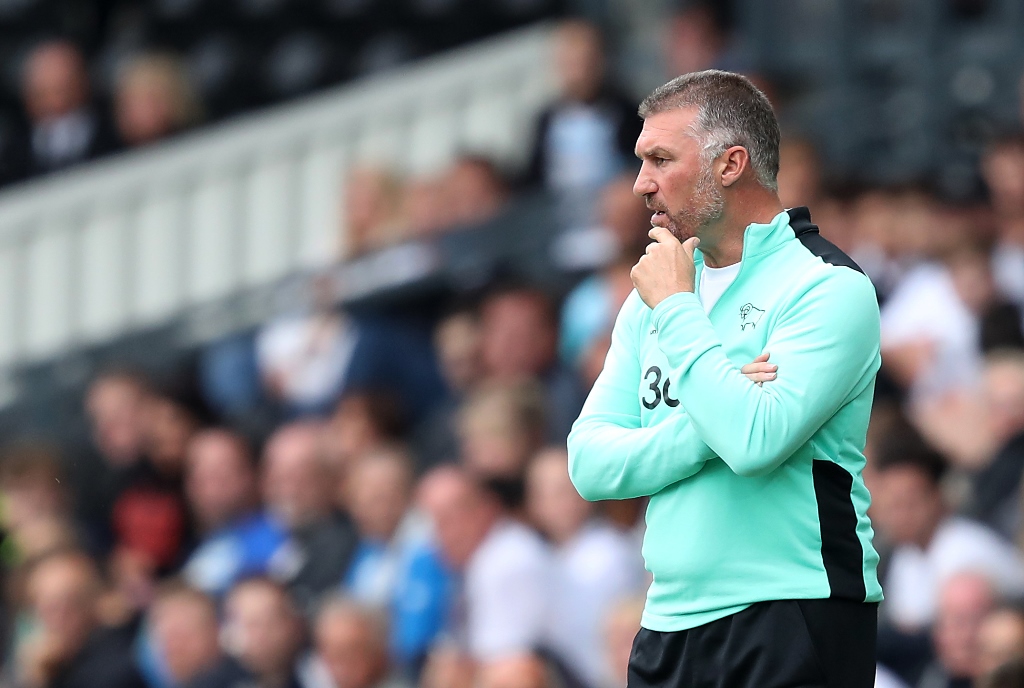 Steve McClaren was supposedly too soft, too focused on flamboyance to rectify a lack of fortitude. Clement was too defensive, Darren Wassell too inexperienced, Nigel Pearson too confrontational.
The latter was so frustrated by his side's "frailties" that he let loose in a furious dressing room tirade, only for a delegation of players to go crying to Morris. Instead of telling them to grow a pair, Morris sent Pearson packing.
When McClaren returned in October, Morris reasoned that the former England boss was the only man who'd ever got the best out of a squad fussier than Goldilocks.
Now that he's 'failed' too, will Derby's owner finally acknowledge that maybe – just maybe – it is the players who are the problem?
No footballer deliberately plays badly. Nobody wants to lose. But something stinks in that dressing room and only a clear-out will rectify it.
Rowett's arrival will no doubt spark a revival, but the new manager can't let himself be fooled. The Rams have more chance of reaching Narnia than the play-offs.
As Arsenal prove every spring, it's easy to perform when the pressure is off. Take last year's play-off semis.
Pathetic in a 3-0 home tonking to Hull, Derby won the second leg 2-0 when they'd already been written off.
Cue players spouting guff about "proving points" when all they'd really done is argue the prosecution's case.
Having blown so much of his fortune on wages and transfer fees, it is understandable that Morris would feel compelled to plough on, like a banker frantically covering a rotten trade.
But the time has come to admit defeat. Sell the stars. Give Rowett the funds. And let him build what he did so successfully at St Andrews – a team far greater than the sum of its parts. What Derby have constructed is the polar opposite.