(Photo: Action Images / Jason Cairnduff)
By Chris Dunlavy
AS a grafting midfielder at Preston North End, Warren Joyce was once nicknamed 'the piano pusher'.
"Listen Warren," said his manager John McGrath, a man whose ability to terrify even the toughest of players was matched only by his mastery of the metaphor.
"You're the piano pusher and Brian Mooney's the piano player. Somebody has to push the piano on stage for him, otherwise he can't play the tunes."
Such was life for the man dubbed 'Psycho' by the Lilywhites faithful. Tackle, retrieve, dispense to somebody more flamboyant. While the likes of Mooney and Gary Brazil waved from the decks, Joyce was getting dirty in the engine room.
Three decades on, little has changed. At 51, Joyce is still the same teak-tough character who braved burns and broken bones on Deepdale's plastic pitch.
Shorts remain his attire of choice, even in deepest January. And he has never stopped pushing that piano, providing a platform for the maestros to strut their stuff.
In 16 years as a youth coach, Wigan's new manager has ushered some of the game's biggest names on to the stage.
James Milner, Aaron Lennon and Scott Carson at Leeds; Danny Welbeck, Jesse Lingard, Marcus Rashford and Paul Pogba, the world's most expensive player, at Manchester United. All are now full internationals.
Then there are those who left Old Trafford to continue their education elsewhere. Of the Leicester City side crowned champions last season, Danny Simpson, Danny Drinkwater, Matty James and Ritchie De Laet all came through United's youth system.
In the Hull side promoted to the Premier League in 2013, James Chester, Corry Evans and Robbie Brady did likewise.
Will Keane, the bedrock of Burnley's return to the top flight and reported £25m target for Chelsea, was part of Joyce's Youth Cup winning side of 2011.
---
The FLP's weekly profile is sponsored by Marathonbet. Odds here: https://www.marathonbet.co.uk/en/
---
And don't forget Northern Ireland, whose run to the last 16 of this summer's European Championships would not have been possible without United alumni Craig Cathcart, Oliver Norwood and Paddy McNair.
"I probably spent four or five years with Warren and he is a great coach to work with," said Keane. "After all the technical stuff in the Under-18s, he's the one who turns you into a player.
"He isn't easy on you. He works you hard and puts a high demand on you. But, by doing that, he makes you really understand what the game is all about. Warren has been a great help with me and, even though I'm away from United, I'll always keep in touch with him."
Joyce is the epitome of a football man, often talking derisively of coaches "with a gold badge and shiny tracksuit" more interested in glamour and sound bites than getting out on the grass.
Dad Walter was a wing-half for the all-conquering Burnley side of the early 60s and later a renowned coach at Rochdale and Preston.
As a boy, Joyce played cricket and rugby for Lancashire but an offer from Bolton in 1981 made him choose football. Over the next 20 years, he would make more than 600 Football League appearances, first for the Trotters, then Preston, Plymouth, Burnley and Hull.
In many ways, the 'Psycho' tag was a misnomer. Though no shrinking violet, team-mates remember a man who thought his way through games.
"Warren was very clever," said Mooney. "He wasn't the biggest or strongest, but he made sure he was always in the right place. He could see where the ball would end up five seconds before anyone else."
He was also a leader. As skipper at Hull during the club's financial collapse, fans denounced Joyce as a mouthpiece for hated manager Terry Dolan, yet the midfielder dutifully bore the brunt for his team-mates.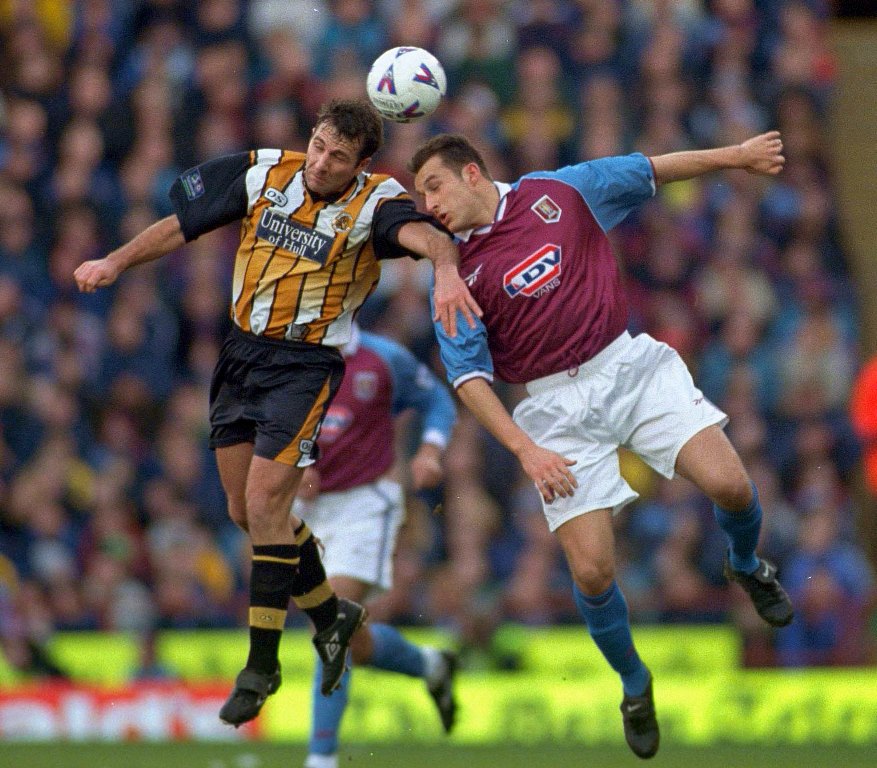 Opinion soon changed, and in 1999 hero status was assured when, as a hastily appointed player-manager, he oversaw the fabled Great Escape, leading the seemingly-doomed Tigers to Fourth Division safety.
"He immediately went and signed people who could scrap and battle," said Gary Brabin, one of several notorious 'bad boys' recruited by Joyce.
"You'd be standing in the tunnel staring at the opposition and you could see they didn't fancy it. It was a very clever move."
As a youth coach, Joyce encouraged his players to pass, press and keep possession. The emphasis was always on attack. In the post-Ferguson era, his reserve side was widely regarded as the last remnant of the Scot's free-flowing principles.
"They entertain, they win every week," said Paul Scholes last year. "And, when his players come into the first-team they look as good – if not better – than the first-team."
Louis van Gaal who, for all his faults, ushered several United youngsters into the first-team, regularly praised the guidance Joyce gave players.
Evident, too, was an appreciation of life beyond the pitch. Joyce greatly valued the hardy band of supporters who followed United's reserve team and would send letters, Christmas cards and complimentary tickets as a thank-you.
His players were instilled with a fearsome work ethic.
Now, it is time for Joyce to prove the wisdom of his old gaffer. "The best lesson John McGrath ever taught me is that a football club manager is the boss," he once said. "You can have your chairman, chief executive and the rest. They are nothing, nobodies unless the manager gets it right."
*This article originally featured in The FLP's 20 November 2016 edition. Subscribe: http://bit.ly/FLP-Subs