by Chris Dunlavy
HARRY Toffolo still remembers his nervy first day at Richard Hales Academy, a state school in rural Hertfordshire.
Like his three brothers, the Peterborough full-back had spent his childhood in posh private institutions, funded by his investment banker dad.
But, with football consuming his time and little interest in Law, Latin or Finance, Toffolo was like a fish out of water.
"I'd missed so many days through football it just didn't make sense for my parents to be paying all the fees," says the 20-year-old. "So, we discussed it and, in the end, decided it made sense for me to go to a state school.
"Coming from my background, you do think 'Oh no, what's it's going to be like, how will they look at me?' And those first few days, you see various things happening and it's like 'What's going on here?' It wasn't like anything I'd ever known.
"But, to be honest, it was the best decision I've ever made. They ended up being the most enjoyable two years of my life.
"I met new people. I met my best friend, probably for life. In sporting terms, we won the county cup and I scored a free-kick to win the game.
"They gave me time off for football, got in tutors to do extra work when I needed it. And I got some good grades at GCSE, so I'm happy. I really can't thank them enough."
Being able to adapt clearly runs in the blood for Toffolo, who is at London Road on loan from parent club Norwich.
Forty years ago, his grandfather, Franco, left the bridges and basilicas of Venice for wild and windswept Blackpool, with his wife and five-year-old son in tow.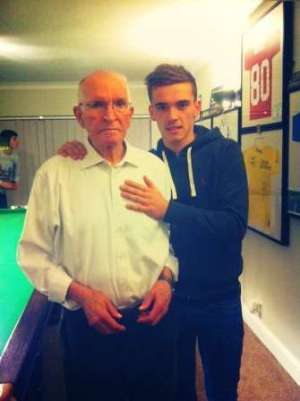 "He was a Venetian glassmaker, a bit of a maestro," says Toffolo, whose dad was a season-ticket holder at Bloomfield Road before work led him to London.
"But he was offered a job in England and made this country his home. I was very close to him. I called him 'Nonno', the Italian word for Grandad. He'd talk in English but it was all mumbles and grumbles. Unique!
"You're not meant to have a favourite, but I was definitely his. Before he passed away, I remember my grandmother asking him what they should get for my 18th birthday. He said 'Oh, Harry can have anything he wants'. That was him all over."
Franco was naturally delighted to see his grandson's progress in the game, first as a youth at Stevenage, then at Norwich where he won the FA Youth Cup in 2013.
And his death from dementia would have a profound effect on the youngster, who has since dedicated himself to raising money for charity.
During last season's breakthrough loan spell at Swindon, Toffolo even used social media to offer his services to any good causes who needed volunteers.
"My grandad suffered from dementia and I like to do what I can for that," he explains. "For instance, I signed and auctioned my Swindon shirt from last season. All the money went to Dementia UK.
"But I don't do it to impress anyone. I don't want everyone to go 'Wow, what a guy'. It's just the way I was brought up and something I am passionate about.
"In Italy, community and family are massive. When we were younger, we'd go on loads and loads of family holidays.
"I still try to go in the summer and, whenever I go back, there are cousins, second cousins – it's amazing how many types of cousin everyone has in Italy.
"We're tight, and I think that is an Italian mentality.
"Maybe that feeds into the charity work but, to be honest, I just know I've been blessed to come from a privileged background and others aren't so lucky. If I can give up a bit of my time to help, I will."
Time is something players don't have under Posh boss Graham Westley, whose famous double sessions should keep Toffolo occupied long into the afternoon.
But the defender, who missed last weekend's 2-2 FA Cup draw with West Brom through concussion, is relishing the challenge.
After suffering play-off final heartbreak at Swindon last term, he is convinced he can go one better. "When I came here, I said to the gaffer 'Look, I know I'm only 20, but I've been in this situation before," says Toffolo, who also spent seven games on loan at Rotherham earlier this season.
"I know what went right, I know what went wrong. I think I've got valuable experience.
"It's why I say to all young players 'Get out and play proper games'. I know that's a cliche but it's completely true. When Norwich said 'Do you fancy Swindon?' I could easily have said no.
"But I played 30 games and ended up playing at Wembley.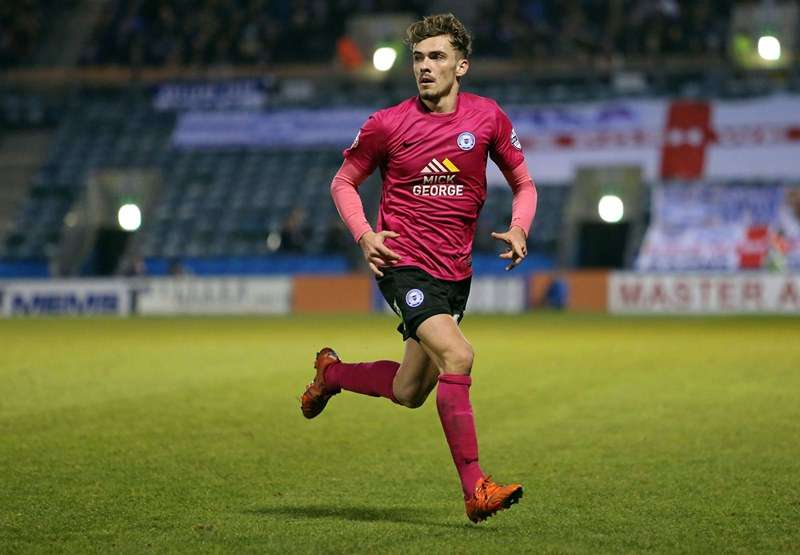 When I went back to pre-season training with the Norwich first team, the coaches said they couldn't believe how much I'd come on.
"Even those seven games at Rotherham have made me a better player. At Swindon, we were winning every other game. It was all I'd really known.
"But football isn't like that. You need to learn how to deal with losing, with being in a team that is struggling and low on confidence.
"I just hope I can pull that all together to help Peterborough win promotion and I'm sure we'll give West Brom a run for their money in the Cup, too. The players here are good enough and, technically, some of the best I've played with anywhere."
Promotion would be a fine start to a summer which Toffolo – who grew up in Welwyn Garden City and is a Chelsea fan "from the Zola days" – hopes will end with an extension to his Norwich contract.
In-between, he hopes to make another trip to the country of his ancestors – hopefully with a bit more of the lingo in his locker!
"I know a bit of Italian but I should learn more," he admits.
"I bought the Rosetta Stone guide but I need to knuckle down and get it done. I start, then stop, then start again. I would like to be able to talk to my cousins!
"All in good time, though. For now, football comes first."