By Chris Dunlavy
---
Accrington Stanley owner Andy Holt says common sense has finally prevailed after all elite football in England was suspended until April 2.
Coronavirus – more accurately Covid-19 – has so far killed
21 people in the UK. And with cases continuing to rise, the government has now
moved from its Contain phase of planning to Delay.
Unlike his European counterparts, PM Boris Johnson has not yet ordered the cancellation of large sporting events. But after several positive tests within football – including Arsenal manager Mikel Arteta – the Premier League and EFL met on Friday morning and unanimously agreed a temporary shutdown. Head here for online betting when football restarts.
"It's sensible, isn't
it?" said Holt, whose side were due to play a League One fixture at Portsmouth
yesterday. "To do anything else was completely untenable for me.
"My mother is 76. She's had cancer. I've made it quite clear
to her that she's not to go into any crowded spaces. Yet I was supposed to
stand here and tell our fans and players that it's fine to travel to Fratton
Park? Come on."
Holt is angry that the football authorities did not act more
decisively, despite government advice advocating business as usual.
"If I was in charge of the EFL we'd have stopped a week
ago," he said. "And I'd already be looking at the damage to clubs and working
out how to finance it.
"Why have we spent the week talking about whether games get
played or not? Why weren't we talking about the situation in Italy, where
nearly 1,000 people have died for no other reason than poor management?
"The Italian government – people who've lived through it –
were telling us to act. The World Health Organization (WHO) declared covid a
pandemic. Yet we were talking about whether a game of football should be
played.
"It's absolutely crazy. The EFL, the Premier League, UEFA.
All they were interested in was getting games on.
"All those Atletico Madrid fans travelling to Liverpool from
Spain, a country where 36 people had died. What are people thinking?
"It's alright saying we're just following government advice,
but what if the advice is wrong? It was in Italy.
"I don't agree with Boris Johnson and the medical officers.
Their approach seems to be to let it become widespread, let people die and
everyone left will be immune. It might make scientific sense, but I'd rather
keep vulnerable people alive for as long as possible.
"I can't stand here and tell you I'm right. We're all of us – the authorities, the government, me and you – flying by the seat of our pants.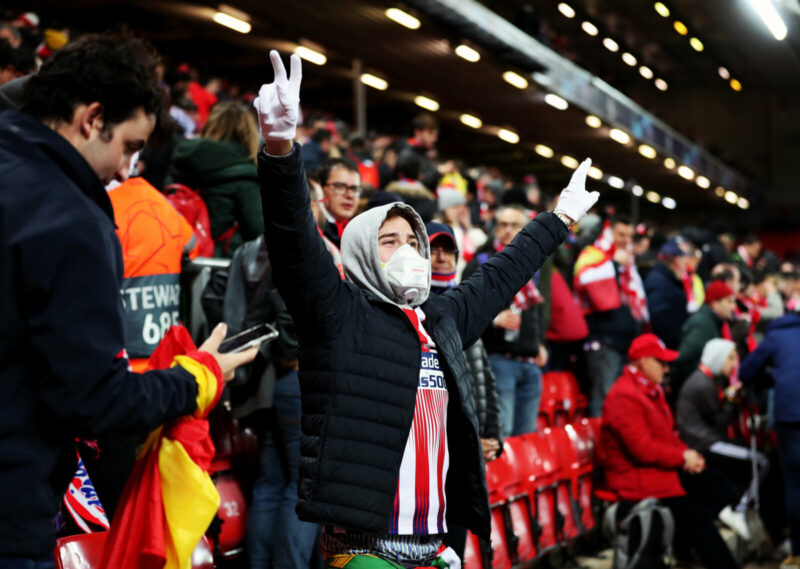 "But for what it's worth I think we need to shove any
concerns about football aside and focus squarely on fighting this virus. On
saving people. Because whoever said football is more important than life and
death is wrong."
Holt has spent the last fortnight drawing up contingency
plans and says Accrington's staff will be paid in full during the suspension.
"But they'll have to follow certain rules," he adds. "If
you're supposed to be self-isolating and end up in the pub, I'll consider that
gross misconduct."
More widely, however, there are concerns that Football
League clubs reliant on cashflow could struggle to meet their financial
commitments. Southend and Macclesfield have already failed to pay their wages
for February and with ticket revenue accounting for roughly 33 per cent of all
income across EFL clubs, it is likely that many lower league sides will
encounter similar problems.
"There's no doubt that in the lower leagues – including the
Championship – lots of clubs have existing cash-flow problems," said Tony
Stewart, the long-serving chairman of Rotherham United.
"This can only exacerbate the situation.
"You still have to pay the players. You still have to cover
the overheads. We'll be OK. Fifty years in business has told me that you need
to keep something back for a rainy day.
"But it will now expose certain clubs who've been run too
close to the wire. I think there will be clubs crying out for help and
assistance. The question is, how do you help them?
"Will the EFL get together and come up with some ideas? Will the banks put their hands in their pockets in terms of loans or overdrafts? We just don't know." Stewart's sentiments were echoed by Holt, who has been a persistent critic of loss-making clubs.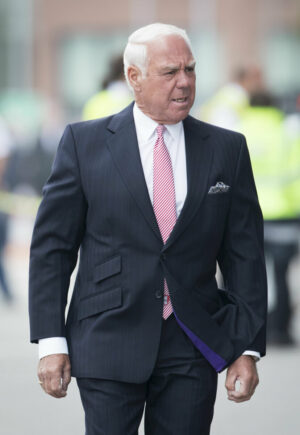 "The EFL is reaping what it's sown," said Holt, though the
league say clubs have been looking at new sustainability measures for some
time.
"P*** poor management. P*** poor financial regulation.
"There's no two ways about it. They've allowed a situation
to develop where the balance sheets are so undercapitalised that the slightest
shock can send clubs under. And we're talking days, not months.
"They've set themselves up for this failure. When a few
missed games can kill clubs, it just shows you that the rules around losses are
wrong.
"You can't rely on insurance. Most insurance policies –
unless you pay an absolute fortune – don't cover acts of God. So unless the
government intervenes and reclassifies covid in a certain way, that is how this
will be viewed.
"At the minute, we're talking about a deferred payment
because games will kick off again on April 2. That's survivable – it's no
different to if it snowed twofeet deep for three weeks.
"If it doesn't restart, I think the banks will need to be
sensible. I've spoken to our bank and told them the situation. They've said
that, so far as they're concerned, I'm doing the right thing and they'll
support me. Whether they do or not, we'll see."
Kieran Maguire, author of The Price of Football and a senior
lecturer in economics at the Liverpool Management Centre, isn't convinced.
"I don't know how those cash-flow issues are going to be
addressed," he said. "I can't see the banks reaching out to people to give them
emergency overdrafts and things.
"And the trickle-down effect is significant. At the stadium
you have lots of people working there who are reliant upon a four-hour shift
once a fortnight, and that is the difference between paying some bills and not
paying some bills. In terms of personal finance, I think a lot of people are
going to suffer."
Holt, though, maintains that fighting the coronavirus
outbreak must take precedence over all other concerns.
"I always say to my staff that if you're in a dark place and
you don't know which way to turn, stand still and take stock," he adds.
"In time, you'll see the way. But if you blindly set off
down the wrong path you might not get back. We were in danger of doing that.
"Because winning matches and leagues, even the survival of
clubs – none of that matters in the face of this crisis.
"The only thing we need to think about is keeping parents and grandparents alive. Nobody should be thinking beyond that."
CHRIS DUNLAVY