BURY boss Ryan Lowe has urged owner Steve Dale to "find a solution" to the financial chaos engulfing the club – or face losing a promotion-winning side.
Relegated from League One last term, the Shakers sealed a swift
return courtesy of Tuesday's 1-1 draw at Tranmere.
But the celebratory mood was instantly dampened by
revelations that Lowe and his players have not been paid for two months.
Dale, who bought the club from Stewart Day in December,
admitted last month that finances are "significantly worse" than he expected.
And with the Shakers set for a winding-up hearing in the
High Court on May 15, he has now put the club up for sale.
"It's obviously been hard," admits Lowe, who scored 72 goals in 179 games in three spells as a player at Gigg Lane before stepping into the dugout last January.
"But we galvanised the group. We kept them together. I said
to them 'Look, we've got problems. We might not get paid. But whatever happens,
nobody can take that promotion from you. So go and get it'. And to be fair,
every single person has been different class.
"We've done our bit. Now it's time for the club to find a
solution. The club needs an investor or a new owner. It's up for sale and I
hope it's resolved very soon because I've got players effectively out of
contract as of yesterday.
"They want to know where they stand, and so do I. Because
we've all gone a couple of months without pay and we've all got to look after
our families.
"I ain't in no rush to leave and nor is anybody else. As
long as the finances get resolved, I'm happy. But there's a deadline on
everything isn't there? And there'll come a point where all of us – myself, my
staff, the players – become available.
"I certainly don't want to do that. I love the club. But
nobody can last long without money at this level."
Nor, says Lowe, can he start the business of planning for
League One without assurances over the club's future.
"This time last year, things were set in stone," he adds. "We knew who we wanted to keep. We'd offered contracts. We signed three players in one day. Right now we can't sign anyone. Because the first thing people want to know is 'How long and how much', and we can't give those answers."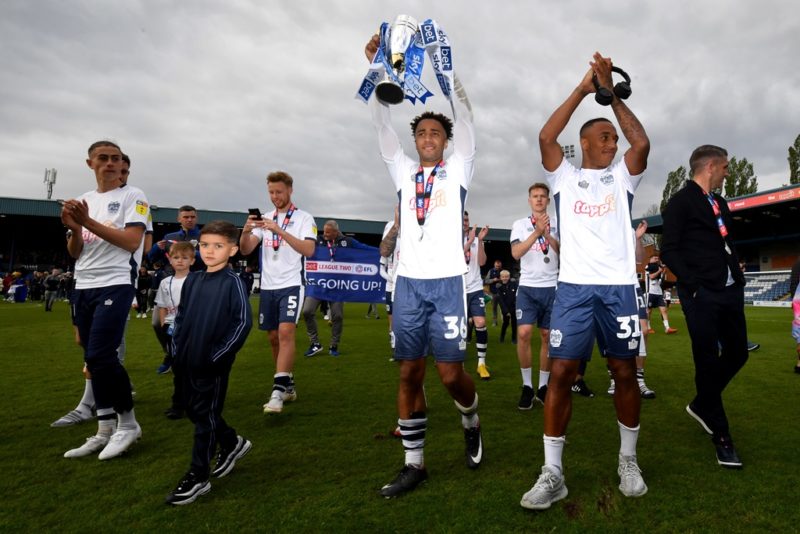 Bury's promotion under such bleak circumstances is testament
to Lowe's savvy summer recruitment.
Nicky Maynard, a free agent who was released by Hibernian,
had scored, pre-weekend, 22 goals. Winger Byron Moore another eight. More
importantly for Lowe, though, was the character his players showed to battle
through tough times – a far cry from the highly-paid squad who flopped so
dramatically last season.
"Some of the players last year, they were no good for me, or
my style of play," he explains. "I'm not saying they were all bad lads. But at
the end of the day, they didn't fit my philosophy.
"I want people who wear their heart on their sleeve and die
for the cause. The players I've brought in have done that and I couldn't be
prouder of them.
"When the financial issues hit, I had to take one or two out
who weren't mentally right. That's not a criticism. They'd been brilliant all
season and some people just cope with adversity better than others.
"What happened last year… they weren't my players. It wasn't
my philosophy. I didn't want to play the way they played. So I don't really
take any blame for that relegation.
"But it was my responsibility to get them promoted so I'm over the moon to have done that."
CHRIS DUNLAVY / Photo: Getty Images