IT MAY be a cliché that the Championship is an unpredictable league – but you won't find Rotherham captain Richard Wood disagreeing.
The 33-year-old centre-half dragged the Millers back from League One at the first time of asking almost single-handedly, with a virtuoso performance in the 2-1 play-off final victory against Shrewsbury, a game in which he scored twice and won a penalty.
And while Paul Warne's side have endured a tough return to the division so far, the manager's on-pitch deputy believes there is no cause for concern.
"No team's a standout team," said Wood. "I couldn't tell you who's promotion favourites, who's going to get play-offs, who's going down.
"Nobody's unbelievable, some teams have just got that bit of quality at the right time to go 1-0 up and keep it at that.
"The main aim is to stay up with the size of the club and the budget, but who knows what you can achieve. We fancy ourselves.
"You go on a run, momentum builds, confidence is high, anything can happen."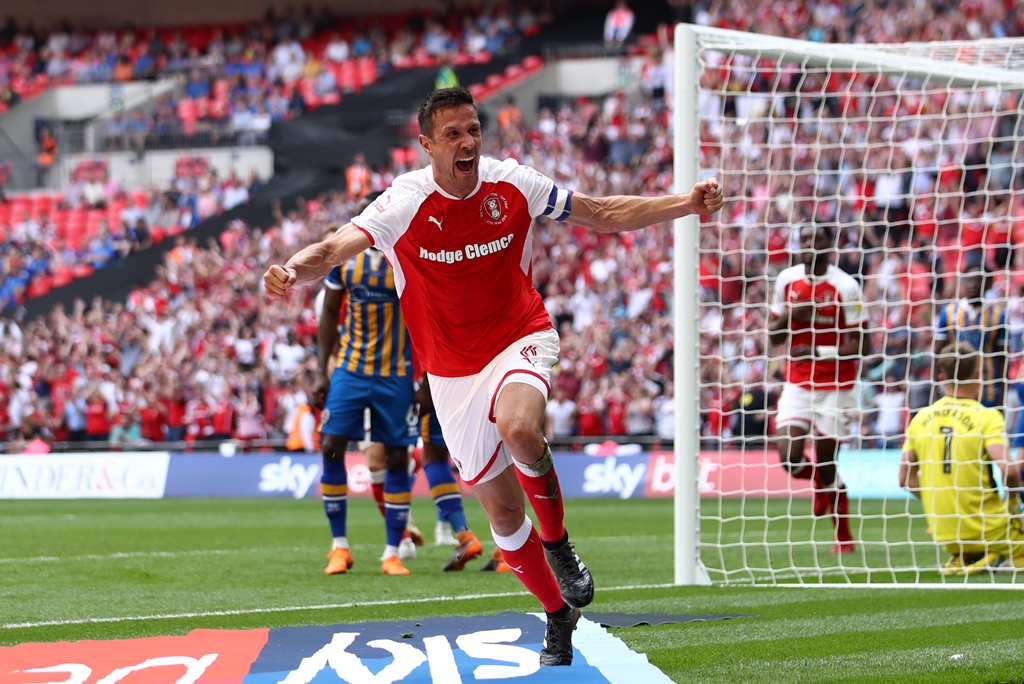 The standout September win over Derby and the 2-1 victory over Swansea a fortnight ago attest to a greater resilience in the camp when compared to their efforts two seasons ago, which saw them finish 38 points adrift of safety.
Those triumphs, however, bookended a run of eight games without victory which has kept the Millers from pushing on to mid-table – even though battling draws against Middlesbrough and Bristol City were achieved in that period.
And Wood underlined his hard-nosed competitive spirit by admitting that, in the grand scheme of things, simply avoiding defeat won't be enough to keep them in the division.
"It's not even thinking that they're good points, because we've played well in the games," he said.
"That's probably better than actually being pleased with the point, where we would have been a couple of years ago.
"Now we deserve the three – we're creating enough chances and playing well. We just need to turn it around quickly, and make sure that we don't keep this dragging on where we're not picking up maximum points."
While Warne was in charge for a large part of that fateful relegation season, the club showed faith in a man who spent a significant part of his playing days at the New York Stadium and it was repaid when he led them straight back to the Championship.
And while he isn't like other managers – Warne, pictured below, is noted for his unique team building practices – his captain certainly thinks that he's the right man for the job.
"He's been very good," added Wood. "He's a good man-manager, good with how he thinks about things; everything's not about football.
"He comes to the training ground and it's not all about training all the time, he wants to think about the emotional side of it.
"He encourages us to stand up and talk about what inspires us and what motivates us to play football. He thinks outside the box, wants us all to be a strong unit.
"Footballers in the dressing room, they've got bravado and they don't really talk about their emotions all the time but I think we all get on well as lads, and that's what the gaffer's put in place.
"Credit to him for doing that because it's working."
Joe Leavey